2013 WINTER CAMP – FEBRUARY 2-3 – ATLANTA, GA

February 2/3, 2013 – East Point, GA – Dynasty recently held its first winter camp in the Atlanta, GA area and it was a HUGE success! We had a sold out week of 12 top female goalkeepers — six of whom were from out of state, stretching as far north as Fairfield, CT and as far west as Pleasant Valley, MO! It was a super fun and very competitive group! In addition former Dynasty student and Mercer University standout Nikki Atkinson (who grew up and played in Atlanta) joined us to assist Tracy for the 2 day camp packed full with four training sessions and two lectures. We plan to make this an annual event so plan on us returning to Georgia Soccer Park early next year!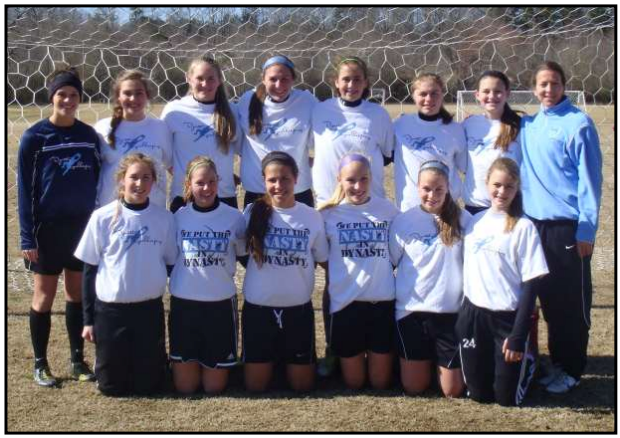 2013 WINTER CAMP – MARCH 2-3 – Sparks, NV

The YOUNG GK portion of the 5th Annual Winter Camp in Sparks, NV is official now SOLD OUT. We maintain a firm 12 student max policy as one of Dynasty's core philosophies is prioritizing QUALITY over QUANTITY. However TWO spots remain in the ELITE GK level for more experienced goalkeepers 14 and older. It is a two day mini-camp open to both male and female gks. The YOUNG GK camp will train twice over the weekend for 2 hours (once each day), while the ELITE GK camp will include 2 lectures and four 2 hour training sessions, for a weekend of fun and intense training at the Golden Eagle Sports Complex in Sparks, NV. If you are interested in adding your name to the waiting list for the YOUNG GK camp or grabbing one of the two remaining spots still available in the ELITE GK camp please call Tracy at 919-942-2903 ASAP to reserve your spot.
COLLEGE
RACHEL AMES – December 10th, 2012 – New Haven, CT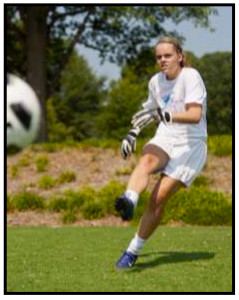 Yale freshman Rachel Ames was and freshman teammate Shannon Conneely were honored at the end of the season with the Captain's Cup. The honor (which they will share due to a 4-4 vote by the seniors) is presented by the seniors to the freshman that represents the program well on and off the field. Ames started nine games in goal and posted a 1.17 goals against average. Conneely, a midfielder, appeared in all 17 games and finished with four points (1 goal, 2 assists).
BRITTANY HAHN – November 2012 – Jacksonville, FL
University of North Florida 5th year senior Brittany Hahn finished out her career for the Osprey with this great save in an unfortunate loss to Mercer in the Atlantic Sun Conference semi-finals.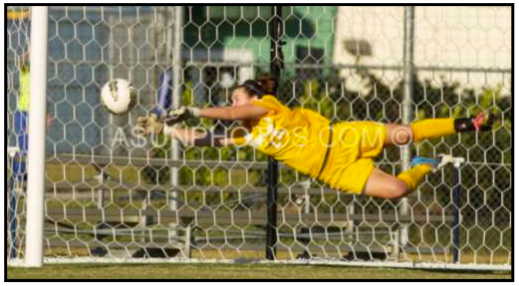 YOUTH
EMMY HELLER & KENZIE TILLITT – Fall 2012 – Carson City, NV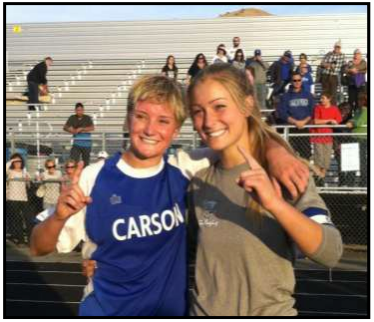 These best friends and fellow Dynasty goalkeepers from Carson City, NV found a way to both contribute to their team's success despite playing the same position! Senior co-captains Kenzie Tillitt (playing central midfield) and Emmy Heller (in goal) helped lead their team to a Regional Championship this past fall qualifying their team for the first ever state tournament held in Las Vegas. Unfortunately, they lost in the semi-finals to Green Valley in pks, but through their success they helped showcase that players/teams from lesser known Northern Nevada could hold their own against those from the more heavily populated Vegas area. Heller was recognized for her contributions in goal being name the All-League 1st Team Goalkeeper. And Tillitt, who is a goalkeeper on her club team and a Dynasty student, received the AllLeague Offensive Player of the Year Award along with the Golden Boot Award (most goals scored) for her team after racking up 20 goals this fall. In addition her teammates voted her Most Valuable Player. In addition both student athletes received All-State Academic Awards for their achievements in the classroom while excelling in a varsity sport. Well done!
JORDAN BROWN – February 02, 2013 — Randleman, NC
Senior goalkeeper Jordan Brown is a rarity amongst soccer players these days. What is so unique about her? She is a multi-sport athlete and a standout in all. In a country where youth athletes are being pressured to specialize in one sport at earlier and earlier ages and coaches no longer tolerate or support athletes playing multiple sports she has chosen to follow her love of all sports. The result is a very well developed athlete with an exceptional vertical jump (she holds the all-time Dynasty camp record at 25"!) and lighting quick reflexes. In addition not only does she excel in soccer, basketball, volleyball, tennis, cross country and track she excels in the classroom too, ranked #2 in her class WHILE being active volunteering in her community! She is an exceptional young woman who will be continuing her soccer career at UNC-Wilmington this fall. Congrats Jordan! The following article from The Courier-Tribune of Ashboro, NC details Jordan's outstanding high school career.
All-Around Athlete ~ By Dennis Garcia
Jordan Brown began playing tennis her sophomore year at Randleman High School. It wasn't that Brown decided to join the team her sophomore season, it was then she decided to pick up a tennis racket for the first time ever. Two years later, Brown and her partner were playing in the North Carolina High School Athletic Association tennis championships.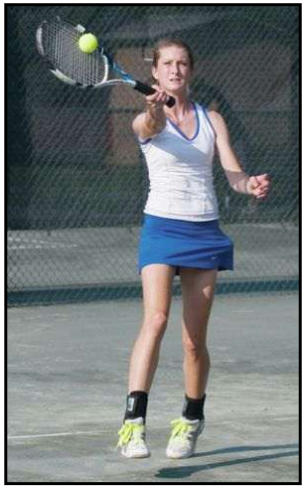 Could there be a better example of just how strong an athlete Brown is?
Brown not only excelled in tennis during her final three years at RHS, she excelled in every sport she participated in. And there were quite a lot. From volleyball, soccer and basketball, to tennis, cross country and track, Brown has or will have played them all for the Tigers and played them very well.
"She is one of the most decorated athletes we have ever had here at Randleman," RHS Athletic Director Shane Handy said. "She is one of the best athletes that have come out of here."
During her freshman year at RHS, Brown participated in volleyball, basketball and soccer while she earned plenty of accolades, most notably in soccer.
Her sophomore and junior years included tennis, basketball and soccer and this year's agenda includes cross country, tennis, basketball, soccer and track.
"Sports are my motivation to do well in school," Brown said. "My parents said I could participate in everything as long as my grades don't drop. I have an agenda to manage my time. I really enjoy playing a lot of sports. I've never questioned if I'm doing too much. It's something I enjoy."
Academics haven't been a problem for Brown, who excels in the classroom as well as she does in athletics. She is second in her class with a 4.7 GPA.
Brown said she wasn't aware that RHS had a tennis program until her sophomore year. After a year of volleyball, Brown said she thought she'd give tennis a try. She picked it up quickly. While the majority of players at the high school level began playing at a young age, she took to the sport very well as a teen.
This past tennis season, Brown and partner Taylor Billings placed fourth at the regional tournament, which earned them a berth into the state championships. Although they lost their first-round match there, qualifying for a state tournament after picking up a racket for the first time just a few years before is a true indication of how athletic Brown is.
"I think picking up the basics of tennis was easy," she said. "The hardest thing to overcome was the mental aspect. I was really hard on myself and got mad easily. Overcoming the mental part was difficult.
"I was really surprised," Brown admitted on advancing to the state tournament. "There are times when we got mad at ourselves, but the other would always help and we would settle down and get back to playing. I don't think it really set in until after we lost the state finals how fast it went by."
RHS tennis coach Mitchelle (pronounced "Michelle") Cable said it was easy to see from the start Brown was a special athlete.
"As a coach you can see it and when you see it, you know you got something," Cable said of watching Brown early in her tennis career. "She is probably the most aggressive player I have seen in my whole career and that's playing and coaching. She wants to create the action. She wants to be the action. You really have to watch her to see how aggressive she is. She's a natural athlete. Any sport she goes into, she can dominate. She has that work ethic and desire to be better. She is the most coachable player you can hope to have and that's where she is different than most. Her and Taylor worked so well together."
Brown gave plenty of credit to Cable for helping her develop on the tennis court.
While excelling in everything, Brown has chosen to pursue soccer collegiately as she's about to sign a scholarship to the University of Wilmington, where she will fight for the starting goalie position her freshman season.
"Playing goalie, you have to be aggressive and people don't see me as aggressive," Brown said. "When that ball comes in the box, you have to be aggressive and do anything you can. When that ball comes in my box, I'm aggressive. I'm not really an aggressive person, but I know what my responsibilities are when I play sports."
Brown said her future was etched into stone the moment she stepped on the campus of UNCWilmington. "It wasn't a difficult decision," Brown said. "They invited me to soccer camp and the second I stepped on campus, I knew that's where I wanted to be. So I constantly stayed in touch with the coaches and in August, I went on my official visit. It felt right every time I went there."
Brown said she was also looking at Gardner-Webb, Catawba and Coastal Carolina, but her heart was set on UNC-Wilmington early.
Brown is currently on the RHS basketball team, trying to help turn a program around. Terry Linthicum came out of retirement to lead the program and Brown said Linthicum's approach to the game should help the program get back on track.
"I think that's what is most difficult, that everyone looks down on Randleman basketball," Brown said. "I'm glad Coach Linthicum has come in. He really knows what he's talking about and he has a true passion for the game and a true passion for coaching. I think if he was there when I was a freshman, it would be a totally different program."
Linthicum said he sees a lot of great qualities in Brown.
"She jumps well and is probably the quickest player we have," Linthicum said. "She gets off the floor quicker than anyone."
But her future in college is soccer. She has won numerous awards as a goalie and gave a great deal of credit to her goalie coach, Tim Faircloth of Randleman, who she has been working with since age 7.
"He's worked with me for 11 years preparing me for college," Brown said. As her senior year wins down, Brown said she realizes how close she is to ending her high school athletic career.
"The most difficult part for me is knowing it's all going to end soon," she said.
But the memories she has created on the tennis court, soccer field, the volleyball court, the track, the cross country course and the basketball court will always be remembered.
ANNA VENKUS – Fall 2012 – Bartlett, TN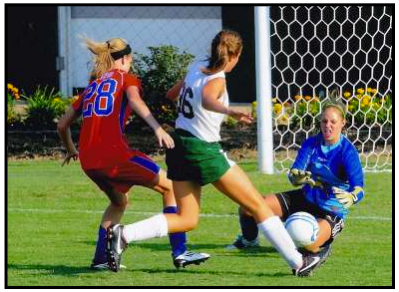 Freshman goalkeeper Anna Venckus wasted little time establishing herself and making an impact on her high school program. Last fall Anna was named Team MVP as a freshman playing in goal for the Bartlett High Panthers! Their overall record was 11-11 and they were regional runners up, which tied for the best ever finish in school history. Anna played in all 22 games and started in 18. In the eleven wins, she had eight shut-outs.
DAYTON WETHERBY – January 18, 2013 – Wesley Chapel, FL
This action shot was taken of Wiregrass Ranch High School senior goalkeeper and Navy commit Dayton Wetherby in a recent game. Now that is how you go UP, OVER, AND THROUGH a challenge!!! By the way she CAUGHT and HELD this ball!!! Way to dominate your area Dayton and show them whose boss!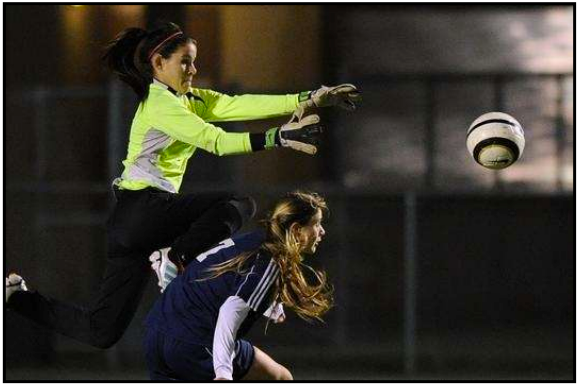 They won this game over Steinbrenner High 2-1 and according to her father she was flawless. Unfortunately they got beat in the Region semis two games later by the eventual state finalist and ended up 22-3 overall. The following is an excerpt from a local newspaper following the game:
"We were all really nervous," Wetherby said. "We all remembered how last year went. After that game we knew we had to fix something. We spent two hours working on defending Steinbrenner's style of play, so I think it helped us and kind of woke us up."
Wiregrass Ranch started the week averaging six goals while allowing 0.4. The closer-than-usual nature of the last three games forced the defense to step up its play, but senior goalkeeper Dayton Wetherby said they have just as much confidence playing tight contests.
"If we go over defensive structure and focus on that during the game, then these types of games shouldn't be that much pressure," said Wetherby, who had five saves. "Just knowing that our shape should be able to help control that pressure makes it easier."
In addition to having a standout senior season in goal for her high school team Dayton will be competing again with the U20 Panama National team for the Central American games in San Jose, Costa Rica from March 6-17. Good luck Dayton!