PRO
ASHLYN HARRIS – June 27th, 2014 – Washington D.C.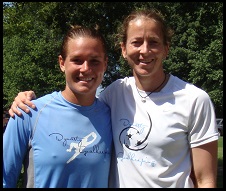 Former Dynasty Staff coach Ashlyn Harris just finished yet another successful season playing for the Washington Spirit of the NWSL. In 2013 the Spirit finished last in the league, but this year Harris was instrumental leading her team to a 4th place overall finish and league semi-finals (unfortunately losing to Seattle Reign 2-1).  The following article written by Jess Fainberg is a superb in-depth look at the struggles that have made Ashlyn the goalkeeper she is today.  It appeared in the online women's professional soccer news site, Soccerly.
In addition you definitely need to watch the video interview with Harris! Very introspective and a MUST for all female goalkeepers to listen to her journey because her road has been anything BUT easy.  I love that she has never quit fighting.  Inspirational!
Harris keeps pushing herself to excel in competitive US goalkeeping scene
After climbing her way through U.S. Soccer's youth national teams, goalkeeper Ashlyn Harris earned her third international cap at the senior level against France in a 2-2 draw on June 19th. In camp prior to the France friendlies, Harris was excited to be back with the national team, but said, "I haven't made it yet."
The U.S. women's national team pool features five elite goalkeepers; 219 caps have been earned between the five, however, longtime starting goalkeeper Hope Solo has 152 of those, and longtime backup Nicole Barnhart has 54. In the opinion of many, including goalkeeper coach Paul Rogers, Solo ranks as the No. 1 goalkeeper in the world.
"Training with Hope everyday is a blessing for me," Harris said during the United States' recent visit to Tampa, FL "I learn so much from her and she takes me under her wing. She is helping me along my way, that's a good feeling."
Harris, 28, is in her second season with the National Women's Soccer League's Washington Spirit.
In 2010, former St. Louis Athletica goalkeeper coach and current U.S. goalkeeper coach Rogers drafted Harris to the now-defunct Women's Professional Soccer (WPS) team. As a professional, Harris' first duty was backing up Solo.
"She was a typical college goalkeeper with a fair amount of natural ability and raw talent," Rogers said of Harris. "She was obviously very athletic, and coming out of college I think she was a bit unsure of what she was going to do with her career."
Harris has a special relationship with Rogers. She credits him for molding her into the goalkeeper she is today. As both the St. Louis Athletica goalkeeper coach and U.S. goalkeeper coach, Rogers decided to take a look at Harris on the international level. He felt the transition was a big step for her.
Out of high school, Harris committed to play for legendary coach Anson Dorrance at the University of North Carolina. Before ever suiting up for UNC injuries plagued Harris. She suffered ACL tears two years in a row, as well as a major thumb injury. In 2006, she was able to come back and play the last part of the regular season for the Tar Heels. She won three NCAA titles at UNC.
In 2010, Harris became a regular call up for the senior level national team camps.
"I was so raw when I first met him." Harris said. "I was super athletic but not good enough technically, not good enough mentally, and very inconsistent. He's just hammering into my brain the last few years about being consistent and being hungry and just doing my job and doing it well."
Harris made the decision to leave home and play overseas after WPS folded in 2012 – the second U.S. pro league to go under. She signed with FCR 2001 Duisburg in Germany. She played seven games for the club before returning back to the States to play in the newly formed NWSL.
Styles and techniques are different in each country. For field players, going overseas is fundamentally different. Learning new tactics, and playing a different style benefit those who choose to play in different leagues around the world. For Harris, it was an opportunity to slow down and work on being in more control.
"When I was in Germany, a lot was focused on power and explosiveness and technical ability. Technical, tactical, everything there is just very structured." Harris explained. "It was a good balance for me because I came in and I was so athletic and I was so quick. That's what American's are known for. It was good to kind of take a step back and work on the things that maybe I wasn't so good at."
In 2013, Harris was allocated to the Spirit. For the first time in her career, a team she was a part of finished last in the league. Despite a head-coaching change midseason, the young Spirit struggled throughout the season. Harris struggled with the team's results.
"It was a building year. I had to learn a lot about myself because it wasn't enough to just show up every day," Harris said. "I had to regroup and realize that I needed to point within and figure out what I could be doing to better my performances, my team, good communication and leadership."
Following the disappointing 2013 NWSL season, Harris signed a short-term contract with Swedish Damallsvenskan powerhouse Tyreso. During her time in Sweden, she trained with the goalkeeper coach of the Swedish men's national team. Harris was the first female he ever coached.
"It was phenomenal," she said. "All he knew was how to train a male goalkeeper, so that's what he did with me. I really learned a lot from him and even though it was three and a half months it was a good stepping stone for me."
At Tyreso, Harris played alongside U.S. teammates Ali Krieger, Whitney Engen, Christen Press, and Meghan Klingenberg. The team also featured international superstars Marta and Vero Boquete. Before leaving for the NWSL season, Harris helped the team into the final eight of the UEFA Women's Champions League, and Tyreso eventually lost to Wolsfsburg in the final.
The game against France marked Harris's third start for the USWNT.
Harris is happy with her progress, but she is still hungry for the future. For Harris, of the biggest struggles has been the pressure. The pressure she puts on herself keeps her going.
"I have to be good; I have to be damn good," she said. "I have so many other people chomping at my heels wanting to be in my position and I just have to keep being consistent and keep staying hungry. The biggest struggle is staying here."
According to Rogers, Harris is fighting for the No. 2 spot right now. Along with Solo and Barnhart, goalkeepers Jill Loyden (10 caps) and Alyssa Naeher (uncapped) are in the goalkeeping pool for the Jill Ellis' U.S. side.
"If you were to name the top 20 goalkeepers in the world, you would put Ash well in that group," Rogers said. "She's established herself as a top professional goalkeeper. It leaves me with tough decisions here at the national team level. She's got a good future as an international goalkeeper."
As Harris continues her growth – she says she is "just tapping into her peak – she credits Rogers with helping to push her to the next level.
"Paul demands a lot out of me," Harris said. "He's very attentive to detail. If you come watch our training sessions, your feet your hands your knees your chest your butt, everything is broken down and the smallest margins make the biggest difference. We videotape everything we analyze everything. Not catching a ball clean is not good enough.
"He brings out a really good quality in all of us. He really focuses on our technique and training us like men. He hits the ball harder than probably most females will ever face and that's a good thing. He does a great job of preparing us. That will help the team, that will help me, and that's what's been my focus."
And with a goalkeeping pool as deep as the United States' is, there will always be competition to push each other.
KELSEY QUINN – Summer 2014 – Melbourne, AUSTRALIA
For five years of college soccer (4 plus a redshirt year) Kelsey Quinn lived in the shadow of taller goalkeepers rarely getting the chance to prove her merit in games. After four years at Villanova and a year of graduate school at Virginia Commonwealth earning tons of experience as a reserve goalkeeper she is finally getting the chance to shine playing professionally in the Victoria Women's Premier League of Australia. The WPL is one of 2 women's leagues in Australia, the other being W-League which is considered the top league in Australia. (The Australia leagues are akin to our W-League and NWSL here in the United States with the NWSL being the top league here in the U.S.) In a recent email update from Kelsey she had this to share with Dynasty:
"I love the life of playing. Playing abroad has been one of the best decisions of my life. Not only do I get to continue to do the one thing I love, but also get to learn about a different culture on the other side of the world. I thought I had found who I was in life after graduating college, but this experience has taught me even more about myself and now I really know who I am.
I have had an extra special experience because not only am I learning the Australian culture, but since the club I play for is Greek based I am also learning a lot about the Greek culture.  About 90% of the team speaks Greek and English. Sometimes at practice and during games our coaches and players speak both languages. So I have had to learn some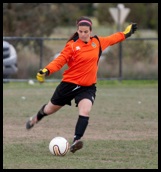 Greek to understand and have even started using those words on the field. I am lucky that I can experience two different cultures without having to learn a whole new language and can rely on English to understand. As for the soccer part, our season has gone very well. Our team is currently ranked 5th and the top 5 teams make playoffs. We have 3 games left in the regular season and if we win all three we can finish in second place, however if we lose all three we can finish in 6th place. The teams are equally talented this year, anyone can win, and they said it has been a while since it has been like that. Unfortunately, I missed the first 8 games of the season due to finishing my master's degree before moving down under. Since then I have played in 13 games and have only allowed 11 goals and have posted 7 shutouts. I would like to have a better GAA, but as a rookie being thrown in as a starter the second I landed, I am pretty happy with that. I have made "Team of the Week" three times as well. The best news though is I have been asked to come back next year and plan to as long as we can figure out my visa."
To read more about Kelsey's experiences playing abroad click to read a post-match report. I know it wasn't easy for Kelsey to be in the reserve role for much of her college career. I give her HUGE credit for never quitting or losing sight of her passion and why she plays the game.  Kelsey focused on the positives of her college experience and because of her mindset and work ethic she continued to develop from the years of training.  Her desire, work ethic, and self-motivation are why she earned this opportunity to play abroad.  She worked hard for years off the bench without playing many minutes to make her dream a reality.  Good luck in playoffs Quinnie! Enjoy the moment, you deserve it!
KELSEY WYS – July 17th, 2014 – Rochester, NY
Former Dynasty student Kelsey Wys is yet another Dynasty goalkeeper that has been able to successfully make the transition from college to the professional ranks. A four year standout at Florida State Wys was drafted earlier this year by the NWSL Western New York Flash. Projected to be a reserve goalkeeper behind last year's starter Adrianna Franch, due to season ending ACL injuries to both Franch and the Flash's other goalkeeper Lydia William, Wys got her chance sooner than expected. The following quote from Kelsey about her transition to the professional ranks appeared in the Sun Sentinel on June 2nd, 2014:
"Playing for FSU was a tremendous experience from a tactical and technical standpoint, but now I need to step up to another level," said Wys, who played travel soccer with the Coral Springs Renegades and the Parkland Predators. "Everybody is faster across the board, and I need to learn from the older girls and keep it going. Playing with the likes of Abby and Carli is pretty cool, and they can teach me everything, which is great."
As you can see from Kelsey's comments playing professionally is not easy and is yet another challenge for her to raise her level of play. In addition the following article by Jeff DiVeronica appeared in the Democrat & Chronicle details Wys season with the Flash and her style of play.  She has earned some valuable experience this season as a rookie and will only continue to grow as a professional.  Congrats Kelsey!  Keep it going!
WNY Flash to start rookie Wys in goal
When the Western New York Flash take the field Friday night at Sahlen's Stadium they'll do so after having lost a second starting goalkeeper to an ACL tear and still waiting for Abby Wambach to return from her own knee injury.
There are two ways to approach their final six matches: Curl up and go quietly, or come out swinging. WNY is in sixth place. The top four teams make the National Women's Soccer League playoffs.
"We can't look at the fact that we weren't allocated a (third U.S.) national team player and that we've had two starting goalkeepers injured. Those are just a bunch of excuses," said Flash midfielder Carli Lloyd, one of those allocations with Wambach. "At the end of the day, we've proven that we are able to beat every single of team in this league.
"It's going to be a matter of if we want it more than anyone else."
Effort hasn't been a problem, execution has. The Flash (7-9-2) have lost all nine of their matches by a one-goal margin. On Friday, they welcome second-place FC Kansas City (10-5-3). Kelsey Wys, a 23-year-old rookie out of Florida State, is WNY's new No. 1 goalie following Lydia Williams' ACL tear during the first half of Saturday's 1-0 loss to Washington. Williams was signed after last year's starter, rookie Adrianna Franch, tore her ACL in the preseason.
Wys played terrific, making a few strong stops among her five saves, but a second-half penalty kick awarded sunk WNY. It'll be her fifth career start. She went 1-2-1 in May while Williams was with the Australian national team.
"Kelsey has earned the right after that performance last week. She made a few incredible saves," Flash coach Aaran Lines said. "(Her earlier stint as starter) I think will help her now. She was solid during that period and last week gives me confidence in what she can do. I think she can play in this league consistently."
 "Kels is not a big talker, she just gets the job done. She has a good, quiet confidence about her and that instills confidence in us about a back line," WNY center back Brittany Taylor said.
Last week Wys played with reckless abandon, coming off her line quickly and more aggressively than Williams.
"She's very intelligent in how she comes out. She has a plan, just like how we defend," Taylor said. "I'm not going to aimlessly run at somebody. I have an idea of what I want to do and what I want them to do."
Lines would rather have Wys be more aggressive than to sit back and she's said she's ready for the No. 1 role. A native of Coral Springs, FL, she hasn't liked sitting after starting four years at FSU.
"I love Lydia. She has been a great role model," Wys said. "I don't want to see her go, but it's an opportunity for me. I'll take it how I can get it and go from here."
COLLEGE
EMILY ARMSTRONG – August 18th, 2014 – Storrs, CT
UConn women's soccer sophomore goalkeeper Emily Armstrong was honored by the American Athletic Conference as the league's Preseason Goalkeeper of the Year and she was also named to the Preseason All-Conference Team. Armstrong (Collegeville, PA) earned the league's preseason keeper of the year award after a stellar freshman season that saw her named to The American All-Rookie team and the NEWISA All-New England First Team. Overall in 2013, the 5'9 custodian posted an 11-9 record with a 1.49 GAA, 68 total saves and six shutouts. Go Em!
CAROLINE CASEY – August 13th, 2014 – Richmond, VA
William and Mary junior goalkeeper Caroline Casey was selected to the 2014 Preseason Colonial Athletic Association All-Conference squad.  Casey, who garnered first-team all-conference honors last season, has started every single match of her Tribe career. Last year, Casey played every minute of the season, posting a .091 goals-against-average, 74 saves, and six shutouts. In her two collegiate seasons, the Chesapeake, Virginia native has recorded a 0.81 goals against average, 156 saves, an .834 save percentage, 13 shutouts, and 22 victories.  Good luck this fall Caroline!
ROSE CHANDLER – July 9th – 22nd, 2014 – Seattle, WA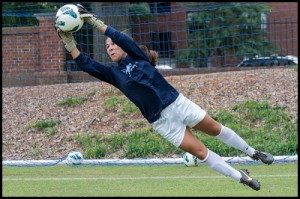 WHERE'S WALDO?!?!?
The summer of 2014 flew by for Dynasty student Rose Chandler. Jet setting all across North America Rose definitely wins the award for most miles covered for soccer this summer!
Starting with a Dynasty Pro Week in early June Chandler then traveled to Seattle to compete with her club team Concorde Fire at the ECNL National Playoffs. After flying back to Atlanta for a brief stint at home she returned to the Pacific Northwest  after getting called up from the U.S U18 Women's National Team to the U.S. U20 Women's National Team.  After a two-week training camp with the 27 player pool held in Seattle, Washington from July 9-23, Chandler was named to the U.S. Under-20 World Cup roster as a reserve goalkeeper!  CONGRATULATIONS ROSE!!!
From Seattle Rose then flew to Mexico City with the U18 U.S. National team to compete in 2 games versus the U20 Mexican National Team between July 22nd – 28th.  They tied 1-1 in their first game on July 25th with Rose going the full 90 and won 2-0 in their second game on July 27th with Rose starting and playing the first half.
Then it was off to Canada to rejoin the U20 U.S. Women's World Cup Team! The 2014 FIFA Under-20 Women's World Cup was held in Edmonton, Montreal, Moncton and Toronto, Canada, from August 5-24th.  The sixteen nations who competed in the 2014 FIFA U-20 Women's World Cup were: host Canada; China PR, Korea DPR and Korea Republic from Asia; Ghana and Nigeria from Africa; Germany, Finland, France and England from Europe; the USA, Mexico and Costa Rica from CONCACAF; Brazil and Paraguay from South America; and New Zealand from Oceania.
Unfortunately the United States run was cut short with the women losing in the quarterfinal round to Korea DPR on penalty kicks. However, in case you missed it there was some impressive play by France, consistent tactical execution and patience by the U20 World Cup Champion Germans, and exciting attacking by Nigeria.  The German goalkeeper Meike Kaemper was outstanding as the tournament wore on and won the Golden Glove Award for the best goalkeeper in the tournament.  And Nigeria featured the Golden Boot and Golden Ball winner Asisat Oshoala.  She is a phenomenal attacking personality with unreal acceleration and certainly someone to watch for at the full team level potentially next summer in Canada should Nigeria qualify for the 2015 Women's World Cup.
2014 U.S. U-20 Women's World Cup Team Bio Shorts (as listed on the U.S. Soccer website)
GOALKEEPERS
Katelyn Rowland (Vacaville, CA) This will be her first youth Women's World Cup, but she has been in the USA's National Team programs since she was 14 years old. The first-choice goalkeeper for most of this cycle, she started four of the five matches at the qualifying tournament and currently has nine U-20 caps. Tall at 5-foot-11 and brave in the box, her stellar play was a key part of UCLA winning its first NCAA title last fall during her junior season.
Jane Campbell (Kennesaw, GA) The starter on the USA's 2012 FIFA U-17 Women's World Cup Team, she finished her U-17 career with an undefeated record of 10-0-5 and a total of 16 caps. At 5-foot-9, the daughter of two former fighter pilots has the height, athleticism and intangibles to be an impact goalkeeper at the international level. A starter as a freshman at Stanford, she heads into the FIFA U-20 Women's World Cup with six U-20 caps.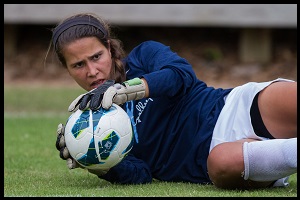 Rose Chandler (Atlanta, GA)A great shot-stopper with a big presence, she is regarded as the top youth goalkeeper in the country. The 5-foot-8 Chandler graduated a year early from high school and will attend Penn State in the fall. Brave into the challenge, she possesses a tremendous training ethic and will add depth to the USA's goalkeeping corps.
So where is Waldo now?!?!? 🙂 Rose has finally settled into her college dorm in State College, PA and is happily mentoring under fellow Dynasty fitness legend and Penn State Nittany Lion junior starter Britt Eckerstrom.
EMMA NEWINS – August 26th, 2014 – Washington D.C.
Georgetown University senior goalkeeper Emma Newins (Glen Allen, VA) was named the BIG EAST Defensive Player of the Week after leading the Hoyas in the first two games of the season in San Diego. Georgetown posted a 3-1 win over host University of San Diego on Friday night in the first game of the Torero Classic and played to a scoreless draw with Long Beach State on Sunday. Newins made one save in the team's win on Friday night against San Diego and then posted six saves in the shutout on Sunday. Newins, an All-BIG EAST Third Team selection in 2013, has 24 career shutouts.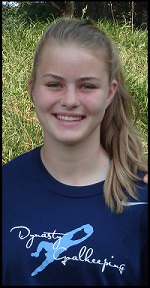 YOUTH
KATHARINE ASMAN – August 23rd – 30th, 2014 – Orlando, FL
Congratulations to Katharine for being called into her second National Team event of this calendar year! The Roswell, GA native plays for Concorde Fire out of Atlanta.
HOPE KNUSSMAN – May 31st, 2014 – Easton, MD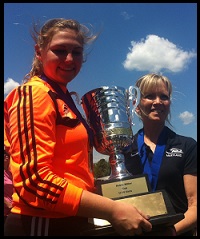 Hope Knussman and her Maryland Rush u18 girls soccer team recently won the Maryland State Cup Championship with a 3-1 win over the PSC Eagles. The Easton High graduate guided the Rush girls through the state cup win with eight saves while playing the entire game in the keeper position.  The team will travel to Rhode Island and represent Maryland in the Region 1 championship tournament in June.  In addition Hope will attend college and play soccer at Youngstown State this fall.  Good luck Hope!
AMELIA SAPIRMAN – July 10th – 14th,2014, Greensboro, NC
Congratulations to Dynasty goalkeeper Amelia Sapirman for leading her team, Match Fit Academy U18 to a National Championship in the National Premier League (NPL). Her team is the first in the club's history to win a national title.  Enroute to the championship Match Fit tied Sporting Blue Valley Chiefs 1-1 (KS), tied Oakwood (CT) 1-1, defeated Weston FC White (FL) 3-1, and finally overcame Oakwood (CT) in the Championship game 2-0. Amelia was the only goalkeeper on her team to participate in the tournament and has just recently started her fall season as a freshman at the Honors College of New Jersey Institute of Technology and will be majoring in Mechanical Engineering. Good luck Mel!
HEITHO SHIPP – July 9th – 15th,2014, Montevallo, AL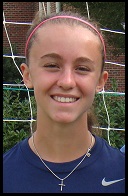 Congratulations to Heitho and her club team Tophat 17 Gold for winning the U15 Girls Region III Championship.   They defeated PGSA (North Carolina) – 4-0 in the semi-finals and Jacksonville FC (Florida) – 1-0 in the Championship.  Heitho was sharp throughout the event and didn't allow a single goal all tournament! (3 games split in group play and 3 full matches in the knockout stages)  Consequently she won the Golden Glove Award which is given to the top goalkeeper at the event. In addition she was named to the 2014/2015 Region III Pool this summer as well. Congrats Heitho, keep it up!