Dynasty Winter Camp – March 1st – 2nd, 2014 – Sparks, NV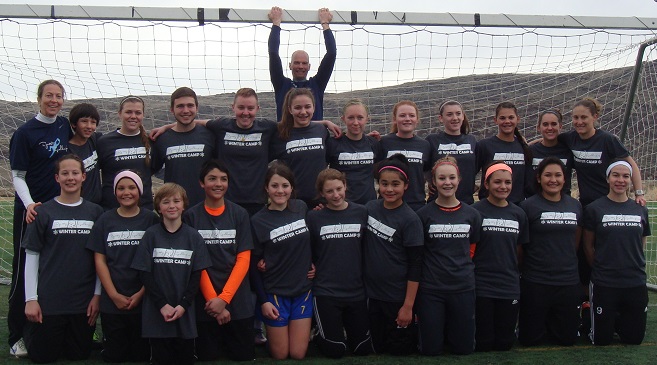 2014 was Dynasty's 6th winter in Sparks, Nevada!  Currently this is our only west coast camp and it is always a HUGE hit.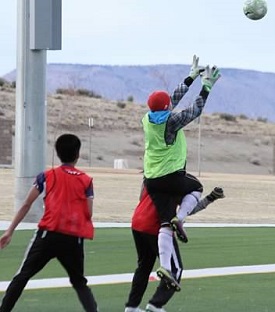 This camp is always fun for me to host because I get to train both girls and boys in this environment and see how our students progress and grow over multiple years of training.  Some of whom have attended for 5 years and are now in college, such as Kenzie Tillitt at the University of Colorado in Boulder!  The Sparks group of gks always impresses me s saves.  Without fail year after year this group continues to amaze me with a great group dynamic and positive training environment. We had a full house again this year for the YOUTH GK Clinic and the older ELITE GK Camp plus a waitlist for the older gks, so we are currently considering options in the Portland, OR region to hopefully expand our camp offerings for our west coast gks in the fall. (Stay tuned to the website for more on this)  The word is spreading about how beneficial this winter camp is and how much fun it is!  This year our students hailed from 5 states!  We not only had students from the local Nevada area, and nearby California, but also Oregon, Idaho, and as far as Montana!  Looking forward to next winter already!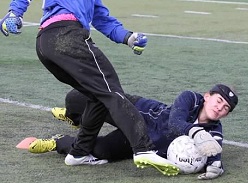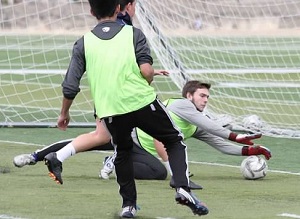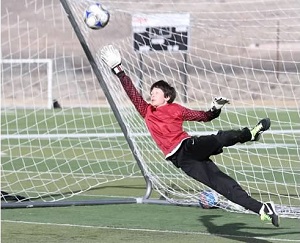 PRO
NATIONAL WOMEN'S SOCCER LEAGUE UPDATE – April 2014
The NWSL season is now underway and three goalkeepers with Dynasty ties have signed with teams and are working hard to earn playing time.  And a 4th Dynasty goalkeeper is working her way up the ladder!
ASHLYN HARRIS – After spending her fall playing abroad in Sweden for Tyreso and the winter
recovering from a minor knee surgery the starting gk for the Washington Spirit will once again be the seasoned veteran and former Dynasty staff coach, Ashlyn Harris.  A UNC graduate and U.S. National Team goalkeeper, Harris is known for her athleticism and mentally toughness, as well as being a very vocal technical goalkeeper. (featured photo above is Harris in action for the Washington Spirit in 2013)
ADELAIDE GAY – Also on the Washington Spirit roster is former Dynasty student and staff coach Adelaide Gay.  She
continues to prove her worth, will and indomitable spirit again and again at every level.  In college she persevered against the odds to become the starter and 2012 National Champion at UNC after transferring from Yale in 2010.  Last year, despite not being drafted she fought her way onto the 2013 NWSL Champion Portland Thorn roster.  Never one to give up, she has earned herself a spot on her new team for 2014 after being released earlier in the year from the Portland Thorns as they completely revamped their gk core to make room for German international gk and 2013 FIFA World Player of the Year Nadine Angerer.
KELSEY WYS – The third Dynasty student who is making a name for herself is Kelsey Wys.  Wys, who finished her
college eligibility leading the Florida State Seminoles to the 2013 College Cup Final versus UCLA, was drafted by the Western New York Flash. After proving her worth in pre-season she is now under contract with the Flash and teammates with U.S. National Team legends Abbi Wambach and Carli Lloyd.  Nothing like two super strikers to challenge you day in and day out in training to develop you!  With the Flash's 2013 starting gk, Adrianna Franch out for the season with a knee injury the goalkeeping position is up for grabs.  Currently Wys is working hard to gain experience and more playing time behind Australian National Team goalkeeper, Lydia Williams.
I encourage all of you to follow these 3 gks via the NWSL website as well as watching games online!
So what about the 4th Dynasty goalkeeper that was vying for a NWSL roster spot you ask?  For those of you out there who missed the previous edition of Dynasty GKs in Action, the 4th Dynasty goalkeeper who was vying for a NWSL roster spot is Dynasty staff coach, Megan Kinneman, also known as "PING"!
MEGAN KINNEMAN – Kinneman is a 5-time Dynasty student and 3-time Dynasty staff coach that many of you know
from attending camp.  A graduate of LSU, Megan ended up earning the 3rd goalkeeper slot in pre-season training camp for the new NWSL expansion team Houston Dash.  Given her age and inexperience at the professional level and considering the two goalkeepers in line ahead of her, (Canadian National Team gk Erin McLeod and U.S. youth National Team gk Bianca Henninger), this is a great opportunity for Kinneman.  As the 3rd gk of a team with only two goalkeeper roster spots she was not signed to contract, but she will continue to train with the Dash to gain valuable experience playing at the professional level and she is next in line to be pulled up should anything happen to either of the outstanding Dash goalkeepers currently under contract (such as being called up by the National team or an injury).
The following is a great article that was published in the Houston Chronicle recently on Megan.  It provides more insight into her background as a player and her current approach to training with the Houston Dash.   So read on!
Elkins grad Kinneman hoping to land spot as keeper on expansion Dash
By Corey Roepken | April 1, 2014
Highlights
What: After a successful soccer career at LSU, Megan Kinneman is back in Houston trying to make it as a professional player.
New franchise: Kinneman has been training with the Houston Dash as they make their preparations for their first season.
Size doesn't matter: Kinneman is small compared to most top-flight goalkeepers, but that has not stopped her from impressing coach Randy Waldrum.
Coming home
People have been telling Megan Kinneman for a long time that she is too small to be a good goalkeeper. In return, Kinneman has been showing them they're wrong with her standout performances.
The 2010 Elkins graduate has returned to Houston after a successful soccer career at LSU. Kinneman is on a mission back in her home state. She is trying to prove that she's not too small to excel one of the highest levels in the women's game.
Kinneman has spent the last few weeks in camp with the Houston Dash, an expansion franchise in the second-year National Women's Soccer League. The team is supported by the Dynamo and will use BBVA Compass Stadium as its home field.
It's a big stage and onlookers may wonder about a 5-foot, 4-inch goalkeeper trying to keep clean sheets against the likes of Alex Morgan, Abby Wambach and Sydney Leroux. The doubters have not fazed Kinneman to this point. She said she does not expect them to start fazing her now.
"That's been with me my whole career," Kinneman said. "I've always played with the idea that you use your footwork and positioning and get a good vertical jump to get yourself to play bigger."
The most noteworthy instance of when Kinneman overcame her supposed disadvantage came at LSU. As a freshman she overtook the incumbent starter, who stood 6-feet tall.
Kinneman has made a believer out of coach Randy Waldrum, who saw lots of great goalkeepers in 24 years of coaching at the college level.
Waldrum noted several plays she made in Monday's training session. At one point she came off her line to catch a crossing pass before it could reach its intended destination. Later she saved a penalty kick.
"She is very good in her shot stopping," Waldrum said. "She is smaller, dynamic and quick. Her forte is her quick reaction time."
The Dash must cut down to a 20-player roster on Thursday. Though Waldrum said he'd have Kinneman on the roster if he could keep 24, she likely will be cut this week. That does not mean her chances with the Dash are over.
In fact, Waldrum said he hopes to set up a situation in which Kinneman can play for the Houston Aces, a team in the Women's Premier Soccer League. If Kinneman does that she'll be nearby in case the Dash need to call her up if a roster spot comes open.
For instance, the Dash will be without expected starter Erin McLeod, a three-time World Cup participant and Olympic Bronze medalist, for at least six games while she trains and plays with the Canadian national team.
Professional women's soccer is a developing enterprise with players all over the world trying to find footing. Most salaries are not high. The players typically have to find other jobs during the offseason.
Kinneman could be in for a long journey before she makes it as a starter in an established league. That's OK, she said, because she just wants to keep playing soccer. The fact that she can do so near her hometown is icing on the cake.
"I get to work with Erin McLeod and Bianca (Henninger) and the others," Kinneman said. "It's going to push my level a lot. I'm going to learn a bunch from everybody around me."
ANNA SIELOFF – February 10th, 2014
Congratulations to former Dynasty student and UNC senior Anna Sieloff!  At the conclusion of her senior season at UNC Sieloff signed to play with BV Cloppenburg of the Frauen Bundasliga.  This is the top pro division for women in Germany!  Anna recently shared the following with me about her experience with Dynasty (it can be found along with our student quotes on our Testimonials page):
March 2014 – "Thank you again for all that you have done for me. Without your guidance and friendship I would not have been fortunate enough to play at UNC, and more certainly not be playing professional soccer in the Bundesliga.  In addition to teaching me your world class soccer abilities, you also taught me to not be afraid of going after my goals and if I really wanted to do something, to work my tail off and fight for it regardless of what everyone else says.  Your success and perseverance set such an amazing example not only for me but for all the people you work with. Thanks again for everything, Tracy."
The following article offers more insight into Anna's decision to play abroad versus fighting for a spot, likely reserve goalkeeper, on a NWSL roster and her transition to the professional ranks.
UNC goalkeeper makes new start in Germany
Article Written by Travis Clark, ESNN
In the hyper-competitive environment of the North Carolina women's soccer team, it's commonplace to see players make the jump into pro soccer after decorated college careers.
Crystal Dunn and Kealia Ohai were both first round picks in the 2014 NWSL draft and will look to make a name for themselves on domestic shores.
But some players, like their former Tar Heel teammate and last year's starting keeper (for the most part) Anna Sieloff, elect to turn to foreign opportunities.
Sieloff recently embarked on a pro career by inking a deal with Frauen Bundesliga side BV Cloppenburg, an idea that sparked to life during her Chapel Hill career.
"The players in my class inspired me to make the jump," Sieloff told TopDrawerSoccer.com. "Kealia Ohai, Crystal Dunn, and Meg Morris knew early on they all wanted to go pro in the spring semester. They are some of my best friends and I didn't want to miss out on what they were doing. So figured I would give it a try too. I talked to Anson [Dorrance] about it and he said that I should go for it."
Coming from a program that has spawned countless pro and national team careers gave Sieloff the platform she needed to make a jump to the pro ranks. 
The next question became where she should turn to start. With the fledgling NWSL entering a second season, staying in the United States was a possibility – but one with perhaps limited playing opportunities for a goalkeeper.
"After I decided I wanted to play professionally, Anson and I discussed my options," she said. "With only nine teams in the NWSL, all the starting goalkeeper positions would be filled by veterans and that it would be a long shot to play. He suggested that I look overseas and find a team where I could get some minutes. He put me in contact with some people in Europe to get the ball rolling." 
Assistant coach Jason Sisneros helped Sieloff along the way, emailing pro coaches across Europe and sending out highlight tapes. It eventually led to the opportunity in Germany, a path not completely unfamiliar to her. At the end of the 2012 season, Tar Heel captain Amber Brooks signed with Bayern Munich, and the email updates that Brooks sent back to the squad gave Sieloff a picture of what to expect when this opportunity came knocking.
The whole experience is something that Sieloff is very excited about: from simply playing as a pro to getting the opportunity to live in Europe amongst a culture of soccer. 
"I am looking forward to playing soccer at the next level," she said. "Whenever you step on to the field, you are going to be playing with national team players from all over the world. The quality at which the game is played is remarkable. Not to mention I am in an environment where the sport of soccer reigns. Everyone in Europe is immersed in the game, which is fun to be a part of." 
Sieloff joined Cloppenburg in the middle of their winter break, with the last game played back on Dec. 8. She spent time with the team in training camp in Turkey, and is trying to learn German as quickly as she can. The second half of the season began over the weekend, with a Sunday matchup against BSV Schwarz-Weiss Rehden. 
Some of her goals for this upcoming season are cracking the starting lineup, helping the team maintain its first division status (Cloppenburg was promoted to the 1. Bundesliga last spring) and continued improvement between the posts.
As the next phase of her career begins, Sieloff will miss the relationships cultivated in the cauldron of Carolina. But she also knows that the environment there is going to help the transition to Germany.
"At the professional level, the margin between players gets smaller," she said. "The best players are always the sharpest, and make the fewest mistakes. Every day at Carolina, results were recorded and you could see how you matched up against other players. There was a constant pressure to perform your best. I think the competitive mindset will definitely help me here."