COLLEGE
Congratulations to the following Dynasty Goalkeeping students who will be continuing their academic and playing careers at the following colleges this fall:
Class of 2014
•ROSE CHANDLER – Penn State University
•ABBEY CRIDER – University of South Carolina
•KELLER DIXON – University of North Carolina – Asheville
•DARIEN DUNHAM – Boston College
•VICTORIA GABOR – University of Louisville
•TAYGAN GRUNDY – The United States Naval Academy
•GENEVIEVE HENDERSON – College of Charleston
•MEGAN 'STU' HINZ – University of Michigan
•HOPE KNUSSMAN – Youngstown State University
•KELSEY KILGORE – University of Virginia
•ALLISON LEONE – Western Kentucky University
•MOLLY MILSTEIN – University of Southern California (Molly plans to focus on her academic career)
•CHLOE NOLAN – Otero Junior College
•EMMA JANE PROCTOR – Duke University
•ABBY PYNE – Duke University (will redshirt due to injury)
•HEATHER ROLLS – Georgetown University
•AMELIA SAPIRMAN – New Jersey Institute of Technology
•MARGOT SHORE – University of Pittsburg
•TRISTAN STUTEVILLE – Saint Louis University
•EMMA TOOMER – Macalester College
•PHALLON TULLIS JOYCE – University of Miami
•AIDAN VASQUEZ – University of Nevada – Reno (plans to play on the club team to focus more on academics)
(I apologize to the Dynasty students who are absent from this list. If you are not listed it is because I did not know your college choice! The 2014 class won't be featured until May of 2014 even though I know several students have already made verbal commitments.)
KARLY GUSTAFSON – April 22, 2014 – Puerto Rico
Congratulations to NC State goalkeeper Karly Gustafson for being invited in to train with the senior Puerto Rican National Team. She will be competing for a spot on the upcoming Caribbean Cup roster. It is quite an honor to represent your country and play internationally. Good luck Karly!
To learn more read the full article on the NC State Wolfpack women's soccer site:
Gustafson Invited to Train with Puerto Rican National Team
YOUTH
KATHARINE ASMAN – June 1st – 8th, 2014 – Portland, OR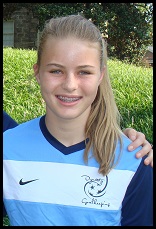 Congratulations to Dynasty goalkeeper Katharine Asman for being invited into the first U.S. U-14 Girls' National Team training camp of the year. It will be the first National Team experience for this group of players, all of whom were born in 2000 or 2001. Good luck Katharine!
ROSE CHANDLER & DARIEN DUNHAM – May 11–18, 2014 – Chula Vista, CA
Two Dynasty goalkeepers continue to be mainstays in the U18 US Women's National Team Pool. Both Rose Chandler from Atlanta, GA and Darien Dunham of Cheshire, CT attended training camp with the U18 team at the U.S. Olympic Training Center in Chula Vista, CA. It was the second training camp of 2014 and was held in conjunction with the U20 U.S. Women's National Team camp.
ALLISON LEONE – May 17th, 2014 – Acworth, GA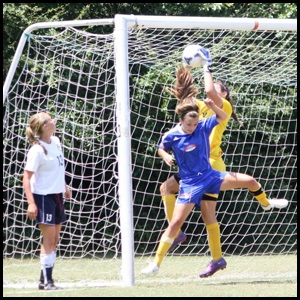 Senior goalkeeper Allison Leone was a major factor leading her team from the back to win the Georgia 6A High School State Championship as the Harrison High School Hoyas defeated Grayson 2-1 in the final to cap off an undefeated season! Grayson tried valiantly to tie the game with a flurry at the end, but Leone came up with a series of impressive saves. The best was hot shot off the foot of Lizzy Sieracki in the waning seconds.
"She's amazing," head coach Riccard said. "We call her 'El Gato' (the Cat) in practice."
Allison was also selected to the All-County Team for her play this season.
HEITHO SHIPP – May 2014 – Birmingham, AL
Congratulations to Heitho Shipp for making such an impact as a freshman as the starting goalkeeper for her senior laden (11 seniors) varsity team at Mountain Brook High School in Alabama.
In the 3rd round of playoffs for the high school 6 A varsity championships (largest division in AL) Heitho had 11 saves in regulation plus two overtime periods. Then in penalty kicks Heitho saved two of the four penalty kicks with very quick dives and parries! Here is a pictures of one her penalty kick saves.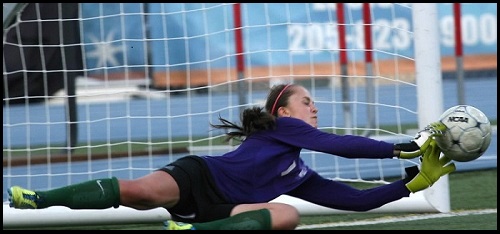 Mountain Brook went on to win their 4th round playoff and fell just short losing 1-0 to Oak Mountain High School in the state championship on a corner kick.
Due to her tremendous impact in goal as a freshman Heitho was voted the Defensive MVP by her teammates. In addition she was also recognized as the Most Outstanding Advanced Geometry Student, received a silver award on the National Spanish Exam and was awarded the character "Self-discipline" award for the 9th grade. Heitho is a wonderful example of a true STUDENT ATHLETE!