CHELSEA DUNAY – November 3, 2007 – Cicero, NY
This game story gets to us a bit late, but it was still worthy of inclusion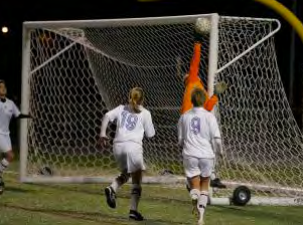 Chelsea's team, the Cicero-North Syracuse Northstars played the Liverpool Warriors in the Section 3 championship game in Cortland, NY and won 1-0. Chelsea's made the shutout preserving save shown in this photos with 3 minutes left in the game! According to her description of the play the opponent crossed the ball from the right corner flag. At first it appeared as if the ball was curving out of bounds and into the side of the net. Even her teammates yelled at her to let it go because they thought it was going out for a goal kick. Fortunately Chelsea didn't listen to them and she kept her eye on the ball. The ball didn't curve out and instead came right at the post. Chelsea jumped and pinned it against the post. Then she came down to the ground, caught it, and distributed it to the opposite side. It is a testament to Chelsea's focus and concentration to make such a clutch save for the Northstars in the closing minutes of the game!
CHELSEA SAPIRMAN – April 2, 2008 – Bethlehem, PA
Recently Chelsea made a HUGE save in the final minutes of her high school game to preserve the tie. Her team, Liberty High School played their Bethlehem School District rival, Freedom High School. As it turned out Freedom's school colors are yellow and black, which just happen to be the same colors as Chelsea's two main keeper jerseys. So she opted to wear her light blue Dynasty jersey for the game instead. (This is ALWAYS a good choice!)
The game had gone back and forth and the score was tied at 1-1 with just minutes left in regulation time. Freedom HS was putting Liberty (Chelsea's team) under a lot of pressure. Then one of the Liberty HS defenders flubbed a play leaving Chelsea in a one on one with a Freedom player. The Freedom player shot the ball to Chelsea's far right, but Chelsea was there to make the play. She leapt sideways fully extending to snatch the ball out of the air. The crowd and her teammates went wild. The game went into overtime and ended with a 1-1 tie thanks to Chelsea's big save.
According to Chelsea this is what went through her head during that play:
"This play was no different than any other to me at the time it happened. As a player approaches, I block out everything else – the only things I see and hear are the opponent and the ball. I got into position, ready to react to her movement, then she committed, and I went for the ball. No further thought, I just did the same thing I have done hundreds of times before. It felt good, but there was no time to revel. My parents asked me afterwards if I heard the crowd screaming, but I never do, I am in a kind of bubble. I don't hear or see anything beyond the field!" According to her biggest fan (a.k.a. Mom), "It was probably the most awesome save of her career!"
You can see Chelsea's save for yourself on YouTube: www.youtube.com/watch?v=yEiOu5cTfMI
ALYSSA GILLMORE – April 3, 2008 – Lakewood, CO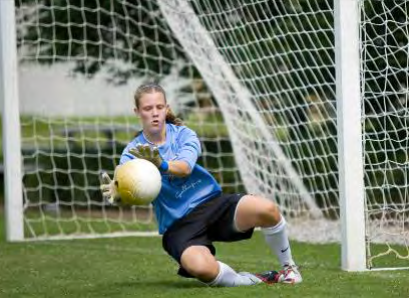 Alyssa Gillmore is the starting gk for Chatfield High School. Her team took a real hit in pre-season this year when 4 returning starters decided to forego their senior season and play for the local club team, the Colorado Rush, instead. Alyssa said they really weren't expected to have a very strong season due to the loss of those 4 players. However, recently the team and Alyssa showed they were up to the task by beating their Jefferson County League rival, Dakota Ridge 3-0.
Chatfield dominated the first half and went up 2-0. Dakota Ridge was held to one shot on goal and spent most of its time in their own defensive end. They were able to gain better possession in the final 40 minutes, but they still weren't able to get a ball past Charger keeper Alyssa Gilmore.
Gilmore, who has only surrendered one goal this season, had to make just three saves. "We've had a stellar defense this year," Gillmore said. "It's our defensive goal to have a shutout every game."
While the departure of key players to club soccer could have torn apart some teams, Chatfield has hardly missed a beat. Coach Brock Blume said he's put the situation behind him and has confidence he has a team that can compete for a state title, although it still have a lot to prove.
"I'm really happy with this group and, if anything, we're more of a team then we ever were before that," Blume said. "The fact is we really haven't played a top-10 team yet, and that's going to be the real test."
This article was adapted from John Rosa's article "Gray's speed sparks Chatfield" originally printed in Special to the Rocky.