LAUREN ARNOLD – April 8th – 16th, 2009 – Rio De Janeiro, Brazil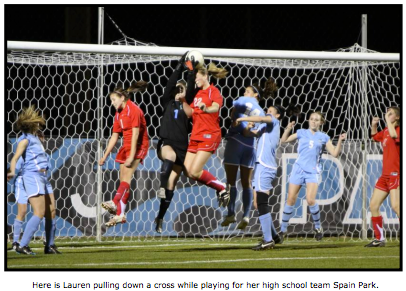 Lauren recently traveled abroad with the Region 3 ODP Team to Brazil to experience soccer with the flair that only the Brazilians possess. Soccer is their culture, it is in their blood, it is their life. Region 3 played games against the Rio De Janeiro State Champions, the runners-up, and a professional club team from the area. They also played the Brazilian State Championship Beach Soccer Team and a local State Champion Futsal Team. Region 3 dominated play winning all their games except the beach soccer. The beach soccer was 5v5 plus a gk in a goal almost the same size as a regulation goal. Lauren said that the Region 3 team was slow to master the skills needed to play in the sand. The Brazilians were much more adept at passing and dribbling in the sand using little chips. They had better technical skill to trap, juggle, and volley the ball to each other without it ever touching the ground. Sand soccer and futsol are excellent at developing your technical skills and touch on the ball. So much so that even Lauren's confidence in her foot skills improved. Since returning back to her high school team she has already used her new found confidence to pull off a Coerver move to evade an on rushing forward as she tried to clear a ball outside her penalty box! Bold and impressive, but I wouldn't recommend it…glad it worked out!
On the lighter side of things, the Region 3 girls did discover a new dessert in Brazil…a dessert pizza, if you can imagine that?!?!? Lauren said it had regular pizza dough with chocolate sauce topped with M&M's or strawberry or bananas. Doesn't sound like the healthiest option, but she said it was pretty tasty. ☺
LAUREN ARNOLD & SHANNA BROOKS – April 4, 2009 – Birmingham, AL
For any of you that read the Dynasty GKs in Action newsletter religiously, many of you may recall an article about these exact same gks last spring. Well, Lauren and Shanna are up to it again. Both are fierce competitors and their recent game was decided on penalty kicks yet again with Lauren scoring on Shanna during the shootout. Below is the article written by Enea Zhonga that appeared in The Birmingham News following the game.
It takes a penalty shootout to decide Spain Park girls win over Oak Mountain
When Oak Mountain and Spain Park went to a penalty shootout in the semifinals of the Girls Metro Soccer Tournament, it added fuel to an already-heated rivalry between the No. 3 Eagles and the top-ranked Jaguars.