COLLEGE
ASHLYN ANGELL – March 2011 – Italy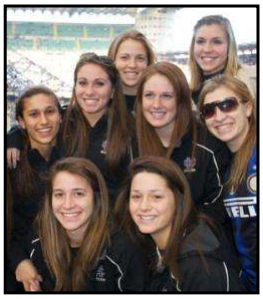 Holy Cross sophomore gk & Dynasty staff coach Ashlyn Angell recently returned from a team trip to Italy. The NCAA allows college teams to take foreign trips once every 4 years. Not only are playing against foreign teams a great opportunity for training and development, but foreign trips can be hugely beneficial for team bonding as well as valuable from a cultural point of view. I highly encourage all of you to get out and explore the world if you have the chance! It will change your perspective and enrich your life!
Here is what Ashlyn had to say about her experience:
"Italy was amazing! We went over our spring break a couple weeks ago. Our three soccer games were completely different experiences than the style of play we're used to. The Italian players are so technical and expressive. We lost twice and won once while we were over there, but we played really well and didn't make it easy for those Italians to beat us. I was shocked at the amount of 'diving' going on. And of course the ref called a ton of unwarranted fouls on us.
To be honest though, playing soccer wasn't what made the trip fun. The sights, the people we met, the food, the weather, the gondola rides (!), the shopping… and just being in such awesome places with 20 girlfriends made the week unforgettable. I'd never traveled abroad before so even the little details (like the miniature cars zipping around) were sweet."
What Ashlyn didn't mention is that she also saved a pk in one of her games! Way to go Ash!
If you want to read more about her adventure go to her team's blog at: www.goholycross.com/sports/w-soccer/2010-11/releases/20110305777byj
RACHEL COLLINS – April 2011 – Spartanburg, SC
Congratulations to Rachel for being name Outstanding Freshman of the Year at her recent team banquet. Starting as a freshman at the collegiate level is difficult enough, but being recognized for your contributions by your teammates and coaches says a lot about her impact on the field. (Rachel attends the University of South Carolina Upstate.)
CHELSEA SAPIRMAN – Fall 2010 – West Point, NY
Chelsea was the reserve gk in the fall for Army and has since seen action this spring as she finishes up her freshman season. Last fall while busy training with the squad in her first semester in college, she killed it in the classroom and was named to the Patriot League Women's Soccer Honor Roll. A true STUDENT athlete – way to go Chelsea!
YOUTH
JULIE ECKEL – April 2011 – Cordova, TN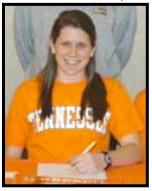 The list of accolades for St. Benedict High School senior Julie Eckel continues to grow. Not only is she a top goalkeeper on the Region 3 ODP team, but she is a standout in basketball, track, and in the classroom as well. This winter she excelled on the court helping her basketball team advance to the state semi-finals leading in assists and charges taken this season. She was named 1st Team All Region as well as Most Outstanding Guard. In addition she was selected "Best of the Preps" by her local newspaper The Commercial Appeal in soccer and track. In the classroom she is ranked in the top 10% of her class and holds a 4.1 weighted GPA. In addition she is a member of the National Honor Society, Key Club, and Club St. Jude. She is also a class officer and the Sports Editor for the school newspaper. On top of all that she makes time to serve the community volunteering with the Special Olympics, the Ave Maria Home, and the De La Salle Elementary School. I don't know how she finds the time to do it all, but Julie is a true role model for her school, community, and all of us!
CAROLINE STANLEY – April 4-10, 2011 – Kansas City, MO
Lee's Summit High School (ranked #2 by ESPN Rise) junior gk Caroline Stanley is making an impact in goal for her team this spring. She was recently named Player of the Week by ESPN Rise. Congratulations Caroline!
CARLY TINSTMAN – April 6, 2011 – Raleigh, NC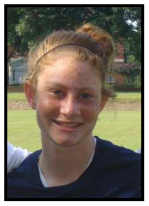 The following excerpt is from an article written by Matt Morgan on Sanderson High School sophomore gk Carly Tinstman. It appeared in the Raleigh News & Observer following a big win over rivalry Broughton High School.
Goalie's defense key in Sanderson win Carly Tintsman's Play in Final Minute Secures Victory Over Broughton
Sanderson goalie Carly Tinstman couldn't see where the shot came from or who kicked it. All she could do was react.
Trailing by a goal with under a minute to play, Broughton forward Jessica Crowder placed a corner kick in front of the net. As three Broughton players crashed, the ball emerged from the pile headed toward the goal. But Tinstman dove to her right to secure the ball and a 2-1 win for Sanderson on Wednesday.
"Everyone was scattered, and we were just lucky to be able to get touches on it," Tinstman said.
"I just went for it and was able to get my hands around it."
Tinstman, who stopped seven Broughton shots, said she couldn't let the opportunity slip through her fingers.
"I was not going to let it go in," Tinstman said. "Last year, we went into overtime twice (against Broughton).
"This is really big. I never thought it would happen. It's a great feeling."
"She has no fear," Worley said. "She's not going to let anyone come between her and the ball when she has the chance."
www.newsobserver.com/2011/04/07/1111571/tinstman-denies-caps.html