DYNASTY GOALKEEPING – August 11, 2008 – Chapel Hill, NC
Thanks to all the student contributions at camp this summer Dynasty Goalkeeping recently donated 136 sports bras and some other miscellaneous soccer equipment to Carolina For Kibera, http://cfk.unc.edu/. We exceeded the goal of 100 bras. Way to go! Thank you to everyone who contributed to this worthy cause.
DAYTON WETHERBY – August 19, 2008 – Wesley Chapel, FL
Dayton recently made her middle school boys football team as their kicker! She has been kicking 45 yard field goals!
COLLEGE UPDATES
CODY MILES – August 23, 2008 – Portland, OR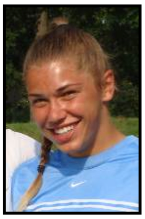 Though she gave up three goals, Miles, the freshman from Salem, OR, played well in net for the University of Oregon Ducks in their season opener versus 6th ranked Portland. She had three saves, including a one-handed deflection of a blistering shot by Elli Reed in the second half that came from 15 yards out.
"Cody was outstanding," said head coach Tara Erickson. "I think for her first game, I can't imagine a more intimidating setting to go into and she was a little bit nervous but she really came out on top and made a couple nice saves. We'll look for her to get more comfortable, but that was all I could ask for and more for a freshman stepping into goal for the first time."
The result was also a moral victory of sorts for the Ducks. It was the first time Oregon had scored on Portland since 2004, and the two-goal margin of defeat was the closest the Ducks had played the Pilots since a 1-0 loss in 2003. Portland had a 15-9 shot advantage on the night.
"I think we just learned that we can play with those teams that are ranked higher," said Miles. "It was so fun tonight. It was a little nerve-wracking, but I'm pretty excited about this team and the players we have."
August 30, 2008 – Eugene, OR – Starting in her 2nd straight game, Miles posted her first career shutout in a 1-0 win over Utah State.
"It's nice to see her playing with confidence, coming out on balls, and she has just got nice hands," Erickson said about her freshman goalie. "The more confidence that she puts out there, the more confidence our team feels."
(reprinted from www.goducks.com) – Next up for the Ducks is Purdue.

KELSEY WALTERS – August 22, 2008 – Fort Worth, TX
Dynasty Goalkeeping Staff coach and former Dynasty student, "Wally", is off to a solid start in the nets for Texas Christian University. She has posted 2 straight shutouts! The Horned Frogs beat Stephen F. Austin 5-0 in their season opener and Xavier 3-0. Next up for TCU is Mississippi.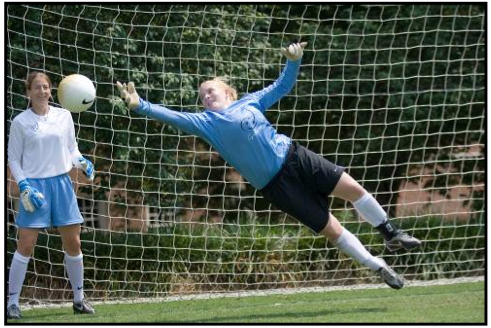 McKINZIE OLSON – August 25th, 2008 – Baton Rouge, LA
'Mac' got to see her first collegiate action in BYU's second game of the season against LSU. Unfortunately BYU lost 3-1, but Mac said she did make some good plays along with getting some of the freshman nerves out. The college game is a lot different than club, and there is a lot to learn! The game is faster, players are stronger, fitter, and more sophisticated, and there is a lot more pressure. Next up for BYU is Arizona.
KIM KERN – August 22, 2008 – Raleigh, NC
Kim got the nod as the starter for NC State in their season opener at home versus Wofford and won 1-0. She started her collegiate career off with a shutout on the same field that she ended her high school career at in May when Leesville High School won the State Championship. Then she posted her 2nd shutout in the next game in a 2-0 win over Western Carolina. Next up for the Wolfpack is Virginia Commonwealth.
ALEX PERRY – August 29, 2008 – Greensboro, NC
Alex saw her first collegiate action for the Spartans last night in a 6-3 win over George Mason. Next up for UNC-G is Duke.
ASHLYN HARRIS / ANNA RODENBOUGH – August 22 – Chapel Hill, NC
Dynasty Goalkeeping staff coaches Anna and Ashlyn have been splitting halves in goal for the Heels thus far this season. They are both healthy and off to a strong start with a 5-1 win over Charlotte and a big 3-2 win over Texas A&M in College Station. Next up for the Heels is Tennessee.