ANNA SIELOFF – Troy, MI
Congratulations to Anna for being name a 2008 NSCAA All-American!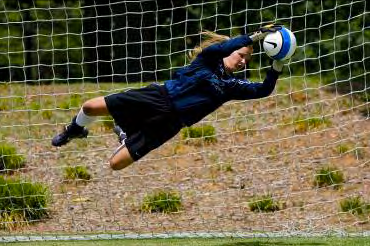 HANNAH MEYER – Bethesda, MD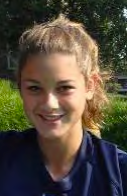 Hannah was recently named to the All Montgomery County Gazette Girl's Soccer 2nd Team. Hannah posted 6 shutouts as a sophomore at Whitman High School
KELSEY QUINN – Fredericksburg, MD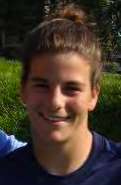 Senior Kelsey Quinn was recently honored for her consistent play this past fall by being named Team MVP and also to the Frederick News Post All-Area, 1st Team. Kelsey sent me the following update regarding her high school playoffs. Certainly an exciting end to her season winning 2 of 3 penalty kick shootouts!
"My high school (Linganore HS) season is over. We advanced to the regional finals; the farthest our school has gone in over 10 years! The team really came together and played extremely well in the playoffs. In our quest to reach the state championship, we had to defeat the #1 seeded team and state finalist from last year, CM Wright. The game was tied 1-1 at the end of regulation and double OT. I tipped the first 3 shots but not enough to clear them. The score was tied 4-4 in PK's. I was the 5th shooter and then had to make the final save. I made my shot! In order for us to win, I had to save the final shot. I tipped it over the crossbar! Next up was Perry Hall, the #3 seeded team. Again the score was 1 – 1 through regulation and double overtime. PK's again! Our shooting was not as strong on this night, but I was able to come up with 2 stops! PK's were tied 2 – 2. I had the final shot again and made it! We won 3-2 in PK's!! We were off to the regional finals! Unfortunately we lost to a strong Thomas Johnson HS 1 – 0. Even though our run was over, it was GREAT! We went farther than anyone expected and we learned a lot about ourselves as individuals and as a team! It was a great experience."
COLLEGE UPDATES
ASHLYN HARRIS & ANNA RODENBOUGH – December 5 & 7, 2008 – Cary, NC

Anna, Ashlyn, and the Tarheels beat UCLA 1-0 and Notre Dame 2-1 to win their 19th NCAA National Championship. It is a unique situation at UNC since they have two excellent gks and thus have the ability to split time equally between gks, all the way through the final. This article from the Raleigh News & Observer explains how they handle splitting time and support each other.
www.newsobserver.com/sports/story/1321389.html
Congratulations to both goalkeepers! Anna ends her outstanding career with 2 National Championships and Ashlyn returns for one more season next fall!