2012 WINTER CAMP – MARCH 2-3 – SPARKS, NV

The 5th Annual Winter Camp in Sparks, NV is just around the corner, so if you are interested in preparing for your spring season, register now! Both levels (YOUNG GK and ELITE GK) are filling up fast and only half the spots remain, so don't delay. Both levels are limited in size to 12 students to guarantee plenty of training for each goalkeeper. It is a day camp structure open to BOTH male and female gks. The YOUNG GK camp will train twice over the weekend for 2 hours (once each day), while the ELITE GK camp will include 2 lectures and four 2 hour+ training sessions, for a weekend of fun and intense training at the Golden Eagle Sports Complex in Sparks, NV. If you are interested in registering please click on the banner above and/or call Tracy at 919-942-2903 if you have any questions.
2012 COMMUNITY OUTREACH CHALLENGE
In addition to the Camp Homework I assign students every year, I also challenge my camp students to become involved in their community to raise their awareness of the global community around them. It is far too easy to get swept up into our busy lives, the daily grind, and our own microscopic circle of influence. I am certainly a culprit of that. Hence the Dynasty Goalkeeping Community Outreach Challenge was developed to get all of us to broaden our circles of influence!
Initially the program began with students donating gear for children in need around the world.
Thus far Dynasty has been involved with the following organizations:
2008 – Carolina For Kibera – Donated 25 soccer balls and over 100 sports bras
2009 – Coaches Across Continents – Donated soccer gear, over 300 pairs of gloves and over 1000 pens & pencils.
2010 – They Often Cry Outreach (TOCO) – Donated 6 larges boxes of soccer gear
2011 – Equipment Across Continents (a branch of Coaches Across Continents) – Donated 12 large boxes of soccer gear and equipment
2012 – Ukraine & Poland – Donated 20 soccer balls, discs, one full set of jerseys (courtesy of Meredith College Women's Soccer Team) and gloves to various schools and teams during my U.S. State Department sponsored outreach trip to Ukraine and Poland (see more below)
Then in 2010 the Dynasty Goalkeeping Community Outreach Challenge took our generosity one step further. I challenged students to ACT BEYOND THEMSELVES and get involved with a project that meant something to them and to 'donate' some of their TIME to help others. The feedback I received from the students and parents was tremendous, so giving back to your community has become a core value of the Dynasty family of goalkeepers.
It is in acting that we have our most profound effect, because there simply is nothing more valuable than your time. So to set aside some of your precious time to help another human being (animal or the planet) speaks volumes. The recipient will certainly be tremendously grateful for any help you can give, but the effect it will have on your own life will be were the most value lies. The gratitude and love you receive back from the people you help is addicting and powerful. Try it and you will see what I mean.
Here is the list of the volunteer work that Dynasty staff and students (listed by the camp week they attended) reported in 2012! This is GREAT STUFF! I am proud of all of you — you guys inspire me to do more!!!
If you were a 2012 student/staff that did volunteer this year and your name isn't on this list it is because you didn't email me! I can't report on something I don't know!
TRACY NOONAN (Chapel Hill, NC)
This year I continued volunteering/supporting some of the same organizations as last year. I am an avid supporter of Coaches Across Continents promoting their work and recommending volunteers when it isn't possible for me to volunteer first hand. In addition I make ongoing visits to a local nursing home, Carolina Meadows, with my pet rabbit Fang who is known as the 'Rehab Rabbit'. The residents love holding Fang in their lap and feeling his ridiculously plush, soft fur. For some of them this is the only form of contact/communication they still have due to the debilitating effects of aging. He of course relishes the attention and I am always amazed at how calm he remains as if he somehow senses the frailty of the residents he is visiting.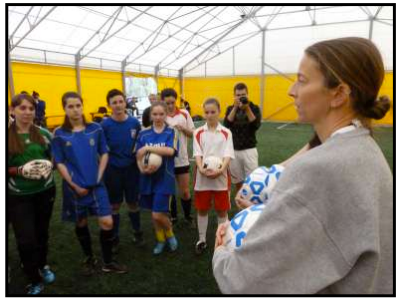 In addition I had the opportunity to visit two eastern European countries, Ukraine and Poland, this past April as part of a U.S. Speaker and Specialist Program supported by the U.S. State Department. It was a soccer outreach program geared towards supporting female participation in sport. As many of you are aware Ukraine and Poland were the host nations for Euro 2012, so as the excitement built for that event in June the U.S. Embassy in Ukraine saw this as an ideal opportunity to highlight and promote girls and women in sport, specifically soccer.
The trip was a combination of soccer clinics, Q&A sessions, and school visits/speeches. The main issues that I focused on in my sport clinics were technical skill (ball/footwork, dribbling skills, passing, and shooting), teamwork, communication, and decision making. During the Q&A sessions and school visits I shared my life story – highlighting my participation in sport at an early age, support from my parents and coaches, my academic achievements, college career, U.S. National Team career, 1999 Women's World Cup, my professional career, and finally my transition into a business owner. We also discussed cultural differences, Title IX, leadership, healthy lifestyle choices, goal setting, and the importance of hard work, perseverance, and making the most of your opportunities — many of the same tools and philosophies that I share with my Dynasty students!
If you want to read a more in depth version of my trip please click this link to go to the April/May Dynasty GKs in Action edition. www.dynastygoalkeeping.com/in_action/edition46.pdf
Plans for 2013? As of right now it looks like I will be traveling to Costa Rica in March with the U.S. State Department organization Sports United that coordinates with U.S. Soccer sending current and former National Team coaches and players to developing nations as sports envoys to run clinics and support learning through participation in sport. In addition if my body cooperates and I stay healthy I hope to return to Tanzania with Coaches Across Continents!
STAFF
DAN ADELMAN (Chapel Hill, NC) – Dynasty Goalkeeping Athletic Trainer Dan Adelman found time in his busy second year as a UNC graduate student to volunteer with Habitat for Humanity in Orange County doing painting and finishing work on homes for low-income families in the Orange County area. Dan has done Habitat work a few times in the past at other locations, but this was his first time volunteering in North Carolina. Dan's thought on his Habitat work; "It's always nice to see people helping others no matter where you call home."
MEGAN KINNEMAN (Baton Rouge, LA) – For her leadership in LSU's community service efforts over the past year, junior goalkeeper Megan Kinneman was selected for the SEC Community Service Team for women's soccer on Tuesday as one of 14 representatives on this year's squad announced by the conference office.
A native of Missouri City, TX, Kinneman has been selected to the SEC Community Service Team after showing a tremendous commitment to service in Baton Rouge over the past year.
Kinneman has proven herself as a leader on and off the field for the Tigers in 2012 while racking up more community service hours than any student-athlete on this year's squad.
LSU Soccer's representative on the Student-Athlete Advisory Committee, Kinneman is an active member of such community service projects as Habitat for Humanity, Kids Hope and the Special Olympics.
As part of the Kids Hope program, she joined the LSU Soccer team in adopting a local school for the year and serving as a mentor to one of the students while spending time each week playing games and assisting with their school work. Kinneman also joined the Baton Rouge chapter of Habitat for Humanity in several builds throughout the year while helping to build homes for those in need.
She also helped coordinate the team's effort in two of LSU's annual community service initiatives with its Halloween BOOzar and Thanksgiving with the Tigers last fall.
At the Halloween BOOzar, she joined the soccer team in dressing up in Halloween costumes and creating activity stations for more than 500 local children where they played games, passed out candy and signed autographs during the event. Canned goods were also collected during the Halloween BOOzar and passed out during a local food bank's Thanksgiving drive a season ago.
As part of Thanksgiving with the Tigers, Kinneman teamed with the St. Vincent de Paul shelter locally to sponsor 21 needy kids and their families to provide Thanksgiving meals last fall.
In addition, Kinneman is an active participant in the "Best Buddies" program while mentoring some local kids. As part of the program, she helped sponsor a number of "Best Buddies" activities including bowling night, soccer game, prom, tailgate, buddy march, dog parade and a group Halloween party.
Kinneman also led the Tigers with her performance on the pitch during the 2012 season as she helped this year's squad to a 9-8-4 overall record while pitching five shutouts and shattering her previous career-high with 117 saves on the campaign. Her 117 saves this fall breaks her previous best of 57 saves as a rookie in 2010 and ranks her No. 2 on LSU's all-time list for saves in a single-season.
WEEK 1
KARLY GUSTAFSON (Fayetteville, NC) – This past fall Karly volunteered over 7 weekends for a total of 21 hours as a coach for the Fayetteville Soccer Club's Little Kickers. She assisted the Director in teaching 3-5 year olds basic soccer skills as well as instilling a love for soccer. She plans to continue her work with this program this upcoming spring season.
STU HINZ (Haiti) – In August 'Stu' volunteered in Haiti at an orphanage and assisted with a soccer camp! Here is what Stu had to say about her experience: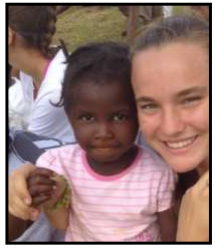 "This past summer I spent a few weeks in Jacmel, Haiti putting on a clinic for the local Haitian kids. Our main goal was to help introduce the game of soccer to the young girls of the community, but we were also there for the boys and to distribute donated items, such as cleats, clothes, and soccer balls. It was in Haiti that I realized the true meaning and value of service. I realized that service is a two-way road in which both the server and the person being served have something to give the other. While in Haiti I had made the most incredible relationship with a little Haitian girl named Ruth. She was no more than three or four years old, she was so young that she was really unable to partake in the clinic we had set-up for the children. So at first she was given shoes and then sent off to the side to watch. A few minutes later I feel a tiny hand take hold of my own and I look down and see little Ruth's eyes staring straight up at me. At this moment I had completely falling in love with this child, over the next few days as we had the clinic there was not a single moment that Ruth wasn't attached to me. As each day past Ruth opened up more and more, she went from just holding my hand not saying a word, just staring, to running around, dancing, and screaming, all in a matter of three days.
Seeing this transformation not only changed me forever but it exemplified compassion. The compassion shown between Ruth and me was life altering; it gave me the most rewarding feeling to know that just something as simple as holding a child's hand and letting them know that everything is okay by showing that compassion can completely change a person, like it did to Ruth. This also exemplifies simplicity in that all Ruth wanted was personal contact and to know that she was wanted and loved. In the Haitian society it's shocking how simplistically people live and I was able to get a real feel for that first hand. While there I had to live simplistically in that I didn't have any of the material goods we so often take advantage of, and what I found was that I don't need the latest material good that comes out in stores, but really what I crave is that simple satisfaction I got when I saw the smile on little Ruth's face. Basically my whole trip became about how could I affect the most people as possible. As soon as I left I began thinking of ways I could help people in my community. Service has become so much more than a school requirement to me that I believe this experience exemplifies the zeal I have towards helping others."
WEEK 2
BRITT ECKERSTROM (State College, PA) – Penn State sophomore Britt Eckerstrom was very active volunteering with her teammates this fall on campus. She volunteered to help with a Special Olympics soccer clinic where they played all sorts of games and did drills with the local special needs kids. Britt said, "It was cool because a lot of those same kids would come out to the games and we'd sign autographs and hang out with them afterwards and it was great getting to know them!" Also, at Penn State, they have a big philanthropy project called THON which supports families of children diagnosed with cancer. So the uber fit, former cross country stud (who holds nearly every Dynasty fitness test record) ran in the "For the Kids 5k" and was also a contestant in the Mr. and Miss Student-Athlete Pageant with all the proceeds going to THON. In addition Britt also found time in her busy schedule between school and soccer to participate in ROAR For Reading, a program where Penn State student-athletes read to elementary school kids. The highly entertaining, always energetic Britt read a bunch of Dr. Seuss tongue twisting books, and the kids loved it! Finally the team also did other small things like trick-or-treating with kids in the community, but what Britt is most excited for is potentially traveling with the team next year to South Africa for Soccer Without Borders. Hopefully the trip comes together!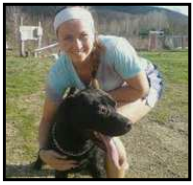 MEGAN JUNKER (Saint Bonaventure, NY) – Every chance Megan has free time she goes to the local animal shelter, SPCA in Cattaraugus County to share her love with the dogs. Even as a college student and starting gk for St. Bonaventure she finds the time to volunteer 2-3 times a week! Here is a photo of Megan in action and the website link to Megan's profile:
spcacattco.webstarts.com/all_about_our_volunteers.html
CARLY McCABE (Worcester, MA) – Holy Cross sophomore Carly McCabe has become involved in her college community of Worcester, MA volunteering for Big Brothers Big Sisters in Worcester. She went to 7 Hills Public Charter School once a week to visit her 'little sister'.
In addition Carly's college team joined Team Impact. Carly said it was late in their season so all they have done thus far is meet their new honorary teammate, had a 'signing day', and she came to a game. According to the organization's website; "Team IMPACT is a non-profit chartered to improve the quality of life for children facing life-threatening illnesses. Across the northeast they create unparalleled team based support systems. Core to their model is harnessing the power of teamwork by matching these courageous kids with college athletic teams. Team IMPACT children are drafted onto local college athletic teams and become an official member of the team for the duration of their treatment and beyond." Sounds like a GREAT organization!
Lastly, always finding time to give back, during her upcoming Christmas Break (for the next month) Carly will be volunteering for Meals on Wheels in the town over from her hometown (Barrington, RI) where they need the help.
ABBY PYNE (Dixmont, ME) – Abby volunteers at Eastern Maine Medical Hospital. Throughout the school year she does rounds with her father (helping with supplies) and she gets to visit with patient. Abby says, "It is fun and rewarding!"
KELSEY QUINN (Villanova, PA) – Giving back to the youth in her community has been an ongoing commitment for Kelsey. She has been coaching younger age groups (3 year olds through elementary) in her community for years, but now that she is in college she has started coaching goalkeeping to middle and high school students. Kelsey said she hopes to start coach field players soon too since she plays both in goal and on the field. In addition she has assisted with her old middle school basketball team.
Kelsey's biggest project though was this past spring. Her Villanova soccer team lost an honorary team member in January to a brain tumor. Morgan was a brave 13 year old that made a huge impact on all of their lives. They witnessed the hardships she endured battling her illness yet she still attended the Villanova games and supported their team. Oftentimes she would go to campus to do homework and hangout with the team. They celebrated holidays with her and took her off campus to movies, haunted houses and hayrides, etc. They also went to some of her soccer games and made posters for her. She was not only a teammate or a friend, she became family.
Morgan 'joined' the team when Kelsey was a freshman, so Kelsey's class of rising seniors knew her the longest. So they decided to start a new tradition in Morgan's honor this past spring. The women's soccer team decided to hold a 3v3 soccer tournament on campus in Morgan's name. They sold chocolate bars and charge an entry fee to participate to participate with all proceeds donated to CHOP, the hospital that took care of Morgan and did so well with her. They had great support from the community and students on campus and ended up with over a $3,000 donation.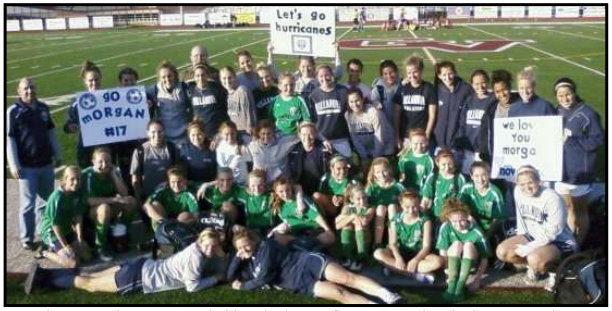 Not only did the women's soccer team participate, but the men's soccer team and both club soccer teams did as well. Football and basketball players participated as well as other athletes from all sports. There were over 250 participants in the tournament and they organized food, music, and prizes. The event was held in the heart of campus so they had more people come stop by when they saw the event and want to join. Kelsey said it was a TON of fun and a HUGE success, so they plan to continue for years to come. Kelsey said, "Morgan was a huge part of our lives and taught us a saying, "Fly High." We follow that and will always remember Morgan. #17 Fly High Forever MM"
SAM WHITNEY (Garden City, NY) – Sam has been in active in 2 volunteer programs while busy as a student-athlete at Adelphi University, C.A.L.B.E.R. and The Academy. Through C.A.L.B.E.R. Sam assisted in making dinner for children with terminal illnesses at the Ronald McDonald house. She said that seeing the smiles on the faces of the kids, while they were eating the dinner we had made for them, really touched her. They're smiles showed a glimpse of happiness and hope; even when they know they will probably pass away from their illness. To see how much happiness a simple home cooked meal provided was definitely the best and most rewarding part of the day.
The Academy is a charter school in Hempstead, NY where Sam and a few teammates have been volunteering every week since January. She mentors two students, Stephie and Deandrae, during their "free-recess time". They color/draw, play outside (jump rope, basketball, etc.), make bracelets, and just get to talk and learn about each other's lives. Sam said that learning and listening about their lives has been really rewarding for her. The two girls have really made her grateful for the opportunities she has had in her life. To be someone these girls can talk to is definitely why she love going and will keep try to keep on going throughout her career at Adelphi. GREAT WORK SAM!
WEEK 3
JORDAN BROWN (Randleman, NC) – Jordan Brown of Randleman decided to collect food for the Christians United Outreach Center (CUOC) and toiletries, household supplies and baby items for the Family Crisis Center as well as donations for each agency. The project goal was 600 items and $300; the result was 1,659 items, with more than 500 food items going to CUOC and over 700 other articles to the crisis center. A total of $344.67 was divided equally between the two groups.
"I felt a vast sense of accomplishment knowing that the donations would go to those who truly need whatever they can receive and would be extremely grateful," Jordan said. "This project really opened my eyes and showed me how much I took for granted. … I really enjoyed giving back to the community and plan to continue doing so in the future."
DARIEN DUNHAM (Cheshire, CT) – In response to the recent tragedy at Sandy Hook Elementary School Darien along with her fellow Cheshire Academy classmates have been planning and organizing collections for the Sandy Hook Elementary School Support Fund. They are gathering teddy bears and other sentimental items to put at the memorial. In addition they are raising money to donate to the support fund in honor of all the victims, but specifically in honor of 6 year old Jack Pinto, son of a Cheshire Academy alumni. We are with you Darien — our thoughts, prayers, and hearts go out to all of the families affected in Newtown, CT.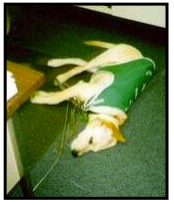 EMMY HELLER (Carson City, NV) – As part of her senior project for high school Emmy volunteers with Guide Dogs for the Blind. This is Duffy under her desk that she works with the most.
Emmy works with 8 week old to 14 month old puppies socializing and teaching them basic training. She spends an hour every Monday night in basic training meetings working with the dogs, and then throughout the week takes them to school with her. It's a big commitment, but she says she loves it.
ALEX LAGRAND (Raleigh, NC) – Apex High School junior Alex LaGrand volunteered as a Baucom Buddy at Baucom Elementary School in Apex, NC for the 2011-2012 school year. Her work entailed going into the school on early release days and teacher work days to help the teachers and office staff with anything they needed assistance with. She, along with other Apex HS students, would do clerical work, gardening, cleaning classrooms, arts/crafts work for teachers, etc. Alex chose this group because her mother works in the school system and it was a way to give back to all of the teachers that have given so much to her. She has seen through her mother how hard teachers work, how much they do, and they are not always fairly compensated for how much time they commit. Alex said she really enjoyed getting to know the teachers and learning how they plan their lessons and activities.
AIDAN VASQUEZ (Reno, NV) – During 2012 Aidan accrued roughly 50-60 hours volunteering with Feed the Homeless Ministry in Reno as well as with Family Promise. In addition in the coming weeks she will also start tutoring 8th grade students and younger at St. Albert's School.
At Feed the Homeless Ministry Aidan help to cook and serve food for the men at the Reno Drop-In Center along with washing dishes. Family Promise is an organization that allows homeless families to stay the night at a local church that has rooms, then a bus takes them to a day center in the morning. Aidan volunteered with her parents as overnight supervisors at the church for a few nights.
Here is what Aidan had to say about her experience, "Volunteering gave be a brighter outlook on things and made me more thankful for what I have and for what my parents can do for me. It made me overjoyed to see the grateful faces of the men as I served them a hot meal and I loved to see the children play with the toys provided by the church."
WEEK 4
CHETA EMBA (Glen Allen, VA) – Harvard University sophomore Cheta somehow manages to squeeze all this volunteer work in between her studying and playing soccer — she volunteers at the Harvard Square Homeless Shelter, with alzheimer's/dementia patients at Hebrew Senior Life, and will be going to Haiti in late December/January with Coaches Across Continents. CaC teaches life skills through soccer and is one of the Dynasty supported charities that Tracy has worked with since its formation.
WEEK 5
STEPHANIE HEBER (Rochester Hills, MI) – Stephanie has begun the process of setting up a not-for-profit organization to run clinics and collect new/used gear for inner city kids of Detroit.
JESSICA KOTNOUR (Sanford, FL) – Jessica and her mother volunteer at a local shelter spreading hope and happiness to the residents on birthday parties and holidays. They bring food and make goodie bags to help make everyone feel special and loved no matter what their circumstances.
KENZIE TILLITT (Carson City, NV) – As part of her high school graduation requirement Kenzie has been volunteering all year with Habitat for Humanity building two homes in the same neighborhood. She has 18 hours clocked in as of mid-December. She will also be putting on a benefit concert in February playing guitar and singing to raise money for Habitat. ROCK ON!
WEEK 6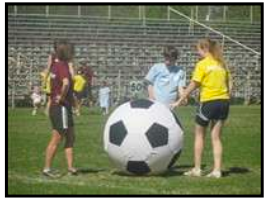 RACHEL AMES (Huntsville, AL) – Rachel volunteers every Sunday in the spring (7 weeks) with a program called TopSoccer. It's an organization that provides training and games for special needs children. They spend about an hour and a half teaching kids technical skills as well as life skills. You can find out more about this North Alabama program at: www.naltopsoccer.com
Rachel had this to say this about her involvement; "I would have to say TopSoccer has introduced me to a different kind of soccer player; the kind that looks forward to practice all week, who never has a bad attitude about being out there, and who gives it their all no matter what situation they are in. I look forward to the TopSoccer session all week. I love being involved in a program that gives the gift of soccer to a great group of kids."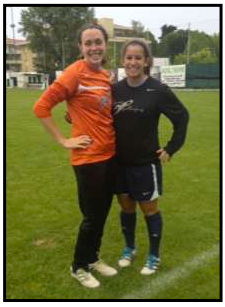 KAELE LEONARD & ERICA STEIN (Atlanta, GA) – Kaele and Erica continue to take leadership roles on the Emory University campus raising funds and being part of the executive organizing committee for their campus hosted American Cancer Society's "Relay for Life". Both have participated in the event for an impressive four years – every spring throughout their college careers. If you are interested in learning more please check out their team website for the 2013 Relay: main.acsevents.org/site/TR?team_id=1262435&pg=team&fr_id=48701&fl=en_US&et=CdflMJ_XJdrttZEl0X1uOQ&s_tafId=1015276
WEEK 7
MAGGIE ALBERT (Virginia Beach, VA) – In the past year Maggie founds lots of ways to give back to her community while inspiring the next generation of soccer players. She started off by helping coach the middle school team last fall. In addition she also assisted with coaching a U8 girls team at least once a week and also attend their games when they didn't conflict with her own soccer schedule. Maggie said it was a lot of fun working with the U8 girls because they have so much energy and are so eager to learn and improve. Next in the spring Maggie helped with TOPS soccer. TOPS is a program that creates opportunities for kids with special needs to play soccer. Maggie said being able to make these kids day simply by kicking a ball with them was an awesome experience. Finally over the summer Maggie assisted at a local collage summer camp for 2 weeks and volunteered to help during Rush Fest for a week. Rush Fest is a camp for Rush clubs from all over the country to come to VA to play.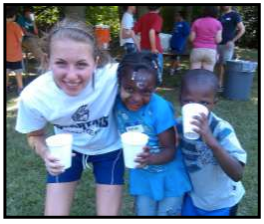 KAYLER DEBREW (Greensboro, NC) – Kayler did multiple service projects this year. Her biggest was teaching soccer to children living in low income housing. She tagged on with a scout troop who was going weekly to provide lunch to the kids. She became known as the "soccer girl". She quickly learned how hard it was to coach soccer, but she really connected to the children. She also organized a food drive for a food bank at UNC Greensboro which serves homeless students in college. And she picked up trash at her favorite running spot, Lake Higgins trail. Kayler said she especially loved working with the children and hopes to continue that project next summer. Her dream is to start a soccer team with these kids.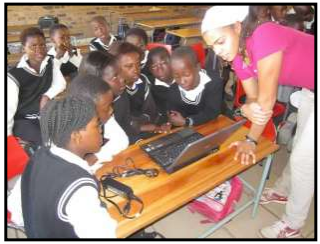 TEAL TASKER (Chambersburg, PA) – This past summer Teal went to South Africa with a small group of students from her school for two weeks. Here is her summary:
"The main focus of our trip was our week long service project at a primary school named Ngwarele. The students ranged from preschool to seventh grade. We graciously gave the school many needed donations such as sports uniforms (shorts/pants), sports equipment, books to fill their library, and several used laptops for in the classrooms.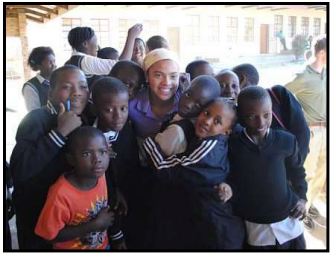 Throughout the week in the classroom we taught the various grades English, Spelling, the correct use of the laptops, and we also had library time where the kids learned how to do origami and were read stories. The kids enjoyed the in school activities, but our afterschool activities were definitely more enjoyable for most of them.
We played sports with them, as we taught them some of our sports and they taught us some of theirs as well. We exchanged games and dances and also did and art project in the library where we decorated the walls with an awesome animal mural. The kids helped by putting their handprints to represent some of the animals' body parts.
Overall the kids had a blast and learned a lot of new things from us as well as us from them. We gave the teachers some much needed hope and left with a lasting impression that neither they nor us will forget."
ANNA VENCKUS (Bartlett, TN) – This past year Anna volunteered with several organizations in her community showing that you can do lots of small projects to support various groups to spread the wealth! She helped out at her church's nursery on numerous Sundays where she said she really enjoying playing with the sweet little kids. She also assisted, as part of her youth group, with a church breakfast event for a few hours. In addition she baked cookies for her school's bake sale and helped out at her old elementary school's open house for 3 hours, helping at the book fair. Also, at a National Junior Honor Society meeting they made Valentine's Day bags for a local nursing home. (Anna said she had gone caroling there with her youth group last year, and could imagine how happy the residents would be to receive the goodie bags!). Lastly, she volunteered at her city's Halloween Festival for four+ hours assisting with set-up and taking tickets.
DYNASTY ALUMNI
I am proud to report that our alums are still giving back and "paying it forward"
ALLIE HORWITZ (Woodbridge, CT) – 2012 Amherst College graduate and Dynasty Alumni Allie Horwitz recently accepted an eleven month post as Team Leader for Soccer Without Borders in Granada, Nicaragua starting in January. Soccer Without Borders (SWB) helps marginalized youth achieve opportunities through the benefits of sport. Allie is really excited about this opportunity, as it is a perfect meshing of two of her passions: soccer and social action. As Team Leader, she will coach, mentor, work in the community, and hold workshops. Though soccer is the platform, SWB programs include a whole lot more. Youth participants actively engage in off-field educational activities, team-building exercises, civic engagement projects, and cultural exchange opportunities. Through SWB, the girls form new and deeper friendships, make connections to community resources, and build powerful mentor/mentee relationships.
In a recent email Allie said, "I hope to help inspire confidence, growth and personal success among girls in need in my work with Soccer Without Borders."
If you want to learn more you can visit: www.soccerwithoutborders.org/granada
In addition Allie's 11-month internship is unpaid and she is responsible for her own living expenses during her time in Granada. If you want to help support her efforts you can donate here: www.razoo.com/story/Support-Soccer-For-Change-InNicaragua?referral_code=share.