KELSEY WYS – January 31, 2008 – Auckland, New Zealand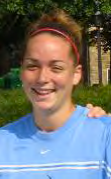 Goalkeeper Kelsey Wys picked up a rare assist on the final goal in the U.S. U17 National Team's 5-0 win over New Zealand in the Future Stars Tournament. She crushed a punt over the New Zealand back line for Tani Costa, who ran onto the ball and lifted it over the goalkeeper with four minutes left in the game. The U.S. beat Australia 6-0 in the opening match and Germany 3-2 in the final match, to win the tournament. This event was valuable experience for the U.S. U17's who are preparing for the U17 World Cup to be held in New Zealand in November later this year.
ADIDAS ESP 2008 – February 21-24, 2008 – Pomona, CA
Four Dynasty goalkeepers were selected to showcase their talent at this year's adidas Elite Soccer Program (ESP).
Lauren Arnold – Hoover, AL
Willi Babillis – Atlantic Beach, FL
Hannah Daly – Stateline, NV
Anna Sieloff – Troy, MI
96 players (12 goalkeepers) were selected from the '92 and '93 age group to represent some of the most talented youth players in America. The event was directed by former U.S. Women's National Team coach Tony DiCicco and former U.S. National Team players Danielle Fotopoulos, Thori Bryan and Cindy Parlow also coached teams. The players were able to showcase their skills to college coaches while learning from the pros in training sessions and games.