MOLLY POLLETO – February 19th – 22nd – Pomona, CA
Molly had the privilege of being invited in to compete at the adidas ESP camp. The camp is run by former U.S. National Team Coach, Tony DiCicco. It is an excellent training environment for the players, as well as being one of the best showcase events for college coaches to attend.
CAITLIN WOODY – February 3, 2009 – Boca Raton, FL

Caitlin continues to come up big when called upon — leading her high school team (the Boca Raton Bobcats) further into the state playoffs. The following is an excerpt taken from an article in the Palm Beach Post written by Jason Lieser.
Bobcats Take Charge
The defending champs are done, and it could very well be Boca Raton's turn to take the title.
The Bobcats continued their dominant season with a 3-1 win over Wellington in the regional semifinal. "If we keep putting good games together we could make a run," Boca Raton coach Rachel Grimes said.
The Bobcats jumped out to a 2-0 lead late in the first half and benefited from outstanding play from goalkeeper Caitlyn Woody. She made several acrobatic saves, including a stop on Nicolette Vocaturo's open shot from within 10 yards in the opening minutes of the second half.
Even after Wellington coach Fern Brewer moved a defender up to offense, the Wolverines (17-6-3) did not score until forward Melissa Welch's goal with 5:07 remaining. Wellington threatened to score several times in the final five minutes, but Woody denied every attempt.
The Bobcats, who were unable to escape the first round each of the past two seasons, advance to the regional final at Parkland-Douglas on Friday.
HAYLEE SHOAFF – February 5, 2009 – Ft. Lauderdale, FL

Haley has been tested as of late as her team continues to win and proceed further into the class 4A Florida High School State playoffs. The Regional semifinals were decided by penalty kicks and then the Regional finals went into overtime. Thus far Haley and her team have been up to the task. Next up State semi-finals!
The following excerpts are from the article "Gibbons Turns Heads with Stingy Defense" by Joe Trost in ESPNRISE.com:
And then there's Shoaff, the 5-foot-10 brick wall in the back. While Flack says she has become the vocal leader in the back, the junior is just happy people are listening. "I actually have defenders who listen to me when I'm setting the defense up," Shoaff laughed. "There are times when defenders don't listen to their goalie, but my defenders trust me."
"It feels amazing accomplishing what we have so far, and it would be even better to win it all. I hope we can, and I know a lot of other people hope we can, too."
With the outcome of each remaining game riding on her shoulders, Shoaff welcomes the pressure and challenge the next three games will bring.
"She is a force in the box," Flack said. "Every time Haylee makes a save, the best part
about it is she did it for the whole team. She's the type of keeper that gets to those
shots other keepers can't."
ALYSSA GILLMORE – February 26, 2009 – Evergreen, CO
Alyssa has just started her high school season off with a big win over last year's state champions. This article by John Rosa was
originally printed in the Rocky Mountain News.
Chatfield's Gillmore Gets Results
Sun Tzu probably wouldn't approve of Alyssa Gillmore's approach to playing soccer, but he couldn't argue with the results.
Sun, the military strategist who wrote The Art of War, preached that one must know their enemy and how they think to be successful on the battlefield.
Gillmore, a senior keeper at Chatfield, admits she has no idea what goes through the mind of her opponents as they bear down on her, but that hasn't stopped her from developing into one of the top prep goalies in the state.
Earning a varsity spot as a freshman, Gillmore has helped the Chargers reach the quarterfinals each of the past three seasons and earned All-Colorado honors last year. This year, she signed to play college soccer at Arizona State and has Chatfield ranked third heading into the season.
That still doesn't mean she knows what opposing players are thinking, though.
"I have no idea what goes through a forward's mind," said Gillmore, who posted 11 shutouts last season. "I've been playing goalie since I was 9 years old, so I don't know how they think."
She has figured out the position of keeper, right down to the superstitions and tics that go along with playing the position. She always occupies the same seat on the Chatfield bus to games (third seat from the back on the right), puts her equipment on the same way and has her iPod filled with the requisite rap songs to fire her up before a game.
Gillmore's teammates know to keep the chatter to a minimum once she enters her pregame zone, the same way they know she will have their backs if someone happens to get behind the Chargers' defenders. "She brings the best out of the players around her," Chatfield coach Brock Blume said. "Having her back there gives them a confidence that, if they should happen to bend or if there's a breach in the defense, Gilly's capable of making a spectacular save."
That intensity doesn't necessarily carry over off the pitch, as Gillmore likes to have fun and has a self-described adventurous streak. Blume said she has a big personality, on and off the field, which makes her stand out from the pack.
"I've been teaching at Chatfield for 10 years, and she's one of those kids that's just a delight to be around," Blume said.
Gillmore's main focus for the next few months will be to help lead the Chargers to a run at the state championship. With seven Division I players on the roster, Chatfield has the talent to match up with any team in the state. Blume said how far the Chargers go this season will depend on how hard the team works. Gillmore, for one, is willing to make the extra effort to make sure Chatfield's playoff run doesn't end in the quarterfinals for the fourth consecutive year.
"We call it the quarterfinal curse," Gillmore said. "We're very motivated to get past it this year.
2009 Winter Camp in Sparks, Nevada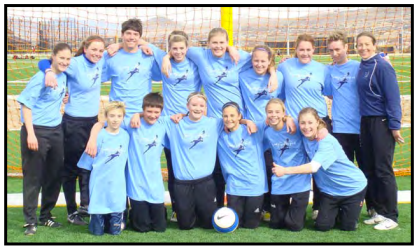 Dynasty Goalkeeping coordinated with the Nevada Elite Football Club out of Reno, Nevada to hold its first ever winter camp in Sparks, Nevada. Consistent to Dynasty's core philosophy, the camp was limited in size to 13 students (split into 2 groups based on age) for the 2 ½ day weekend camp. The camp packed in 2 lectures and four 2 hour training sessions, for a weekend of intense training for both male and female gks of the Reno/Lake Tahoe area. Outside of having to dodge tumbleweeds (really!) and withstand severe winds, the weather held out and the facility (Golden Eagle Sports Complex) was ideal. All of the students worked really hard and it was a fun group to coach. They proved that there are some excellent young goalkeepers in an area that is often referred to as a 'soccer desert'! The feedback received from the event has been overwhelmingly positive, so Dynasty hopes to make this an annual event!
"Thank you so much for putting together the Dynasty Winter Camp! It was nothing short of amazing. I have never heard of anything quite like it in our area. I can't thank you enough for a great experience! You have definitely reinforced Kenzie's desire to become a keeper. She can't wait to come to camp now! I can tell you that Kenzie has a whole new motivation for being a keeper after the weekend and can see that dreams really do come true. Please make this an annual event."
~ Karen Tillett
"Thank you for a wonderful camp. I learned a lot and had a great time. I am planning to attend your camp next year… I can't wait!"
~ Courtney McKimmey