2010 Winter Camp – March 5-7 – Sparks, NV

There are still a few spaces left in the 2nd Annual Dynasty Winter Camp in Sparks, NV. The camp is limited in size to 16 students (split into 2 groups of 8 based on age) for the 2 ½ day weekend camp. It is a day camp open to both male and female gks and will include 2 lectures and four 2 hour training sessions, for a weekend of intense training at the Golden Eagle Sports Complex in Sparks, NV. The camp is less than a week away (March 5th – 7th) so if you are interested please call Tracy at 919-942-2903 ASAP to register.
Also, check out this highlight video from last winter's camp if you want to get a better idea of what to expect. www.youtube.com/watch?v=Q3RHcSXiDmw
ANNA SIELOFF – February 26th – March 6th, 2010 – La Manga, Spain
Anna and the U18 US WNT have traveled overseas to Spain to participate in the Ten Nations Tournament. The U.S. will face some stiff competition matching up against Norway on March 1st, Germany on March 3rd and Sweden on March 5th. GO ANNA!
MAKENZIE HOPKINS – February 16th – 21st, 2010 – Coral Springs, FL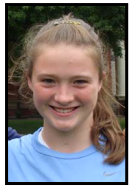 Congratulations to Mack for being invited into the 2010 ODP National Development Camp! The developmental camp focused on small-sided games to highlight the players individually.
KATHERINE SOMODI – February 3, 2010 – Lutz, FL
Senior Katherine Somodi is having yet another fine high school season in the nets for Lakewood Ranch in Florida. Thus far they are undefeated at 18-0-2 and are currently making a state tournament run. In the Regional Semifinal game versus Tampa George Steinbrenner High Katherine had a lot of action and made 7 key saves to help lead her team to the Regional Finals versus Naples Barron Collier.
The following is an excerpt from an article in the Bradenton Herald written by Alan Dell about the semifinal win over Steinbrenner High.
"Both Lakewood Ranch and Lutz Steinbrenner High came into their Class 4A-Region 3 semifinal match undefeated, but that's where the similarities seem to end.
The Mustangs had more speed and with six battle-tested seniors and other veterans who knew what it would take to win and how painful losses can be this time year.
Steinbrenner is a first-year school with no tradition, no past to draw on and no stinging defeats to stir the adrenalin.
Lakewood Ranch (18-0-2) showed it knew how to take advantage of limited opportunities and did just what it had to do in earning a 2-1 victory over the host Warriors Tuesday night.
The victory sends the Mustangs into their second regional final and first in four years. They will be home at 7 p.m. Friday against Naples Barron Collier, which defeated Cape Coral 4-1 in its region semifinal.
Somodi was credited with seven saves (six in the first half), and Lakewood Ranch had 11 shots on goals to 10 for Steinbrenner.
"It was real exciting back there (Tuesday night). It was really cool to be tested and then come out on top," Somodi said. "In a game like this you are in the game all the time, and it's easier to communicate with your team because it's a whole game thing. We are an old team and want to go all the way."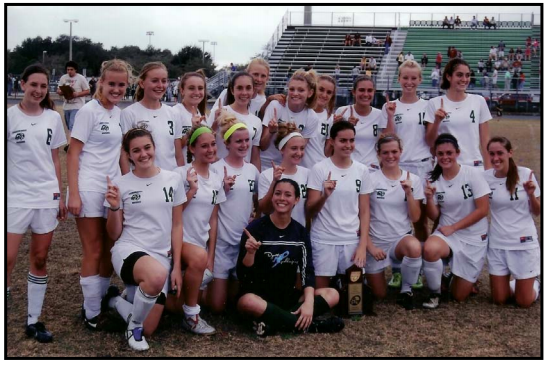 February 7th, 2010 – Lakewood Ranch, FL
Lakewood Ranch and Somodi continue their quest towards a State Championship defeating Barron Collier in penalty kicks. The win put them through to the semifinals versus St. Johns Bartram Trail to be played at the University of Tampa.
February 10th, 2010 – Tampa, FL
After tying 1-1 in regulation and despite dominating play in overtime Lakewood Ranch High School and senior gk Katherine Somodi's State Championship hopes came to an abrupt halt in the semifinals losing a heart breaker to Bartram Trail in penalty kicks. Katherine made an impressive 17 saves. Congratulations on a strong senior season!
SAMANTHA PERRETTY – February 12th, 2010 – Tampa, FL
Unlike Katherine Somodi, senior goalkeeper Sam Perretty was able to end her high school career with a win and a State Championship Title! American Heritage-Delray high school girls' soccer team defeated St.John's Country Day (which features Dynasty gk student Sarah Voigt) 1-0 in overtime on Thursday the 11th and then Tampa Prep 2-0 for the Class 2A Florida State Championship on Friday. The Stallions ended the season with 13 consecutive victories and 17 shutouts overall. Below is a GREAT photo of Sam making a KILLER save tipping the ball off the crossbar.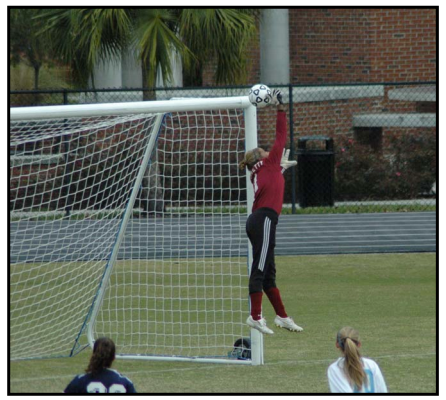 EMMY SIMPKINS – February 26th, 2010 – New Brunswick, NJ
Emmy, a red shirt freshman goalkeeper at Rutgers University, was recently nominated by U.S. Youth Soccer for "Save of the Year". She caught and held a great cross under tremendous pressure in a crowd of players on a corner kick while playing for her club team, Freestate. It was PRO STYLE! You can see her BIG TIME save at www.usyouthsoccer.org/multimedia