CHURCHILL O'CONNELL – December 22nd, 2007 – VA
Churchill was recently named to the All Met Washington Post Team (Honorable Mention) and 1st Team Washington Post – Fairfax County.
CODY MILES – January 2008 – Salem, OR
Cody was named to the 6A 1st Team AllState for Oregon. She is a senior at Sprague High School and will attend the University of Oregon to play for the Ducks next fall.
KELSEY WYS – January 2008 – FL
Kelsey represented the U17 U.S. Girl's National Team in a training camp at Sunrise, FL. At the end of the week of training she was named to the roster that will compete in New Zealand at the end of January/beginning of February. The team will travel to Auckland in preparation for the upcoming U17 Women's World Cup to be held in New Zealand in November 2008. They will play New Zealand, Australia, and Germany. Congratulations Kelsey and good luck!
ALEX BOEHM & AJ GRIFFIN – January 2008 – Phoenix, AZ
Both players represented Oregon ODP with their respective age groups at the Region IV Championships. Boehm ('92) was the only gk to shutout the powerful Cal South team at the event and only allowed 2 goals on the weekend. Griffin ('91) only allowed one goal in three games.
DISNEY TOURNAMENT– January 2008 – Orlando, FL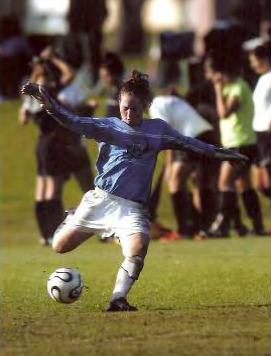 Lots of Dynasty goalkeepers were in action at this event! Lauren Arnold, Kelsey Quinn, Molly Miller, Alyssa Gillmore, and I'm sure many more. Here is a photo of Lauren looking sharp in her Dynasty Goalkeeping jersey smacking one of her many long range drop kick bombs!