LAUREN ARNOLD – Hoover, AL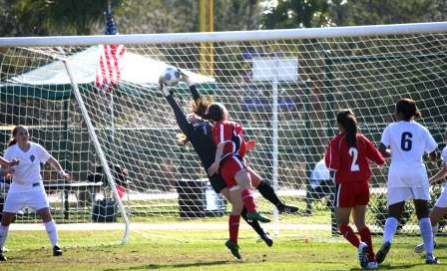 Congratulations to Lauren for being name a 2008 NSCAA Youth All-Region Team! Here she is making a fantastic extension dive snag while playing for Birmingham United at the Disney Showcase.
Below is an article on Lauren and her younger sister, Schyler, who is following in Lauren's footsteps making a name for herself in goal just like her big sister.
Arnold Sister Duo Pushes One Another
Written by ESNN (Elite Soccer News Network), January 23, 2009
Reprinted from TopDrawerSoccer.com
They are simultaneously big fans of one another and fierce competitors, trying to outdo each other at every turn.
The best explanation for this may be that they're sisters, but Lauren Arnold and Schyler Arnold enjoy pushing each other to new heights as they stake their place as top goalkeepers nationally in their respective age groups.
Lauren is a 2010 grad who has committed to play college soccer at Clemson. Schyler is a high school freshman just now gaining notice as a keeper with a special ability to pull fantastic saves out of her hat. The pair both play at Eric Dade's Birmingham United club in Alabama, and are enjoying their friendship, their soccer and especially their rivalry.
Schyler Arnold is only a freshman, but is gaining notoriety for her great saves. "They are competitive with each other and they bring out the best when they are around each other," Dade said. "But they also admire each other."
Neither sister attempts to deny the rivalry can get a bit fierce at times.
"We always push each other," Lauren said with a laugh. "If anything it's gotten worse as we've
gotten older. We want to be better than the other. When she got started, she would always try
and do what I did."
Schyler concurred that Lauren spurred her on, but added that this hasn't changed.
"I still do try to do what she does," she said. "I try to even beat her sometimes. We're both very competitive, most definitely, but ever since I saw my sister play in goal, I thought, 'That looks like fun. I should try it.'"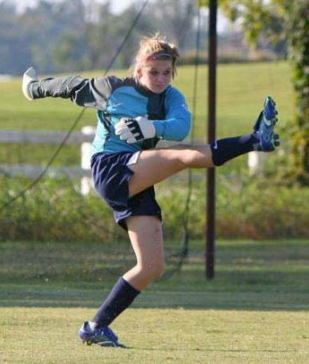 If there's any question about admiration, consider that Schyler, at age 6, approached U.S. WNT goalkeeper Brianna Scurry after a WUSA match in Atlanta and told her to watch out for her older sister Lauren, because she would be hearing her name in soccer circles someday.
Dade said Schyler is a bit more of the free spirit of the two, while Lauren has a conservative streak to go with an intense work ethic, which includes working nearly every day with her father Dennis on strength and conditioning. Lauren also has organization and decision-making as strengths, while Schyler's biggest asset at this point is acrobatic shot-stopping, even as she works on being a more rounded keeper. Standout play at the recent Disney Showcase is putting Schyler on the radar of a number of top college programs, and she lists LSU and Miami as two she is most interested in at this point, in the context of a longer list.
Lauren's choice of Clemson came after a hugely enjoyable visit to meet Coach Hershey Strosberg and his team.
"I love Hershey and the team chemistry there is amazing," Lauren said. "He really has them as a family and that was really welcoming. Once I made a verbal, nothing could have changed my mind."
Lauren has trained with a number of goalkeeper coaches including former USWNT backstop Tracy Ducar, who she credits with helping improve her tactical awareness and communication.
"In the women's goalkeeping game there's not a lot of tactical awareness and you're always growing tactically," Lauren said. "In the past two years my tactical awareness has improved a lot. A lot of it is from Eric, but Tracy and my other goalkeeper coaches have a lot to do with it too. I've always been pretty vocal, but I'm getting better at putting it to the point and making it easier for my players to know what I'm saying."
Dade said Schyler has superior distribution and a valuable quality of fearlessness. For her part, Schyler said her dad's training is a big help to her vertical jump and other physical characteristics. Both sisters possess the highly athletic quality that too often is missing from between the sticks in the girls' game, and we look forward to continuing to track their burgeoning careers, even as they strive to support (and outdo) each other.
MOLLY POLETTO
Molly will attend the upcoming U15-U17 US Girl's National Team camp in Sunrise, FL at the end of this month. Congratulations and good luck!
ANNA SIELOFF & KELSEY WYS
Anna and Kelsey will attend the upcoming U18-U20 U.S. Women's National Team Training Camp in Chula Vista, CA. Congratulations and good luck!
CAITLIN WOODY – January 14, 2009 – Boca Raton, FL
Caitlin continues to have a strong season with Boca Raton High School. This article is re-printed from the Palm Beach Post.
No. 1 Boca nips No. 4 Pope John Paul ~ by Joseph Kairalla
Behind a dominant defense and some timely offense, top-ranked Boca Raton beat fourth-ranked Pope John Paul 2-0 on Wednesday night. Ten minutes into the game it appeared that the Bobcats (18-4-1) would be playing from behind when Eagles leading scorer Brittany D'Addio broke away for a shot on goal, but Bobcat goal keeper Caitlin Woody dove to her right to make a beautiful blocking save. D'Addio knocked the rebound just over the crossbar and the game remained scoreless. Pope John Paul controlled the action for most of the first half, but Boca Raton broke through in the 30th minute when junior forward Alex Major slammed a rebound shot past Eagles goal keeper Lauren Berlingo for a 1-0 lead. With just two minutes remaining in the first half, Major almost struck again, but this time Berlingo made a diving save to her left keeping the deficit at one heading into halftime. With 29 minutes left in the game, Bobcats sophomore midfielder Allie Holley scored from 15 yards out when she played an angle from the right side of the field and hit her shot past a diving Berlingo into the back left side of the net, giving Boca Raton a 2-0 lead.
"We've been working on trying to score from difficult angles," Bobcat coach Rachel Grimes said. "And that was just a beautiful example of it by Allie."
The real story of the game, though, was Woody and the Bobcats' defense. The Bobcats didn't allow the Eagles their first shot on goal in the second half until the 60th minute, and whenever Pope John Paul (16-4-1) did get an opportunity, Woody was there to stop it. Woody finished with 14 saves to post her 12th shutout of the season.
KATHERINE SOMODI – January 15, 2009 – Lakewood Ranch, FL
In the December edition of "Dynasty GK's in Action" there was an article about the unique goalkeeper situation at the University of North Carolina with Dynasty staff coaches Anna Rodenbough and Ashlyn Harris splitting time in goal for the Tarheels. Well, as it turns out one of our Dynasty students has the same situation at her high school.
The following article is reprinted from the East County Observer.
Two-Headed Monster ~ By Anthony Gagliano

By sharing equal time in goal, Lakewood ranch's Katherine Somodi and Rachel Valari have allowed just seven goals in 16 matches.
LAKEWOOD RANCH — The platoon is one of the oldest concepts in sports. For the Lakewood Ranch girls soccer team, Katherine Somodi and Rachel Valari have taken the task of splitting one position to Rachel Valari and Katherine Somodi a new level. The duo has been Mustangs teammates for three years, competing fiercely to be the No.1 goalkeeper. This year, the competition has melded into a true friendship and one of sports weirder situations. The two have a true platoon with each one playing one half of every match. And who leads off is up to them as coach Guy Virgilio has taken a hands-off approach to the situation.
"They're mature enough to decide and know what's at stake," Virgilio said. "As long as they keep on playing the way they are, they're going to share a half a game each."
Virgilio, the only girls' coach in Lakewood Ranch history, said he's never attempted such a move before. It might be completely unheard of in soccer. Yet, there's no arguing with the results. The Mustangs have secured the top seed in the district and have allowed just seven goals in 16 matches. The unlikely pairing could threaten the school record of 14 shutouts. Of course, no one could have guessed that three years ago.
An Odd Couple
Before the two were teammates at Lakewood Ranch, they met in goalie practice at the Braden River Soccer Club under Gjoko Tasevski. The obvious first impression was the significant height difference between the two. At 5-foot-11, Somodi towers above the 5-foot-2 Valari. "Our heights definitely give us different advantages," Somodi said. "People think goalkeepers can't be short, and that's so not true." Valari proved that by capturing the position as a sophomore in the fall of 2006, inheriting the spot after Breanna Atkinson helped the Mustangs reach the regional finals the previous season. Valari's aggressiveness to come off her line and swat away attempts is what Somodi admires most.
"Being able to be aggressive and patient at the same time blows my mind," Somodi said. "With Rachel, it's just one fluid motion, and I say, 'Wow.'"
Valari couldn't hold down the spot, and as the calendar flipped to 2007, Somodi took over due to a season-ending injury. The freshman more than held her own thanks to that enveloping wingspan and ability to touch the crossbar by just reaching up for it. She guided the Mustangs to a fourth straight district title in 2007, and Lakewood Ranch advanced to the regional semifinals.
"Too bad we can't merge into one person because that would work out so good," Valari said.
Friends First, Competitors Second
The ongoing competition continued into last season as the pair again split the time in goal. Valari inched ahead and took most of the starts, but Somodi played extensively. Thanks to a strong defense the Mustangs allowed just 15 goals all season and challenged the shutout record. Another district title followed and the Mustangs nearly reached the regional finals for the second time, losing an overtime affair at Seminole in the second round of the state playoffs. There was no reason to mess with a good situation.
"Last year, I really felt Rachel was doing a better job," Virgilio said. "We had made the decision to play Rachel, and obviously Somodi, she has all the potential to be a great goalkeeper. But she was not really pushing herself. In a way, I think that gave her an incentive to push herself."
Somodi found that aggressive this summer, and it enhanced her confidence. While the drive to win the spot could have put a wedge between them, it has been the opposite. Without a goalie coach for just the girls, Valari and Somodi spend most of their time training together. Before matches, they pair off in front of the goal. They'll rotate throwing the ball right and left, forcing each other to make diving saves on the ground. Then, it's onto the goal line. Valari will hold the ball as Somodi runs out to the 6-yard box, touches the ball, then runs back to the goal line to grab it as Valari throws it and vice versa.
"When we warm up together, we strive to do the best we can," Valari said. "It's almost like we have that pressure on each other because we know what each other can do."
All About the Results
The two have contributed to staggering numbers this season for the Mustangs. For the sixth straight year, Lakewood Ranch will be the top seed in the district tournament thanks to a 7-0 record. Overall, Lakewood Ranch is 14-2-1 with 11 shutouts. The defense deserves plenty of credit, too. It's rare that either goalie has to make more than four saves in a match. Like their keepers, defenders Kirsten Skokos, Kristen Hagaman, Rachel Wojcicki and Sherry Walters have been varsity starters for the past three years. Clearly, the system is working as the two goalies have surrendered just seven goals in 16 matches. Somodi has allowed two goals this season, while Valari was beat for just the fifth time in a 1-1 tie Jan. 9 against Venice.
"I thought of analogy today," Somodi said. "Sometimes, they say there's too many chefs in a kitchen, but for us, two is perfect."
Two years ago, the idea of a straight platoon would have seemed absurd to both. Now, they can't imagine not sharing the duties.
"It's good to have another person to rely on," Somodi said. "When you're warming up it just feels good to know that you have someone there to give you pressure, but to release it, too."