COACHES ACROSS CONTINENTS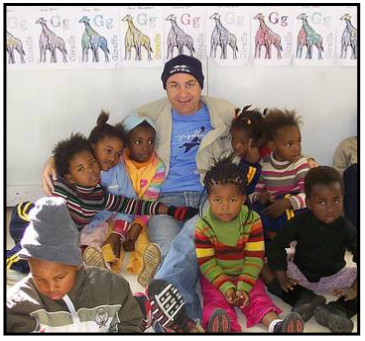 This summer Dynasty Goalkeeping staff coaches and students eagerly gathered and donated gloves, pens and pencils in response to my Community Outreach Challenge.
The Community Outreach Challenge started in 2008 as an avenue for my students to get involved helping other youth soccer players and to raise their awareness of the global community around them.
Last summer students contributed sports bras for female soccer players in Africa through an organization called Carolina for Kibera. It was a huge success and we were able to donate 135 sports bras!
This summer we partnered with an organization called Coaches across Continents. They are a not-for-profit organization that teaches life skills through soccer to young players and their coaches; skills such as proper health and nutrition, female empowerment, leadership, and AIDs awareness along with many other social issues pertinent to their cultures and areas of the world. This summer Coaches across Continents will be running programs in Malawi, Zambia, and South Africa as they continue to expand their reaches in an effort to establish programs eventually on every continent. They have also done work in India, Uganda, Tanzania, England, and also in some of the New England states here in the U.S.
I think what they are doing is fantastic so I asked their founder, Nick Gates, (pictured above) how Dynasty could help his organization. He said that most players in Africa don't even have shoes, let alone goalkeeper gloves, so as a goalkeeper camp I knew we could certainly help fill that need!
My goal for the summer was to collect 80+ pairs of gloves and over 100 pens and pencils (essentially one pair of gloves and pen per Dynasty student). I am happy to report that we vastly exceeded the goal with 150 pairs of gloves, some gk jerseys, cleats, and easily over 300+ pens and pencils (I stopped counting!). Thank you to every Dynasty student and staff coach who donated. They will most certainly go to good use!
The pens and pencils are part of their PASS IT program which helps to provide school supplies to townships all across Africa. These are items that we take for granted here in the States that are greatly appreciated and needed for the schools in Africa. Both are such small items that every one of us already has in our household. Please check out what they are doing in the following youtube videos:
http://www.youtube.com/watch?v=tq9qXGlo-1c&feature=related
http://www.youtube.com/watch?v=d-Sy4MdlMGI
I think you will see why I feel this organization is a worthy cause. Nick and his staff are making a difference. Not only are they providing valuable life lessons and opportunities for play to the youth in these impoverished regions of the world, but they also educate the local coaches, teachers, and volunteers to establish a structure within the community so that these programs can continue long after the Coaches across Continents staff leaves. The photos of the children and the pure joy on their faces just from getting to play soccer barefoot on a dirt field with rocks are truly amazing.
In addition congratulations to Coaches across Continents for their most recent award, "Best New Project" by Beyond Sport. http://www.beyondsport.org/the-awards/entries/shortlist.php. This prestigious award will certainly raise the awareness of Coaches across Continents in business circles, and hopefully lead to more support and donations.
JESSE GEORGE NICHOLS – June 2009 – India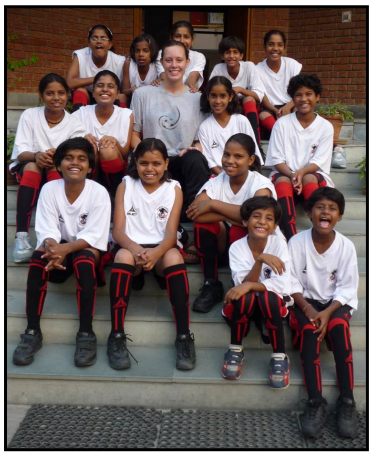 Jesse is a former local student of mine who is now a senior at Princeton University. As a goalkeeper she played high school soccer at East Chapel Hill High in Chapel Hill, NC and club ball for CASL before heading north to college. At Princeton she played 2 seasons before retiring after a long battle with back and knee injuries. Although her playing career has ended she has continued to stay involved in the sport she loves making a difference with young girls in India. In 2008 she spent her summer at an orphanage in India as a tutor, mentor, and coach teaching young girls about life through soccer. None of the girls had ever played soccer before and it was certainly a challenge for Jesse on a concrete 'field' in the sweltering 100+ degree heat of India, but the girls absolutely loved it. They begged Jesse to play and never wanted to come in from practice. Jesse became so attached to the girls she coached (and likewise) that she returned again in June 2009 to continue her work. However, without the support of the Princeton summer internship program assisting with her travel costs and arranging the internship with the Udayan Care orphanage none of this would have been possible. In addition Coaches across Continents helped by providing a coaching curriculum and equipment for the girls. Jesse came back from India amazed at the strength and maturity of these young girls and certainly a greater appreciation for what we have here in the United States. And I know the girls of India benefitted from her leadership, passion and energy for soccer. She is a wonderful role model for these young girls and an inspiration for all of us to get involved in any way we can.
HANNAH MEYER – June 30, 2009 – Bethesda, MD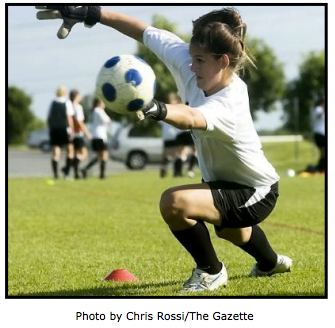 Not only is Hannah a talented young goalkeeper, but like our first 2 stories she is willing to help others and find the time in her busy schedule to give back to her community. The article below from the Gazette details how Hannah has become a leader on her team getting them involved with helping at-risk kids.
Meyer, club soccer teammates volunteer with at-risk children ~ by Jennifer Beekman
Bethesda Dragons goalkeeper Hannah Meyer wanted her teammates to share in her passion: Helping disadvantaged and at-risk youth.
Soccer has been a safe haven for rising Whitman junior goalkeeper Hannah Meyer since she was 5 years old. Meyer's father struggled with substance abuse issues and left when she was 1 year old.
Last week, Meyer helped the next generation take solace from sports.
Meyer and her Bethesda Dragons U-16 club teammates, ranked No. 10 in the country according to gotsoccer.com, traveled to Culpeper, Va. on June 25 to participate in the second annual Field Day at the Alice C. Tyler Village of Childhelp.
"It is good for us to be aware of things in the real world," Meyer said. "My childhood was not that great and it makes you really appreciate life so much more."
The Village is a safe and secure residential treatment facility providing a continuum of healing services for severely abused, neglected and at-risk children, according to its Web site. Children staying there, ranging in age from 5 to 14, can receive physical, mental, emotional and spiritual rehabilitation.
Thursday was Meyer's fifth trip to Culpeper. She can relate to the children there and knows the importance of good role models.
She wanted to share the experience with her teammates, who include rising Bethesda-Chevy Chase junior and U.S. U-17 National Team player Alex Doll, rising Whitman senior Kat Barth, who will play soccer at the University of Pennsylvania next year, and rising Good Counsel senior and University of Richmond-bound Crystal Koczot.
Thursday's event started with an inspirational speech from U.S. Olympic wrestler Buddy Lee. The Dragons helped run several stations for the 67 children in attendance, including football, soccer and dance freeze tag.
"These kids just need things like this; it gives them opportunities they might not ever get and someone to look up to," Meyer said. "My sports have taught me discipline and morals. Most of these kids have anger issues. It was hard to keep them from getting into arguments with each other. It is important for us to teach them that if you want to do well and play right, you cannot argue with each other."
Team chemistry can be as integral to a teams' success as actual skill level. Most participate in team bonding activities, but it usually involves some sort of group pasta dinner. The Dragons' latest excursion was life-altering.
The Dragons also recently qualified for their first-ever Region I tournament, to be played beginning Thursday, and will play for a spot at nationals.
"I am very lucky," Dragons coach Dave Nolan, who also coaches the Georgetown University women's team, said. "This is the third Dragons team I've coached. The first group was probably the best team in the country. That was a special group. They are seniors in college now. We went to three consecutive national finals. This group is very similar to that group, in attitude, in dedication. This is a great bunch of kids."
ADELAIDE GAY – Summer 2009 – Santa Monica, CA
Adelaide spent this summer preparing for her upcoming sophomore season at Yale training with the W-League Pali Blues. Gay was a reserve gk behind UNC starting gk (and former Dynasty staff coach) Ashlyn Harris. The Blues were undefeated on the season and won the league championship 2-1 over the Washington Freedom. It was a tremendous opportunity for Gay to train daily with top collegiate players from around the country. The core of the Blue's players came from some of the nation's top soccer schools such as UCLA, UNC, USC, Penn State, and Stanford. And several of the playesr had youth or full National Team experience. Her exposure to this level of play should certainly help her have a strong season this fall back at Yale.
DYNASTY GKs RACK UP THE STATE CHAMPIONSHIPS
Erika Lenns is the 3rd Dynasty goalkeeper this spring to win a high school State Championship (see story below). This summer will be Erika's third year at camp. Also winning their respective State Championships (as reported in the previous edition of Dynasty GKs in Action) were Lauren Arnold of Alabama and Alyssa Gillmore of Colorado. Both Lauren and Alyssa are veteran students, having attended camp for all 3 previous summers.
ERIKA LENNS – May 30, 2009 – Raleigh, NC
Leesville Road Repeats as Soccer Champion Goalkeeper Erika Lenns Saves Three Penalty Kicks in Shootout ~ By Time Stevens, Staff Writer Raleigh NEws & Observer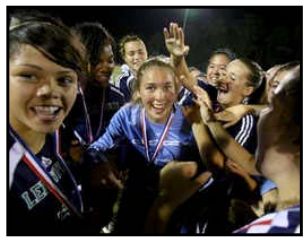 Goalkeeper Erika Lenns stopped three of four penalty kicks in a shootout to lift Leesville Road to a 1-0 victory over previously undefeated Charlotte Ardrey Kell in the N.C. High School Athletic Association 4-A girls soccer final Saturday night.
Lenns missed seven games during the regular season with an ankle sprain and still was wearing a brace, but she was chosen the most valuable player in the game at N.C. State's Paul Derr Track and Soccer Complex.
"I tried to read their bodies and their eyes," Lenns said of the Kell shooters. "But once you commit, you are committed. I have never stopped three of four before."
Lenns stopped shots to her right by Allie Hovis and Christine Dent. After Nicole Steyl's successful shot for Kell, Lenns dived to her left to block a low, driven kick by Liska Dobberstein.
Leesville, which beat Kell 3-0 in last year's final, got penalty kicks by Nicole Jewell, Stephanie Bronson and Nitang Jones to win the shootout 3-1.
But Leesville couldn't scratch during regulation, the two 10-minute overtimes or the two fiveminute sudden-death overtimes. The Pride managed 12 shots on goal in the game to three for Kell.
Kell showed why it range up 20 shutouts during the season. The team allowed a total of three goals the entire year.
"We built our season around getting back to this game," Kell coach Jeffrey Mercado said. "We built the season on defending our frame. I thought if anyone was going to beat us, it was going to be in penalty kicks.
"We're hurting, but I'm as proud as I can be. We plan on being back in this game next year."
Leesville coach Paul Dinkenor said the Pride played all season with a bull's-eye on its back.
"The team grew up," he said. "There was pressure on us from the first day."
Dinkenor said Lenns grew up in the playoffs. During the regular season, defenders such as Nicole Jewell, Michelle Jewell, Claudel Pilon and Emily Burchette helped to limit opponents' chances.
"She had some games where she didn't have a lot to do," Dinkenor said. "But she gained the team's confidence in the playoffs."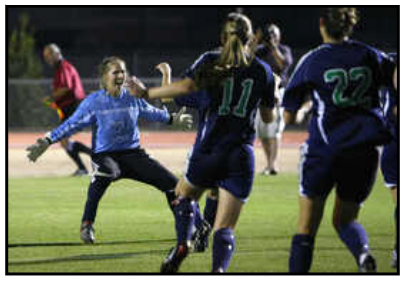 Lenns started thinking about a shootout with five minutes left in regulation. Kell had few scoring chances, and Nicole Jewell dashed back to head away a shot to deny the Knights on their best scoring chance.
Leesville's Bronson and Jones were outstanding in midfield, especially in the second half and overtimes, when Dinkenor thought his team played well.
"The first 40 minutes, we couldn't do much, they wouldn't let us do much," he said. "But I thought we got stronger as the game went on."
Kell started seven freshmen and sophomores in the game, and Leesville is almost as young.
"We had no juniors playing tonight," Mercado said. "They are young with juniors, but we are really young."
Of the 42 players on the rosters, only nine were seniors. Another rematch is not out of the question.
"No predictions," Dinkenor said. "Just let us enjoy this one tonight."
Here is a link to a video of the PK shootout to see Erika in action!
http://www.ncair21.org/FLV/2Q2009/LeesvilleHS_SocG_20090530_StateFinals/LeesvilleHS_SocG
_20090530_StateFinals.html
KORI BRISCOE – June 1, 2009 – Gibsonville, NC
Kori was recognized for her stellar play this season by being named 1st Team All Conference and to the All-Region Team.
CAROLINE CASEY – June 2009 – VA
Caroline was named "Rookie of the Year" for her high school team.
AJ GRIFFIN
My apologies to AJ for reporting the wrong college in the previous newsletter. AJ will be attending Oregon State in the fall (not Portland State).