KELSEY WYS – July, 2008 – Trinidad & Tobago
Congratulations Kelsey for being named as one of three gks on the roster to represent the U17 US Girl's National Team in CONCACAF qualifications. The US won the event and therefore qualified in order to compete in the 1st ever U17 World Cup that will be held this November in New Zealand.
ADELAIDE GAY– June, 2008 – 2008 Regionals in Maine
Adelaide was competing with her club team, PDA (in white) from NJ versus Seacoast United (in light blue) from NH. The Seacoast United player gave a hard challenge to Addy, but it was no match to her…she still held the ball even though she was undercut! I love the defender's response to the ref. It's always nice to have a defender looking out for you… maybe next time they will help out by marking tighter?!?!
TRACY DUCAR – July28 – August 6, 2008 – Cobham, England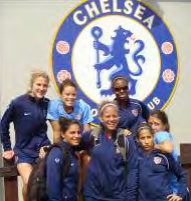 Four days after completing six straight weeks of camp Tracy traveled with the U.S. U20 Women's National Team as their goalkeeper coach to England for three matches. The team stayed in a small town southwest of London and trained at Chelsea's Football Training Facility. The team played matches against three of the country's top women's professional clubs; Everton, Arsenal, and Chelsea. All three complexes we played at were immaculate. It was a real treat to be able to train and play at the facilities of such storied English clubs.
In the first game versus Everton the U.S. came out sluggish and lost 1-0 despite having several excellent scoring opportunities. The 6+ hour flight and 3 hour bus drive to the game the day after arriving in England certainly didn't help our legs. The squad looked much sharper two days later against Arsenal, but still struggled to finish the many chances they created and lost to Arsenal 3-1. In their final game they finally put it all together and beat Chelsea 2-1 to end the trip on a high. All three teams we played had different formations and styles of play which created a good challenge for our players to try solve on the field. It was a good learning experience for the players and staff as the team continues it's preparation for the U20 World Cup to be held in Chile this November/December.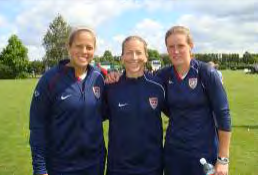 The goalkeepers on this trip were Chantel Jones (University of Virginia) and Alyssa Naeher (Penn State). The main focus for them this event was to increase their range on crosses, being more demanding with their communication, and finding a better balance between patience versus aggression on breakaways. The coaching staff encouraged them to stretch themselves and to try to control more of their area. Both gks are already technically very good on crosses, but both can be more confident coming off their line and dominating in games at the international level. This is a progression that comes with experience and lots of repetition. Alyssa has played in more games and has already improved her range on crosses since I last saw her in March.
KATHERINE BOONE – June, 2008
Katherine Boone ripping down another cross! This is a picture perfect save. She is catching it high, right off the striker's head, using the correct take-off leg and is focused on the ball, not the player. I love it!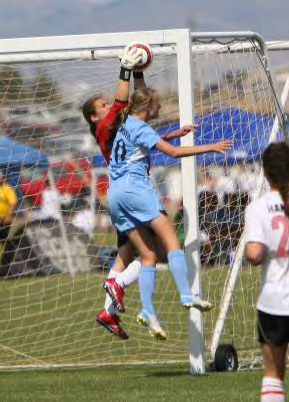 ALYSSA GILLMORE – July 2008 – Macchu Pichu, Peru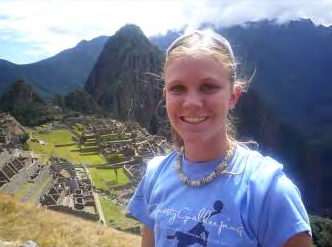 Dynasty student Alyssa "Gilly" Gillmore traveled to Peru this summer for 2 weeks after her week at Dynasty. She was involved in some missionary work at local orphanages bringing clothes and volunteering her time. She said the food was outstanding and she was able to practice her Spanish. Currently this is the furthest the Dynasty Goalkeeping t-shirt has traveled that we have a photo of…can you top it? Below is Gilly's summary of her adventure and more photos. Sounds like an amazing trip…wish I could have gone!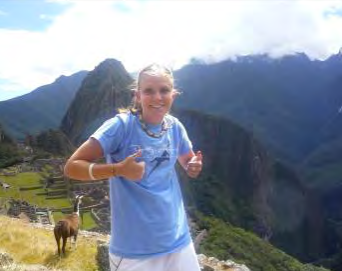 "This trip was by far the most amazing thing of my life. The woman that I can thank for this life changing experience is Rhonda Gunkel, Spanish teacher at Chatfield Senior High School. Every summer she takes kids on trips to Spanish-speaking countries. Last year was Costa Rica, and the year before that was Spain. This year I was lucky enough to go to Peru and Bolivia with her. I really didn't know what to expect when I signed up for the trip, in fact I only knew one girl out of the group of 22. The first day that I was in Peru I was a little surprised because we were in the city of Lima, which has a population of around 3 million. I was picturing the cities and towns of Peru to be much smaller. Luckily Lima was the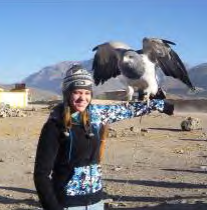 only place that reminded me of America. The next stop was Areaquipa which was slightly smaller than Lima and very beautiful. That was the first place where I actually got to play soccer with the local kids. It was amazing how certain kids in our group couldn't speak Spanish too well but when the soccer ball got involved the language barrier was filled. After every game that we'd play we would always give a ball away to a lucky little kid. I always knew that it wasn't just the kid that would feel the joy of the ball, but the whole town. It was also a great experience because the little girls (whom are usually forbidden to play in their culture) would play with us as well once they saw that I (an older female) was playing. Our other activities consisted of rafting on the Amazon River, hiking in the jungle to a waterfall, a boat ride across Lake Titikaka, providing a perch (a.k.a. an arm!) for a Blue Chested Buzzard Eagle, alpaca and guinea pig eating, llama feeding, taxi dodging in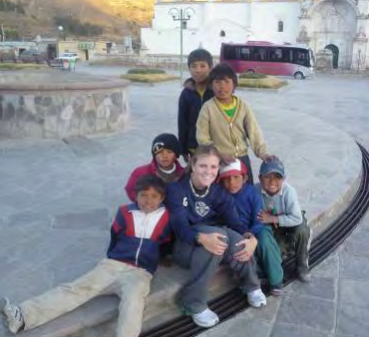 the streets (pedestrians didn't have any rights in Peru), bartering with the local vendors, and of course Machu Picchu. This trip was truly life changing. It was amazing to see how accepting the people were. I could walk out in the street wearing whatever and no make up (not that I wear it anyway) and still be accepted by everyone. No one cared about pointless positions and gadgets, everything and everyone was so laid back and relaxed, it was hard to come home to the fast paced world that we are accustomed to. The best part of the trip was the orphanage that we visited. We took school supplies, toys, and soccer balls to the kids. The way it was set up was there would be 13 kids living with one woman and they would share a house. It was amazing to look in a little boy's closet and see two shirts and a pair of shoes, and yet he was the happiest boy I have ever met. I will never forget his laugh and his sweet smile. It was hard for me to come home and look in my closet and see shirts that still had tags on them. I have definitely changed my outlook on life and have evaluated what is really important, and what I really need. I also have "adopted" a boy from the orphanage, his name is Marcos. The way it works is you send money to his "mother" and it is put into a fund for him. You can write him and send him anything within reason. This is a story that I will be telling until the day that I die, no matter where I go in the world I will never forget the first trip that I took that set it all off."
~ Alyssa Gillmore