ASHLEY BECHTOLD – February 29, 2008 – Oklahoma City, OK
Ashley has recovered from an ACL tear that kept her from attending Dynasty Goalkeeping in 2007, but she is excited to return in 2008. She is back in the nets this spring and playing well for her high school. http://newsok.com/article/3210097
"Pair of Putnam City North Goalkeepers Have Followed Identical Paths" — By Robert Przybylo – Staff Writer for The Oklahoman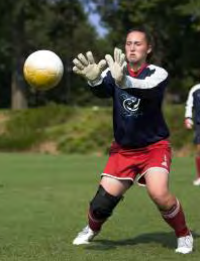 Ashley Bechtold and Bryan Byars are mirror images of each other. No, the two don't look alike. They're not related. But the trials and tribulations both have had to overcome as goalkeepers at Putnam City North are eerily similar.
As a freshman last year, Byars had big shoes to fill, especially for a squad that reached the Class 6A finals the previous year. "He made more of an impact than anyone thought was possible," PC North coach Tom Pecore said. Byars' stellar play quickly turned what was supposed to be a rebuilding year into another championship quest. Byars only allowed four goals all season, but the Panthers fell to Tulsa Union in the finals, losing in a shootout.
That loss has been burning in Byars' head since last May. "I just want to go back out there and finish the job," Byars said. "We know we can. This is our year." The road hit a slight detour as Byars broke his left ankle during the first practice this season. Doctors inserted two screws, and less than four weeks later, Byars was back on the pitch.
Like her counterpart, Bechtold started at goalkeeper last year as a freshman. She said she never doubted her abilities, but winning over the team was tough. "Our defensive line was basically all seniors," Bechtold said. "I try not to worry about pressure. I was nervous because I didn't want to let my teammates down." Mission accomplished. Bechtold had 12 shutouts last year before tearing her ACL at the end of the season.
Bechtold had surgery over the summer received clearance to play in December. Overcoming injuries was tough, but it was nothing compared to that first game. Each contest went into a shootout, and both Byars and Bechtold were victorious. "That's when I knew it was for real," Bechtold said.
There's one road both would love to tread: the path to a championship. "That's the final piece of the puzzle," Byars said. "If we had to get injuries to reach that point, so be it. We're tougher, and we're ready."
ADELAIDE GAY – March 5-15, 2008 – Krymsk,Russia
Adelaide traveled with the Region I Team all the way to Russia to compete in the International Women's Football Tournament, "The Kuban Spring". They played U19 National Teams from Russia, Poland and the Ukraine, as well as regional and club teams from Russia.
ANNA SIELOFF – March 8, 2008 – Troy, MI
Anna and her Birmingham Detroit Country Day teammates recently celebrated winning the Class B Michigan State basketball championships. Just another Dynasty goalkeeper that is a multi talented athlete! Anna is the one in the back row underneath the basketball net that looks like she is crying. 🙂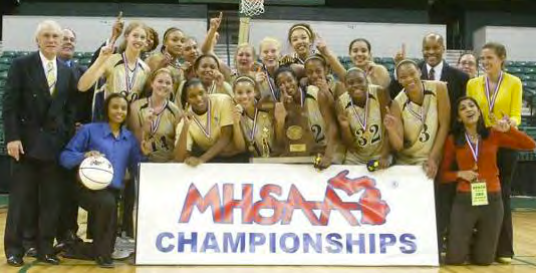 SHANNA BROOKS & LAUREN ARNOLD – March 14, 2008
Spain Park vs. Oak Mountain: A Dynasty Goalkeeper Showdown!
First, a little background….The 2 high schools are less than 2 miles apart and every game since Spain Park HS opened 6 years ago is critical for the school's hopes of going to the state playoffs. Alabama breaks the state down into sections based on classification and location. Only 2 teams each year can come out of each section and unfortunately the top 4-5 teams in the state each year are in the same section. The top clubs in Alabama are in a radius of 10 miles therefore most of the State's top players play for high schools in the same section. Thus when teams from this region go to sectional playoffs they often beat teams from the others areas of the state 10-0. Last year, in the end of the year rankings Vestavia High School was 1st, Oak Mountain was 2nd and Spain Park was 3rd in the 6A ranking. However, due to state playoff rules only the top 2 teams in a section advance, so Spain Park stayed home. This year Vestavia High school was 1st, Spain Park 2nd, and Oak Mountain 6th going into the game.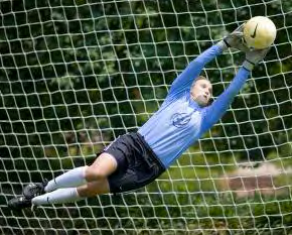 Just to make the stakes of this game a little higher, Lauren and Shanna are good friends and attended Dynasty Goalkeeping together last summer, so serious bragging rights were at stake. Lauren plays for Spain Park and Shanna plays for Oak Mountain. The game was a true battle and at the end of a regulation it was tied 1-1. After 2 brutal overtimes it was still tied 1-1, so it was on to a shootout!
In the shootout Shanna's team shot first and Lauren made a save in her left corner. Then Lauren's team made their PK (Spain Park 1-0). In the second round Oak Mountain missed and Shanna stopped the Spain Park shot (score still Spain Park 1-0). In the 3rd round Oak Mountain made their shot and Spain Park made their shot (Spain Park 2-1). In the 4th round Lauren made the save and Shanna made excellent diving saves to their left. (still Spain Park 2-1). In the 5th round both gks were listed as the shooters for their team! Goalkeeper versus goalkeeper! The tension mounted as two training buddies faced off against each other — both fierce competitors. Shanna stepped up to take her pk and unfortunately hit the post, narrowly missing, giving Spain Park the win. Of course Lauren was bummed even though her team won because she just wanted to take her shot on Shanna! This certainly was an unusual experience. Rarely do you see gks make saves during pk shootouts since the odds are stacked against them and both of these gks made 2 exceptional saves to help their teams. Additionally it is very rare to see a gk step up to shoot pks, let alone both! This was truly an exciting game to watch and a great showcase by both goalkeepers!
LAUREN ARNOLD – Mid March 2008 – Catalonia, Spain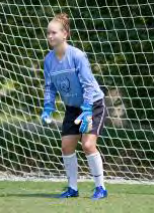 Lauren was busy in March, jet setting all around the world to cover the nets! Immediately after winning her high school game she was off to Spain to play with the Region 3 '91 ODP Team for a series of games. They played 4 warm-up "friendlies"; winning three out of four games with their only loss being 2-1 to a professional team, RCD Espanyol de Barcelona. The team improved throughout the week as they become more familiar with each other and ended their trip to Spain winning the Catalonia tournament against top competition and posting three shut-outs. The games and scores were as follows:
| | |
| --- | --- |
| Friendlies: | Catalonia Tournament: |
| RCD Espanyol – Lost 1-2 | Estonia U-20/21 – Won 2-0 |
| Barcelona U-20 – Won 1-0 | Spain U-20/21 – Won 9-0 |
| Norway U-21 – Won 1-0 | Italy U-20/21 (Championship Game) – Won 2-0 |
| Norway U-21 – Won 2-1 | |
TRACY DUCAR – March 2-14, 2008 – Larnaca, Cyprus
Tracy traveled deep into the Mediterranean to join the U20 U.S. Women's National Team as their goalkeeper coach for the Cyprus Cup. The Cyprus Cup is a competition for full women's national teams (similar to the Algarve Cup) that our U20 U.S. Women's National Team attended to gain valuable experience in preparation for the U20 Women's World Cup that will be held in Chile this November/December.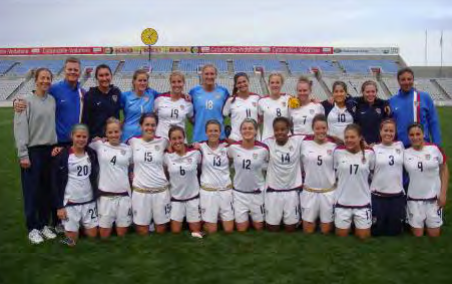 The U20's defeated Scotland 2-1 in their opening game, lost to a very technical Russian squad 0-2, and then rebounded to win a critical game versus the Netherlands 2-0 to get through to the finals of the event. In the finals the U20's struggled early to a very combative Canadian team and went down 0-3 at the half. They battled back hard in the 2nd half showing good character, but only managed to get back 2 goals, eventually losing 3-2. Our young college girls (and one high school senior!) competed hard against seasoned international women.
On the goalkeeping side of things I got to work with Alyssa Naeher (Penn State) and Kristin Arnold (Texas A&M) for the first time. Both are very athletic, talented goalkeepers with a lot of potential. I thoroughly enjoyed working with both of them because they competed hard in training and were open to new ideas. Playing against full National Teams definitely stretched both of them which was exactly what the coaching staff wanted. In order to improve you need to be in environments that get you out of your comfort zone. It was a great opportunity for both of them to develop. They learned that at the international level you have to have a much more advanced starting position to be able to come for through balls and crosses. The forwards were faster, better headers, and more lethal finishers than those they are used to facing in the college game. In order to compete, have a presence, and make an impact at this level a gk has to dominate on crosses and own the space behind her back line. It is critical to the success of the team. You have to read the game faster and anticipate play instead of just reacting to it. A gk cannot be content to sit back on her line and be a shot saver at the international level. Additionally our gks learned that they have to be more vocal and really take charge and command their defense. These are important lessons for all young goalkeepers to try to implement into their game.