MEGAN KINNEMAN & SHANNA BROOKS – March 7th – 15th, 2009 – Algarve Region, Portugal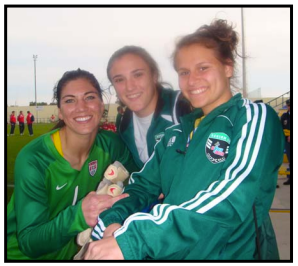 Megan and Shanna recently traveled abroad with the Region 3 ODP Team to the Algarve Region of Portugal to play three games. They defeated the U17 Republic of Ireland 4-0 and a Spanish club team 5-1, before losing to another Spanish club team 3-1. Not only did they gain valuable international playing experience, but they got to enjoy two cultures while attempting to learn two languages! They were based in Portugal, but played two games in Seville, Spain. In addition their trip coincided with the Algarve Cup; which is a major annual competition for senior women's national teams. They were able to meet Hope Solo and cheer the U.S. on to victory in a tight match versus Norway in the semi-finals.
CAITLIN WOODY – March 21, 2009 – Boca Raton, FL
Caitlin has been racking up the awards since her high school season ended. She was recently named MVP for her high school as well as to the Sun-Sentinel's All County First Team, and she was also selected as Palm Beach Post's Player of the Year for her outstanding play in goal this season. Below is the article featuring Caitlin as Player of the Year by Joseph Kairalla. Congratulations Caitlin!
Caitlin Woody is the Palm Beach Post's Girls Soccer Large-School Player of the Year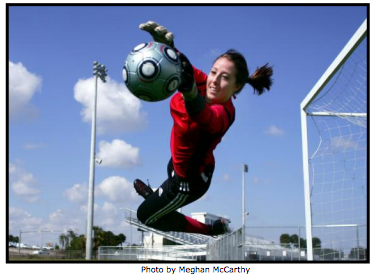 It isn't easy being the goalkeeper on any team because of the amount of pressure that falls on their shoulders as the last line of defense.
That's why it's hard to imagine how Boca Raton junior Caitlin Woody made it look so easy this season for one of the area's best teams.
Woody finished the season with 14 shutouts and a miniscule 0.60 goalsagainst average, helping the Bobcats advance to the regional semifinals for the first time in her career.
Woody said that she feels extra pressure as the goalkeeper because she knows if she loses her concentration for just one play; it can cost her team the match.
"The key to my individual success is focus and discipline and staying focused for the entire game, because I'm in the back and I can't make a mistake," Woody said.
Entering this past season, Woody said she expected the Bobcats to make the regional quarterfinals, but said her main goal was to reach the regional semifinals. In the Bobcats' 3-1 regional quarterfinal victory over Wellington, not only did Woody make 12 saves, but she also contributed offensively, registering an assist.
"That assist was probably the highlight of my year because it helped us get past the quarterfinal hump and that was definitely the hardest past of our season," Woody said. "It seems like we were always stuck there, so leaping over that was a huge accomplishment because we proved we could do it."
The Bobcats fell in the regional finals to Parkland-Douglas 2-0, but Woody said that loss didn't diminish the Bobcats' season at all.
"We were like a family this year and nothing could take that away," Woody said. "Whenever I would give up a goal, I would get down on myself, but my teammates would come over and hype me right back up. We had an incredible year."
The Bobcats only graduate one senior, so Woody has high expectations for her senior season.
"Next year, anything less than making the state final four and going to Tampa would be a letdown," Woody said. "But the one thing more important than that is keeping the team as closeknit as we were this year, that's how we become great."