2011 WINTER CAMP – MARCH 5-6 – SPARKS, NV

March 5th & 6th, 2011 – Sparks, NV – The 3rd annual Winter Camp in Sparks, NV proved to be the best yet! A change in the camp format and structure resulted in full enrollment of the Elite GK Camp and a near full enrollment for the newly developed Young GK Camp. The players' energy and effort on the field, attention in the classroom, and competitive drive to get better made for a fun weekend for both Tracy and fellow staff coach, Jen Mavis.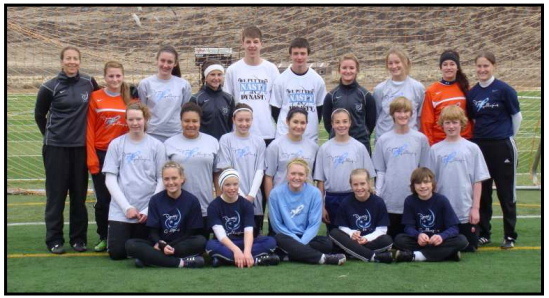 Thank you to Nevada Elite and the City of Sparks for hosting this event and helping make it such a success. We are looking forward to returning in 2012!
COLLEGE
KAELE LEONARD – February 27, 2011 – Atlanta, GA
You may recall from previous Dynasty GKs in Action in the fall that Kaele splits time in goal at Emory University with fellow Dynasty Goalkeeper Erica Stein. Well, she is also a standout track star at Emory! At the end of February the Eagles competed in the UAA Indoor Track & Field Championship and the women's team won the conference title for the first time since 1995. Kaele, running strong in the photo on the left, made a solid contribution to the overall team score. Ranked 9th in the 400 meter dash going into the meet with a 61.57 second time, Kaele rocked in the finals placing 2nd setting a personal record a whole 2 seconds faster! (59.4s in the preliminaries and 59.9s in the finals) She also anchored the 1st place 4×400 meter relay team. After a freshman year riddled with injuries Kaele has rebounded to have a tremendous sophomore year… and she still has her outdoor track season to go! Her competition better look out!
YOUTH
DANIELLE CANTRELL – March 9, 2011 – Lewisville, NC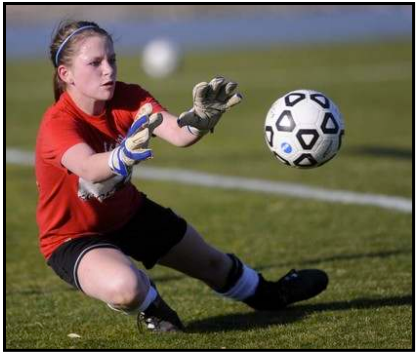 Danielle is a sophomore gk at Forsyth Country Day School along with fellow Dynasty Goalkeeping student Ivy Cocklereece. The following article about Danielle's eating habits, as an 'on the go' athlete, appeared online in the Winston-Salem Journal. I love that she is making a conscious effort to choose healthy foods to fuel her body. You are a great example Danielle! (Photo credit: Bruce Chapman)
Activities: Danielle's passion is soccer, and she plays for Forsyth Country Day and the Fusion Ladies Elite. Right now, she practices or has a game at school five days a week. In the fall, she practices with her club team 1½ hours a day, three days a week and works out two hours a day, two days a week. In the fall, Danielle also has frequent games out of state, on Saturdays and Sundays. Every two weeks she spends a Friday or Saturday night working with autistic kids as part of her school's AUsome Club, and on Monday nights she meets with her youth bible study group.
Breakfast: Smoothie, dry cereal such as Reese's Puffs; oatmeal, protein bar, yogurt with granola.
Lunch: Danielle buys lunch at school and usually gets the same thing: a croissant with American cheese and turkey or ham. She'll often get a banana or an orange, too.
Dinner: Danielle is able to eat at home in the spring. (In the fall, she often isn't home from practice until 8 p.m. or later.) "Sometimes we'll pick up prepared meals to eat in," said her mother, Dee Dee Cantrell. "Sometimes I cook meals on Sunday for the week ahead, so we'll have lasagna, meatloaf, chicken casserole." Dinner also includes a side vegetable, such as corn, green beans or sweet potatoes.
Snacks: Danielle will snack on a banana or cup of yogurt during the morning. She eats lunch about 1 p.m., so she often doesn't have a snack before soccer practice. On weekends, she usually has fruit or yogurt for a snack, though about once a weekend she will indulge in a few of her mother's homemade chocolate-chip cookies.
Drinks: Water during most of the day. Orange juice once a day with a morning snack. She also goes through a gallon of milk each week.
Danielle remembers watching the movie "Food Inc." at (Dynasty) soccer camp. Its lessons about eating wholesome food have stuck with her. "She's the best in the family about watching what she eats," said her father, Dan Cantrell. "When we're on the road traveling, she's the one who's particular about where we stop," Dee Dee said. Danielle said she tries to avoid processed and junk food and most fast food. "I won't do McDonald's. I won't do Wendy's. It's not OK with me."
www2.journalnow.com/online/2011/mar/09/danielle-cantrell-ar-844394/
CAROLINE CASEY & CAROLINE STANLEY – March 12–19, 2011 – The Home Depot Center, Carson, CA
Dynasty is proud and excited to announce that BOTH Caroline's were invited back in to camp to train with the U18 U.S. Women's National Team this month! This is C.Casey's 2nd camp in 2011, while C.Stanley has been in the National Team Pool since 2010. Getting invited back into camp is a strong indication that not only are both goalkeepers performing well while in camp, but they are also continuing to show progress in their game from camp to camp. In order to stay in the NT pool, players must continue to develop and stay on top of their game otherwise they risk being replaced by other up and coming players eager to play at that level. The key to succeeding at the NT level is a LONG TERM commitment to individual development which requires a plan of action, significant drive and perseverance to overcome inevitable challenges and setbacks, and the self motivation to train on your own in between events. Congratulations to both goalkeepers and keep up the hard work! (NOTE: Caroline Casey has attended Dynasty camps since 2007, this summer will be here 5th year in the program. Caroline Stanley has been a Dynasty student since 2009, this summer will be her 3rd year.)
BRITT ECKERSTROM – March 2-17, 2011 – Sochi, Russia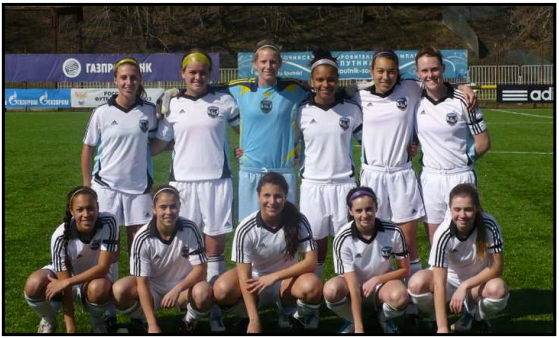 Britt recently traveled with the 1993 ODP Region 1 Team to Russia to compete in the 2011 Kuban Spring Soccer Tournament. Here is what she had to say about the event: "I had an amazing time. We played five games, including a professional team (Krasnodar) in Moscow, and the U19 national teams of Japan, Russia, Kazakhstan, and Estonia. Out of 12 nations, we got 5th place which was pretty good since we were the youngest team there. The best part of the trip was becoming friends with so many players from around the world, especially the Japan team. We got pretty close. The day after the earthquake and tsunami, we gave them each a flower and hugs and spent the evening with them to cheer them up. I'll never forget it." – Britt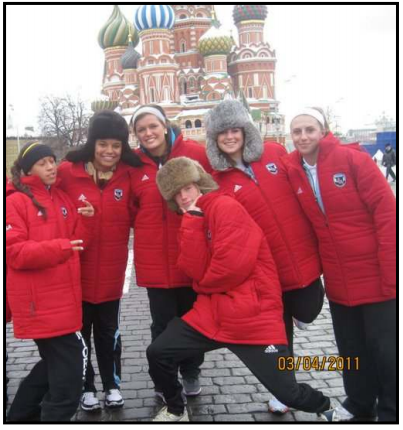 Fun loving Britt striking a pose with her teammates in front of the snow capped St. Basil Cathedral in Red Square, Moscow.