Congratulations to the following Dynasty Goalkeeping students who will be continuing their playing careers at the following colleges this fall. 2008 Class:
• Ali Brennan – University of Miami
• Brittany Cocozza – St. John's University
• Taylor Comiskey – Kalamazoo College
• Chandler Follett – UNC-Wilmington
• Adelaide Gay – Yale University
• Brittany Hahn – North Florida University
• Kim Kern – NC State
• Cody Miles – University of Oregon
• McKinzie Olson – Brigham Young University (BYU)
• Melissa Pacheco – Richmond University
• Alex Perry – UNC-Greensboro
• Emmy Simpkins – Rutgers University
I apologize if I have forgotten anyone. Please let me know if I have so I can include you in a future edition. The 2009 class won't be featured until May of 2009 even though I know several students have already made verbal commitments.
ALYSSA GILLMORE – May 12, 2008 – Lakewood, CO
Alyssa was recently featured in an online article at Rivals High, a website that features news on high school athletes from all over the country. The article, "Gilmore Got Game" can be found at, http://highschool.rivals.com/content.asp?CID=805863. After reading that article is should come as no surprise to hear that she has also been named Conference League MVP in the Jefferson County Conference for her consistent play this spring. She is a junior at Chatfield Senior High School. Way to go Gilly!
ALEX HOLLAND – May 18, 2008, Las Vegas, NV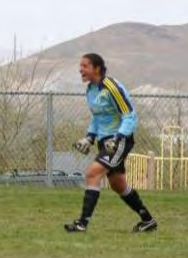 Alex helped lead her team, the FC Las Vegas '92, to a 1-0 victory against her former club, Neusport '92, in the State Cup finals. Alex played the whole game and made several key saves. The game was scoreless until 20 minutes into the second half when Alex started the play with a long punt down field to her attacking center-mid. The ACM volleyed it to the right back who took a touch out of pressure to the left, beating a defender, and served a ball with her left foot to the top leftside of the 18 to a streaking forward. The ball bounced once, the keeper came charging out of her 6, and the forward volleyed it into the far post net! It was a great possession series from the gk to the back of the opponent's net! About 5 minutes later, the attacking center-mid was yellow-carded for the second time and was sent off the field forcing FC Las Vegas to play a man down for the remaining 20 minutes. Neusport had about 6 corners in a matter of 10 minutes, but they couldn't break through Alex and her backline.
Alex's sent me her rendition of the end of the game and I think her words say it best…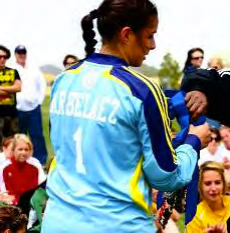 "When the final whistle blew, I dropped to my knees. I had played for my late coach Victor Arbelaez. He has made the biggest impact in my life and was taken by cancer last October. He was like a second father to me and a hero I will never forget. My jersey bears his last name on the back. I knew Vic was so proud. When I got up, my team ran me over because they knew that I played every second for him and that he was so proud of me. The first thing I felt were tears running down my face. It was the most amazing moment of my life. There were tears going down many of my teammates' faces too. We worked so hard for that one moment, for that feeling of victory, and we did it. It was the greatest feeling I have
"The most gratifying moment was when the final whistle blew and my world stopped spinning. I felt Vic speaking to me through the wind and he couldn't stop saying how proud he was. I played every second of the game for him and I took State '08 FOR VIC!"
Here are 2 photos of Alex just after the final whistle…pure excitement and passion!
HANNAH DALY – May 16-18, 2008 – Reno & Las Vegas, NV
Hannah had a full weekend of events between competing in four events at the Nevada High School State Track Meet in Reno on the 16th and the Nevada State Cup in Las Vegas on the 17th and 18th. Not only did she survive the grueling weekend of events, but she flourished…winning 3 of her 4 events in the State Track Meet and helping her team win the State Cup in her age group!
On Friday she blew away her competition winning the 100m in 12.8s (and it was only her 3rd time ever running the 100m!). Next she won the shot put, throwing a personal best of 38'1.5". Then she eased up a bit taking 2nd in the 800m at 2:26m. And she ended the long day competing with her teammates in the 4x400m relay. Not only did they win the race, but they set a new Nevada State record at 4:09m. Wow! IMPRESSIVE.
On Saturday morning she and her Dad flew out to Las Vegas for State Cup. Her team, Neusport FC '91, won 4-0 in the semi's and 3-1 in the finals. According to Hannah nothing super spectacular happened, but she did mention that she got to play against the girl who tore her PCL last spring which certainly gave her plenty of extra motivation.
TAYLOR COMISKEY & ANNA SIELOFF – April 13, 2008 – Oakland County, MI
Both Taylor and Anna were featured in articles recently that ranked Michigan's top high school players. Anna (who plays on the field for her high school team) was ranked as one of the state's top field players while Taylor was ranked 2nd in the state for goalkeepers.
Congratulations to both players for recognition well deserved.
http://www.theoaklandpress.com/stories/041308/spo_20080413378.shtml
http://www.theoaklandpress.com/stories/041308/spo_20080413378.shtml
ALEX PERRY & KIM KERN – May 21, 2008 – Raleigh, NC
Alex and Kim are both local students of mine here in NC. They are teammates on their CASL club team, but in high school they are seniors playing for rival high schools. This spring their teams met 4 times and all 4 games were 1-0 games. Leesville won the 1st match, Broughton returned the favor winning the 2nd match, then Leesville regained bragging rights by winning the conference tournament, setting the stage for a brutal rematch last night at the Eastern Regional Finals (which is the semifinals of the NC state high school championship). Both gks were solid all evening, commanding their defenses and making key saves when called upon. Alex had 2 brilliant point blank saves and a tough breakaway save and Kim made several clutch snags on dangerous crosses and free kicks. Both of them were on top of their game and were hitting lethal drop kicks into their opponent's end to initiate dangerous attacks. Regulation ended in a 0-0 tie and one very proud goalkeeper coach (me! ☺ ) In the 2nd overtime period with 6 minutes remaining the tie was finally broken by a Leesville freshman. She hit a long rank shot from the flank that arched over Alex's head into the far post upper corner. I knew it would take an unbelievable goal to beat either gk on this night and it truly was a great goal that was unsaveable. As a coach of both gks I was torn. It was heart breaking to have to see one of my keepers get scored upon and have her dreams of winning a State Championship dashed in an instant. I could certainly relate and empathize with her. Yet in the same moment I was happy and excited for the other gk to make it one step closer to becoming a State Champion. Both gks have worked so hard to be where they are and both are deserving of high praise. They are both exceptional young adults. Alex handled the situation like a seasoned professional, answering tough questions from the media following a devastating loss and Kim was classy, humble and gracious in victory. Both girls were the last girls to leave the field after Alex walked across to share a congratulatory hug with her friend and teammate. I couldn't have been any prouder of both of them and I know they will continue to have long and successful careers on and off the field.
Alex will now turn her focus towards preparing for her college career at UNC-Greensboro while Kim and the Leesville Road Pride ended up winning the State Championship handily 3-0 over Charlotte Kell on the campus of NC State. Coincidentally, Kim ended her high school career on the same field that she will be starting her college career on in a few months.
Best of luck to both of them!
Here are some links and great quotes on both GKs:
http://www.chapelhillnews.com/sports/story/14599.html
http://www.heraldsun.com/sports/preps/35-951636.cfm
http://www.heraldsun.com/sports/preps/35-951636.cfm
MELISSA PACHECO – May 24, 2008 – Kansas City, MO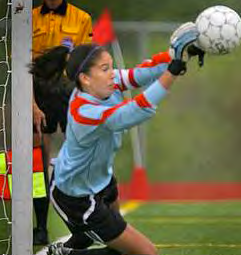 In the last 2 rounds of Missouri high school playoffs Notre Dame de Sion goalkeeper, Melissa Pacheco, has had a big impact on her team's success. On Tuesday against Smithville it was a long clearance over midfield by Pacheco in overtime that led to her team's game winning goal. The win propelled her team into the quarterfinals versus Platte County. It was another tight match, 0-0 in regulation, through both overtimes, eventually leading to penalty kicks. For the second straight game Pacheco came up big when her team needed it, savings 2 pks!
"Oh, I was nervous," Pacheco said. "I knew as a team though that we would get the job done."
Next up for Pacheco and Sion are the semifinals on Friday versus the defending State Champions, St. Dominic. Good luck Melissa!