2009 Dynasty Goalkeeping Class
Congratulations to the following Dynasty Goalkeeping students who will be continuing their playing careers at the following colleges this fall:
• ASHLYN ANGELL – Holy Cross University
• KATHERINE BOONE – University of Dayton
• ALI BRENNAN – University of Miami
• HANNAH DALY – University of North Carolina – Chapel Hill
• ALYSSA GILMORE – Arizona State University
• AJ GRIFFIN – Portland State
• OLIVIA HEMME – Murray State
• ALEX HOLLAND – University of Louisiana at Monroe
• MOLLY MILLER – University of Chicago
• ALANA MUNGER – UCLA
• KELSEY QUINN – Villanova University
• JESSICA ROLFS – University of Tennessee
• ERICA STEIN – Emory University
• MEG STEWART – University of San Diego
• LAUREN SMEDLEY – Lafayette University
• HOLLY THOMPSON – Stony Brook University
• CAITLIN TORIE – Auburn University
• KELSEY WYS – Florida State University
• TARIN McKENNA – Dalhousie University in Nova Scotia
I apologize if I have forgotten anyone. Please let me know if I have so I can include you in a future edition. The 2010 class won't be featured until May of 2010 even though I know several students have already made verbal commitments.
CAITLIN TORIE – May 2, 2009 – Atlanta, GA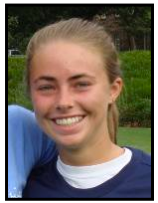 Caitlin has had an exceptional senior season thus far for Lovett High School. They recently advanced to the State Semifinals with this win over Brookstone in the quarterfinals. Below is an article written by Chris White about the game that appeared in the Ledger Enquirer.
Brookstone Girls Soccer Falls in Quarterfinals
Most of the Brookstone girls soccer team's seven seniors had waited four seasons to get a shot at a state championship. Lovett's Liz Derrick was more impatient to end her scoring drought.
Derrick scored her first two playoff goals, Chappell Loudermilk added a score and goalkeeper Caitlin Torie made seven saves as Lovett advanced to the Class AA/A semifinals with a 3-1 quarterfinal victory over Brookstone on Friday.
The Cougars' score came on a Jackie Henson shot to the top left corner from about 10 yards out, cutting Lovett's lead to 2-1 with about 23 minutes left in the game. Paige Janke had the assist.
Brookstone raised the pressure on Torie after making it a one-goal game, but the Lions got a cushion with just more than 10 minutes to play when Loudermilk headed in a goal off a free kick that floated into the box from about 50 yards out.
"For four years now, everyone's been saying we're going to make it to state, we're going to make it to state," Brookstone's Mary Bailey Wickham said. "We didn't get there, but we had such a good team effort this year. Everyone was playing different positions and everyone contributed. We all played so good together, and that's why we even got here."
The Cougars coasted through the opening round with a 10-0 victory over Albany and then emerged a 1-0 winner on Tuesday in a game against Westminster. Still, Brookstone looked the best it had yet in the postseason on Friday, Wickham said.
"I thought we actually played a great game," Wickham said. "We definitely did better against this team than we did Westminster. They just had a better team."
The Cougars had no shortage of opportunities, but Torie stumped them nearly every time. She made a diving save across the mouth of the goal to stop a Gracie Strauss breakaway, robbed Wickham on a shot from less than five feet away with a sliding save and came out of position to beat Wickham to the ball to stop a fast break with about five minutes left in the game.
It likely won't be the last time Wickham and Torie see each other. Wickham will be playing for Ole Miss next season while Torie has signed with Auburn.
LAUREN ARNOLD – May 10, 2009 – Hoover, AL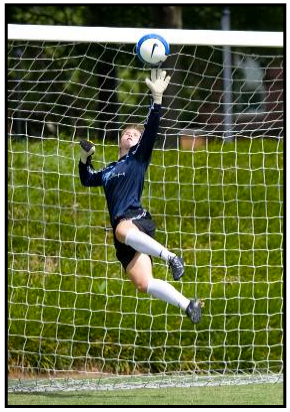 What a year it has been for Lauren! Region III Premier League Champs with no goals allowed, Alabama State Champs in club, CASL Showcase Champs, Disney Champions and now Alabama State High School Champs! She has been in the zone! She was recently recognized for her exceptional play and was named to the All-State 1st Team, 2009 Birmingham News Metro Girl's Soccer Player of the Year and Alabama Girl's Soccer Gatorade Player of the Year.
Well done Lauren!
The following are 2 excellent articles about Lauren…
Jags goalie named Gatorade Player of YearSpain Park High Junior goalkeeper Lauren Arnold is the 2009 Birmingham News Metro Girls
Soccer Player of the Year ~ By Wesley Hallman, Birmingham News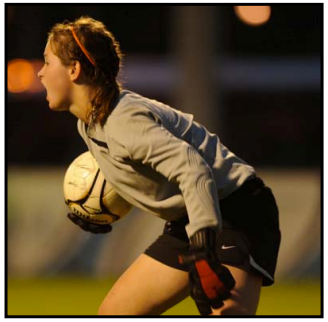 May 27, 2009
Spain Park High School junior goalkeeper Lauren Arnold knew she had just given bulletin board material to the remaining teams on the Jaguars' girls soccer schedule in 2009.
Her pledge after a loss to Oak Mountain, just six games into the season, rattled her teammates, her coaches and the rest of the Birmingham metro girls soccer community. Arnold had the audacity to say: "'I don't expect us to lose any more games."
It was a bold prediction after a 7-1-2 start. Arnold knew the burden on her shoulders grew enormously. The Gatorade Girls Soccer Player of the Year in the state of Alabama wouldn't have it any other way.
"I actually caught a lot from my teammates and coaches about it," Arnold said. "It kind of put a target on our backs. I think it helped us. We couldn't lose. If we lost, everyone would say, 'So much for our perfect season.'"
Arnold, who posted 10 shutouts in the Jaguars' remaining 17 games after the decree, finished the season with 14 shutouts in goal on her way to earning The Birmingham News' Metro girls soccer Player of the Year. he gave up only four goals in the final 17 games as she led Spain Park to its first girls soccer state championship earlier this month. Arnold said a loss to Mountain Brook in the 2008 Class 6A Final Four, a game in which the Jaguars held a 3-0 halftime lead, was her main source of motivation in 2009.
"Every year we worked so hard," said Arnold, who has a rigorous training schedule throughout the calendar year. "For us to come so close and fall short was devastating. We worked twice as hard as we did last year. With all of our work, we made it. It was amazing."
Arnold, who first began learning the goalkeeper position at the age of 3, won't be hanging up her cleats when school is out. This summer Arnold will have daily practices and training sessions each week with her Birmingham United club soccer team. She also runs sprints each week to keep in shape.
Arnold can never get enough of the sport she fell in love with as a child.
"Being able to watch soccer and play it was so much fun," Arnold said. "I just had a passion for it."
Arnold credited her father, Dennis, with helping her achieve star status in the Birmingham soccer community. Arnold said her father, a former college athletic trainer, learned the goalkeeper position while playing soccer recreationally in college. Her father used his athletic training background and interest in the sport to help his daughter maximize her potential.
Arnold said her father leads her in weekly goalkeeping sessions and also lifts weights with her each Sunday.
"I really didn't have any trainers," Arnold said. "He was the only one who could train me. It gave me a big boost. It's expensive to pay for a trainer. I had one at home. Others wouldn't push me as far as he did." Arnold's intense training is paying dividends. Following graduation at Spain Park in 2010, Arnold will head to Clemson University with a scholarship.
"It's great I'm getting college paid for," Arnold said. "After my family spent thousands of dollars growing up for training, it's great to be paid back."
Arnold chose Clemson because the current coaches and athletes made her feel at home.
"(Clemson) has great facilities," Arnold said. "I felt like if I was away from home, Clemson was the closest thing to family."
Spain Park interim coach Jonathan Weimer said Arnold's impact on the team can't be stressed enough.
"I don't think we could have won state without Lauren," Weimer said. "Not only is she a great goalkeeper, but her ability to be vocal and organize really helped out. With her knowledge of the game it's almost like having a coach on the field."
ASHLYN ANGELL – May 20, 2009 – Raleigh, NC
Ashlyn is also a local student and Dynasty student like Sydney. She has just completed her senior season at Broughton High School and was recently named to the All-State Team. Congrats Ashlyn and good luck at Holy Cross in the fall!
SYDNEY BRANSON – May 20, 2009 – Cary, NC
Sydney is both a local student and a Dynasty Goalkeeping student. She recently finished her first high school season at Cary Academy and was named Team MVP and also to the Triangle Independent School All-Conference Team. To be named Team MVP as a freshman is a huge accomplishment and honor. Way to go Syd!
ALYSSA GILLMORE – May 21, 2009 – Evergreen, CO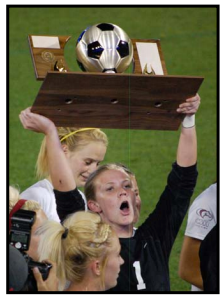 In the April edition of Dynasty GKs in Action we reported that Alyssa was off to a strong start to her senior season at Chatfield High School. Well, we are pleased to announce that her career couldn't have finished any better…2009 Colorado 5A State High School Champs! Alyssa (a.k.a. "Gilly") only allowed 4 goals all season and posted all shutouts during their playoff run. Chatfield won the final 1-0 and Gilly was named MVP of the Championship Game. She has also added to her already long list of accolades Jefferson County All-Conference Team. Next up for Gilly…Arizona State University!
SHANNA BROOKS – May 27, 2009 – Birmingham, AL
As many of you know from reading previous Dynasty GKs in Action editions Shanna Brooks and Lauren Arnold are 2 top goalkeepers that compete against each other in high school soccer in Birmingham. Both are exceptional young gks in their own right and the following article by Ethan Ramsey in the Birmingham News details their rivalry.
Oak Mountain High's Shanna Brooks Preps to Surpass Long-time Rival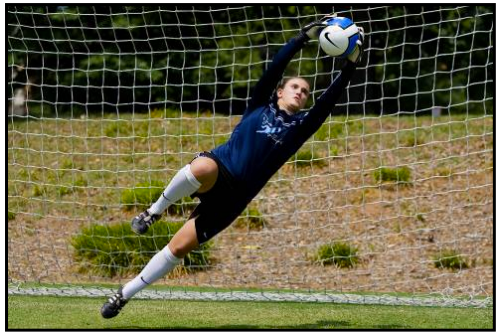 Two of the best goalkeepers in the South, and two of the top candidates for The Birmingham News' Metro Player of the Year – live within miles of each other south of Birmingham: Oak Mountain's Shanna Brooks and Spain Park's Lauren Arnold. Only one could claim The News' top honor for 2009, and that went to Arnold. Therefore, pencil in Brooks, the Shelby Zone Player of the Year, as the frontrunner for 2010.
After losing to Arnold in four of five matchups this season – and watching Arnold backstop the Jaguars to a state championship – Brooks' mission for this summer's club season and next year's high school season with the Eagles could not be clearer.
"My goal for the summer is to get above her," Brooks said of Arnold, whom she called even with herself when it came to who was the better goalie. "That's my mindset; do everything possible to get above her." She'll have a first-hand account of what exactly she needs to do because she and Arnold, both juniors, train with the same personal coach, Lauren Witt.
"It's unmatched to have two goalkeepers at their level that live and train in the same city," said Witt, who played at Briarwood Christian and then Vanderbilt and Clemson. "They understand they are trying to beat each other out. Constant competition with the other one is spurring them on to be better."
In her second go-around as a starter for the Eagles in 2009, Brooks put together one of the finest seasons for a goalkeeper at Oak Mountain. She recorded 15 shutouts, leading the Eagles to a 16-5-1 record and the quarterfinals of the state playoffs, where the Eagles fell 4-1 to Spain Park. The season-ending loss was a familiar one, as the Jaguars beat the Eagles the last four times the two teams played this past season.
"They just continued to improve throughout the season," Oak Mountain coach Kelly Clayton said. "They peaked when they needed to."
Sounds like she believes her club can take down the defending champions next year, and that starts with Brooks, a bedrock piece of the team who is committed to play at the University of Alabama. Brooks made large strides as a junior this past season. In particular, she improved her communication to her defenders and her aggressiveness when the ball entered her box. So much so that she now "loves" crosses and 1-on-1 situations.
"I control my box a lot more instead of being afraid of the ball," Brooks said. "Last year I was so scared to get scored on and I'd hesitate. Now I just come up and do it and make the save."
She registered 119 of them, but many were of the routine variety. With three of the four defenders in front of her in their senior seasons, as well as the addition of one-year players Christine Schweer and Zehra Syed, Brooks was rarely challenged in games not against Spain Park.
"Sometimes I get bored in the back waiting for something big to happen to make a save," Brooks said. "I love to make the spectacular save to get everyone pumped up."
To prepare for more situations in which she is needed to come to the rescue, Brooks said she would wake up most mornings at 5:10 a.m. this summer for a one- or two-mile run with her father. Then come training sessions with Witt to further work on her already exceptional ballhandling, in addition to other technical skills such as setting her wall and proper forms on dives. All with one central goal in the back of her mind: Winning the first state championship in Oak Mountain's history while overcoming a particular nemesis – Spain Park and Arnold.
"I think we are going to work extremely hard (in 2010), even though we worked really hard last year, to reach our goal – to beat Spain Park," Brooks said.