TRACY DUCAR – November 8-12th, 2008 – Ireland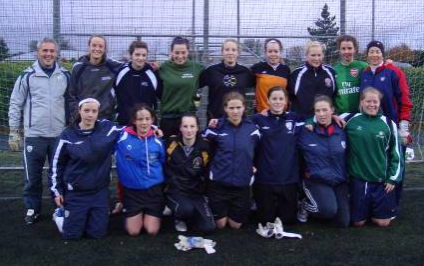 Tracy returned to Ireland to do more coaching for the Football Association of Ireland (FAI). Her trip started with 2 gk clinics in the Dublin area. On the 8th she ran a small clinic for gks ages 12-16 south of Dublin in a program the FAI runs called "Emerging Talent" to identify and develop future National Team players. These are weekly training sessions to supplement their club environments. It is rare, if at all, for any female gk to get gk specific training in their club environment in Ireland. The weather was cold, windy, and a steady rain…welcome to Ireland! On Sunday the 9th Tracy worked with the 14 gks shown on the left along with Pat Behan the U19 National Team GK Coach. The gks are part of the U17 and U19 youth National Team gk pool. Many of them were at the clinic Tracy ran last December in Dublin, so it was great for her to see their progress and reinforce techniques she had shown them last winter. Tracy covered basic handling techniques, breakaways, and did a TON of crosses as they all admitted that the NEVER work on crosses in their club environment. All of the students worked very hard and were eager to get some gk specific training. Most drove several hours to get to Dublin for the session. One even came 4 hours (one way) from Donegal (north Ireland! Now that is commitment from her AND her parents! On Monday Tracy started the drive west, stopping in a city called Longford to do another gk clinic; this time for beginner gks (ages 10-14). It was chilly and rainy, but the once again the girls were ready and willing. Tracy covered the basics of handling, diving, and positioning and it was a fun evening for all. On Tuesday the 11th it was further west and north to Castlebar in the County Mayo. This evening Tracy ran a session for local coaches from across the County of Mayo. It started with a presentation about positioning and gk philosophies (similar to a lecture that Dynasty GK students get at camp) and then they went out to the pitch for an hour of functional training. There were 8 local gks of varying ages and abilities in attendance to illustrate the coaching points for the 20+ coaches/parents in attendance. On her last day, the 12th, Tracy gave a presentation on the "Modern GK" for the entire FAI Technical Department (100+ coaches, development officers, administrators, staff, etc from all over Ireland) in Galway. She used video highlights from the 2007 Women's World Cup to illustrate the state of the women's game internationally (strengths and weaknesses). This speech was followed up by a field session on crosses. Many of the staff in attendance had never seen the women's game played at an international level, so they left with a new appreciation of how the game can be played. It was an excellent opportunity to promote the women's game to a country that is still very much developing on the women's side.
ERIKA LENNS – November 2008 – Greensboro, NC
Congratulations to Erika and the entire CASL '92 Spartan Elite team for winning the 2008 North Carolina State Championship! They defeated Charlotte United Green 2-0 in the finals. Erika can be seen below proudly hoisting the trophy! Erika went through the entire State Cup tournament only conceding one goal.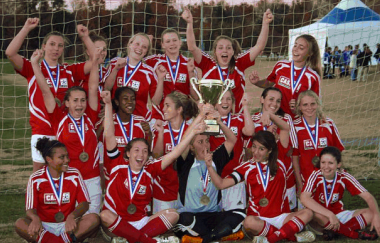 MOLLY METTLER – November 9, 2008 – Lake Oswego, OR
Molly was recently featured in The Oregonian for her stellar play in her high school quarterfinal match:
"Sunset junior goalkeeper Molly Mettler made 15 saves in regulation and overtime, and then stopped enough shots in the penalty-kick shootout to help Sunset defeat Clackamas 2-1 (4-2) in an OSAA Class 6A girls soccer quarterfinal Saturday night at Clackamas."
COLLEGE UPDATES
CHANDLER FOLLETT – November 4, 2008 – Wilmington, NC
The Seahawks season came to a close on with a 1-0 loss to Northeastern in the Colonial Athletic Association (CAA) Tournament quarterfinals. Defensively, UNC Wilmington recorded a program-best nine shutouts this season as keepers senior Emily Pratt (four Shutouts) and freshman Chandler Follett (five shutouts) split time in goal for the Seahawks.
CODY MILES – November 13, 2008 – Eugene, OR

The Oregon Ducks' season recently finished with 2 losses to nationally ranked opponents USC (#9) 1-0 and UCLA (#2) 2-0. In the game against UCLA Miles played exceptionally well to keep the Ducks in the match:
"Miles had one of her best games in an Oregon uniform, tallying eight saves and challenging numerous crossing passes before the UCLA offense could develop. In one stretch just prior to the end of the second half, Miles was one-on-one with UCLA forward and 2008 U.S. Olympic team member Lauren Chaney on a breakaway and attacked the play and deflected the shot away near the top of the box. She then regrouped and fell back toward the goal where she saved a shot from 2008 Canadian Olympic team member Kara Lang just seconds later." Reprinted from www.goducks.com.
Not surprisingly Cody was named to the Pacific Athletic Conference (PAC-10) All-Freshman Team for her outstanding freshman season. The Oregon Ducks website had this to report on Mile's honor:
"Miles started in the net for all 20 of Oregon's games this season, recording 76 saves with a 1.51 GAA and six shutouts. Her six shutouts are the second-most in Oregon soccer history and her 1.51 GAA is the fifth-best mark for a single season.
Following the injury to Jessie Chatfield in the offseason, Miles became the starter as the season progressed the rookie grew with each and every game and showed she deserved the job in the Ducks' net. Three of her six shutouts came in the Ducks' final six games – at home against Oregon State and at Arizona and Arizona State. She set a season-high with nine saves in a 3-3 draw at Long Beach State and nearly matched that mark with eight saves against No. 2 UCLA in the regular season finale." (reprinted from www.goducks.com)
McKINZIE OLSON – November 15, 2008 – Provo, UT
Olson and BYU's strong defense helped lead the Cougars to a Mountain Valley Conference (MVC) Tournament Championship recently. Olson posted two straight shutouts versus UNLV (4-0) and Utah (1-0) to contribute to the team's championship. In opening round NCAA play Olson posted yet another shutout in a 2-0 win over Virginia Tech. Unfortunately though BYU's 2008 season came to an abrupt halt in the second round of NCAA action with a penalty kick shootout loss to defending National Champions, USC. Olson finished the season with an impressive 14 shutouts of the team's 15 shutouts.
ASHLYN HARRIS & ANNA RODENBOUGH – November 2008 – Chapel Hill, NC
Anna, Ashlyn, and the Tarheels have continued to solidify the team's defense as the season has rolled on. November has been a good month for the Heels as they posted 7 shutouts in 8 games while winning the Atlantic Coast Conference (ACC) Tournament and progressing through the 1st 4 rounds of the NCAA Tournament.
They have beaten Western Carolina, Charlotte, Illinois, and most recently TX A&M enroute to the NCAA Final Four. The Heels will face UCLA in the semi-finals on Friday, December 5th at 7p in Cary, NC. (shown live on ESPN U) The finals will be broadcast live on Sunday the 7th at 2p on espn2. The other 2 teams competing in the Final Four are Notre Dame and Stanford. The Heels lost to Notre Dame early in the season and tied Stanford, so all the games will be exciting!
KELSEY WALTERS – November 5, 2008 – Fort Worth, TX
After defeating San Diego State 2-1 in overtime in the opening round of the Mountain Valley Conference Tournament (MVC) "Wally" and the Horned Frogs of TCU finished their season with a disappointing 2-1 overtime loss to Utah in the semifinals. The team finished the season 14-4-2.
ALLIE HORWITZ – November 22, 2008 – Amherst, MA
About 8 games into the season Allie won out the starting position for the Amherst College Lord Jeffs. She was named 2nd Team All Conference (New England Small College Athletic Conference or NESCAC) for her solid play in the nets this season. She led the conference with the highest save percentage (.884) and was second best in goals against average (.56). The Lord Jeffs advanced to the NESCAC Tournament finals before falling 3-2 to top ranked Williams. In the NCAA Division 3 Tournament they had a strong run and advanced to the quarterfinals before losing a double overtime heartbreaker 1-0 to William Smith.