KATHERINE BOONE – November 7, 2009 Dayton, OH
Katherine Boone and the Dayton Flyer's continued their storybook season by defeating Saint Louis 5­1 in the semi­finals and UNC–Charlotte 2-­1 in the finals to win the Atlantic 10 Conference Championship Title. It is the Flyer's 6th conference title, the last coming in 2004. Winning the conference earned Dayton an automatic bid into the NCAA Tournament. The Flyers remain unbeaten this season and are now 16­0­5 heading into tournament play.
Also of note Katherine Boone was named to the Atlantic 10 First Team All Conference Team as well as earning Atlantic 10 Defensive Player of the Year! This is a rare feat for a goalkeeper and even more so for a freshman goalkeeper! As of November 8th she was leading the country in GAA with a 0.301 average and was 4th in save percentage at 0.905.
November 12, 2009
In addition the Flyer goalkeeper was recently chosen to the Top Drawer Soccer Women's College 2009 All­Rookie Team as an Honorable Mention Selection. And she was also featured in Sports Illustrated's "Faces In The Crowd" after posting the nation's best goals against average (.30) throughout the regular season.
November 30th 2009
Katherine is currently ranked 3 rd in GAA nationally at 0.406 after giving up 3 goals in the 2nd round of NCAA's in the Flyer's 3­1 loss to Virginia Tech. She is just behind UNC's Ashlyn Harris who is ranked second at 0.38. Keep in mind that these ranking will continue to change as the remainder of the NCAA tournament is played. CONGRATULATIONS Boonie on am AMAZING freshman season!!!
VOTE FOR KATHERINE BOONE!
Given the HUGE impact Katherine made as a freshman at Dayton this fall it is not a surprise that she has been nominated for yet another award. She recently was nominated for the 2009 Soccer News Net Women's Soccer Player of the Year. There are several worthy candidates, so check them all out and cast your vote at http://www.phillysoccernews.com/college/wplayerpoll.php Voting closes on December 15th.
ASHLYN HARRIS & HANNAH DALY – November 8, 2009 – Cary, NC
Ashlyn & Hannah both saw time in the nets for the Tarheels en route to the program's 20th ACC Championship Title in the past 22 years. It is the team's 5th consecutive ACC title. Senior Ashlyn Harris played the full 90 versus Maryland earning a shutout in the team's 3­ 0 victory in the quarterfinals. She earned a second shutout in their 1­0 OT semi­ final win over Boston College. Then in the finals she played 82 minutes before being relieved by freshman Hannah Daly. The Heels had a decisive 3-0 victory over Florida State in the finals redeeming their regular season loss to the Seminoles.
November 30, 2009 – Chapel Hill, NC – senior Ashlyn Harris continued her steady play in goal for the Heels. She and the stingy defense have posted 9 shutouts over the past month. Ashlyn is currently ranked 2 nd in the country in GAA at 0.380. The Heels have won their 1st four NCAA Tournament games over High Point, Georgia, Maryland, & Wake Forest and are now bound for the College Cup in College Station, Texas. This Friday, December 4 th the Heels will face Notre Dame in the semifinals. UNC met Notre Dame earlier this season and defeated the Irish handily 6­0. It was a rare feat to beat the Irish by such a margin as nearly every game between the two rivals is closely contested. Since that loss in early September the Irish have been back on track and will certainly be looking for redemption and revenge as they lost to UNC in last year's College Cup Finals. On the other side of the bracket will be the undefeated Stanford Cardinal, #1 overall seed, versus the UCLA Bruins. The semifinal and finals of the College Cup will be shown live on ESPN2 and ESPNU, so check your local listings and tune in to watch some college women's soccer on TV!!!
McKINZIE OLSON – November 3, 2009 ­ Provo, UT
Due to her solid play in the nets for BYU this season McKinzie recently earned First Team accolades in the Mountain West Conference.
In the Mountain West Conference Tournament semi­finals BYU played strong and remained composed despite the very physical and disruptive style of the University of New Mexico (as many of you have probably seen the clips on ESPN or youtube by now). The Cougars persevered to a 1­0 victory over the Lobos and Olson recorded her 11th personal shutout win this season, another career­high. In the finals BYU fell just short of winning the conference title losing to San Diego State 1-0 in the finals.
ALYSSA GILLMORE – November 7, 2009 – Tempe, AZ
Freshman Gillmore earned her 1st two collegiate victories in the nets for the Sun Devils against Oregon State and Oregon to close outthe regular season. Gilly was instrumental in the 1-0 overtime victory over the Oregon State Beavers making 5 saves. She made another 5 saves in the 2­1 victory over the Ducks on Sunday to help secure the team's second straight win.
SARI LIN – November 1, 2009 – Nashville, TN
Sophomore goalkeeper, Sari Lin (who played for the Sereno Soccer Club in Arizona previously) had another stellar season in the nets for Belmont University. She played in all 18 matches, starting all but one. Twice this season she earned Atlantic Sun Defensive Player of the Week. She led the Atlantic Sun Conference in GAA (0.69) all season, earned eight shutouts, and only allowed 5 goals in conference play. Her steady play also earned her All­Atlantic Sun Conference First Team honors. Keep it up Sari!
ERICA STEIN – November 9, 2009 – Atlanta, GA
Freshman goalkeeper Erica Stein stayed focused and never gave up in her first season at Emory University. Her hard work paid off and late in the season she became the starter for the Eagles. She led the Eagles to a perfect 3­0­0 record in their final three games of the season recording a 0.33 goals against average during the week with two shutouts and six saves. The freshman recorded her first shutout of the week during Emory's 1­0 victory over Oglethorpe University on Wednesday. She returned on Saturday to help Emory to a 5­0 win over Carnegie Mellon University, and on Sunday, she made four saves during Emory's 4-1 win over the University of the South, allowing just an 'own goal' during the contest. Stein started the final five games of the season for Emory, finishing the year with a 5­1­0 record and a 0.47 goals against average, helping the Eagles to a 8­5­5 record in 2009. Way to go Erica! Below are excerpts from an article from November 12th by Evan Rapkin that appeared in the Emory Wheel. http://www.emorywheel.com/detail.php?n=27668
Despite No Berth, Team Ends Strongly
Entering the season with aspirations of once again becoming UAA Conference Champions, the Eagles women's soccer team endured a tough rebuilding year this season, and fell short of its lofty goal. However, the young team still displayed increasing promise and potential that forecasts optimism in the years to come.
The Eagles' final record on the season came out to a solid 8­5­5. But the team's fall from grace occurred during conference play, going 2­3-2, where they finished in an uncharacteristic sixth place.
However, the lasting impact of this team began to materialize in the final weeks of the season. Emory went 4­1 in its final five games, with its sole defeat coming 1-0 in overtime against a powerful No. 10 Rochester squad. This stretch of games rectified its previously lost season.
"The best part about this season is that we finally reached our potential towards the end," senior midfielder and team captain Talia Dweck said. "In the last five games of the season, we played sohard and left everything on the field — it really showed our improvement."
"Our goals are always to win the UAA and make it to the [national] tournament," Dweck said. "Although we did not reach those goals, over the season we improved so much that I was still satisfied with the season as a whole."
This idea of improvement became a constant theme throughout the 2009 campaign, eventually becoming the de facto goal of the team. After persevering through a devastating October and going winless in six games, the Eagles determined they had nowhere to go but up. And that's when the winning resumed.
"Our biggest downfall was probably that it took such a long time for us to figure out what we need to do to win," Dweck said. "Because once we figured it out, we were unstoppable."
……
During this year of apparent inconsistencies, one constant was always the solid play of the defense. Junior captain Emily Rubin anchored the strong unit, which allowed only 1.22 goals per game on an average of 10.4 shots.
Emory's goal keeping was an issue this season. Junior Kirsten Baecher began the season well, but ended up being replaced with six games left.
Her ousting allowed freshman Erica Stein to shine. Stein may have been a catalyst for the team's success, as they performed exceptionally well to close the season with her in the net. She led the UAA in goals against average.
In the end, Emory's overall performance this season may not have accomplished the precise goal that they had hoped for, but they are excited for next season.
"This year was filled with ups and downs," Dweck said. "But I think the way we ended shows the potential we had all along."
TARYN McKENNA – November 2009 ­ Halifax, Nova Scotia, CANADA
Dynasty Goalkeeping's 1st Canadian student, Taryn McKenna, just finished her first season at Dalhousie University. The Tigers were the only team in Canada (men or women) this fall to finish league play undefeated. In their conference semi finals they played in FREEZING weather. It snowed, rained AND hailed throughout regulation time, and the winds were so strong Taryn said that when the opponent's keeper took a goal kick and it came back and she caught it! She said they were the worst conditions she had ever played in…which is saying a lot as she is used to playing in harsh conditions being from north of the border! The game didn't even resemble soccer and they lost in overtime.
As one of the top keepers in Canada, McKenna was highly recruited by Dalhousie University. She was an honor student in high school with a number of athletic awards on her resume.
JESSE McGINLEY ­- November 14, 2009 ­ Truckee, CA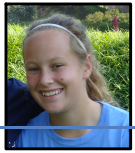 Jesse has recovered and is back in the nets making a difference! She underwent major ankle reconstructive surgery in early July after returning home from Dynasty this summer. It was a difficult recovery, but she worked hard and recoveredway ahead of schedule. She made it back to play part of her high school season and help her team win the 3A State Championship! Below is an article from the Reno Gazette Journal, written by Mark Zaski, detailing her role in their semifinal win. A clutch breakaway save late helped not only preserve the win, but also the shutout!
3A Girls Soccer Semifinals: McGinley's sure hands in goal net Truckee Win
The Truckee girls' soccer team needed a crucial save from goalkeeper Jesse McGinley late in the second half to earn a 1­0 win over Incline in the 3A state semifinals at Golden Eagle Regional Park on Friday. With the win, Truckee secured a spot in today's state championship against Spring Creek, a 4­0 winner over White Pine, at 2 p.m. at Damonte Ranch.
With less than 2 minutes to play in the match the Highlanders' Tori O'Connor broke free from Truckee defenders in front of the Wolverines' goal leaving her one­-on-one with McGinley. "I was a little nervous there," Truckee defender Kennedy Power said.
McGinley put Power's nerves to rest, making a save to keep Incline off the board.
"It got kind of chaotic at the end there," McGinley said. "I needed to make the save."
Truckee scored its goal in the 11th minute, on an own goal that resulted from a miscommunication among Incline players in font of their net.
"We didn't like the goal they got," Incline's Erin Canino said. "There was confusion in front of our goal."
Given the way the goalies and defenses of both teams played, own goals may have been the only way to score. The Highlanders' Sasha Severance had nine saves, including one in which she flew through the air in the box to grab the ball.
"With the ball in the air you just got to put your body out there," Severance said.
Truckee was able withhold Incline's late pressure by making key plays on defense.
"It wasn't pretty but we will take the win," Truckee coach Amy Valdivia said. "The girls have worked so hard all year and they truly deserve this."
ERIKA LENNS & ALLIE GLOVER – November 8, 2009 – Wilson, NC
Erika and Allie shared responsibility in goal for the CASL '92 Elite as they won their second straight NCYSA State Championship. They defeated Charlotte 2­1 in the finals. Allie is in red in the center and Erika is right next to her in the white t­shirt.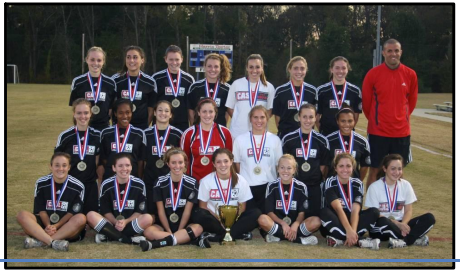 MEGAN JUNKER – November 12, 2009 – McMurray, PA
­
Megan was recently named to the All Section, All­WPIAL (District), and PA All­State Teams for her solid play in the nets this fall.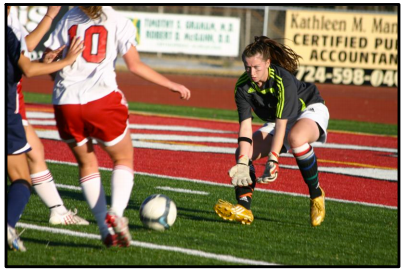 SAMANTHA WHITNEY – November 19, 2009 – West Islip, NY
Here are two good action shots of Sam. One of her pulling down a cross under pressure and HOLDING it and the second is nice diving catch! Her high school team recently lost in the state semifinals against John Jay Fiskill HS 3­2.