TRACY DUCAR – October 19th – 25th, 2008 – Los Angeles & Portland, OR
Tracy re-joined the United States U20 Women's National Team in their final training camp in preparation for the upcoming U20 World Cup to be held in Chile in November. Camp began in Los Angeles for 2 days of training at the Home Depot Center. Monday was a light recovery day as most of the players had played for their colleges on Sunday before flying in. Tuesday was a medium day with a lot of small sided games and then it was off to Portland, OR early Wednesday morning. We trained at the Nike World Headquarters and played the Canadian U20 team twice. It had been 9 years since I had been on the Nike campus, so it was nice to be back. The campus is beautifully landscaped and the facilities are first class. The team trained on the Ronaldo pitch and the staff had the opportunity to workout in the Lance Armstrong building – what a treat!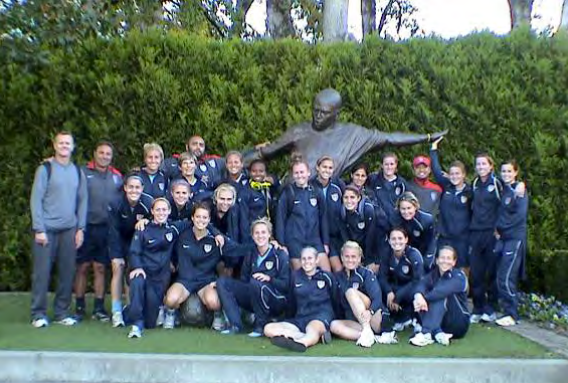 Canada had beaten us in the CONCACAF qualification finals back in June, so this was a chance at redemption for us. We tied the first game 1-1. The first half we were so-so, just not really connecting well, especially in the attacking third (to be expected as everyone had been with their college teams), but in the second half we relaxed a bit more, moved the ball well and played our style. The Canadian U20's play a very direct style, bypassing midfield, knocking balls long for their forwards to run onto balls and battle for. They are a very physical and combative team, and it is a very disruptive style. The nice part is we fought hard all second half, never gave up, and certainly took it to them. Our defense was tight and limited them to very few chances on our goal. The second game was a similar hard fought, physical battle, but this time we won 1-0! As a team we did a good job of maintaining possession and played our style of soccer.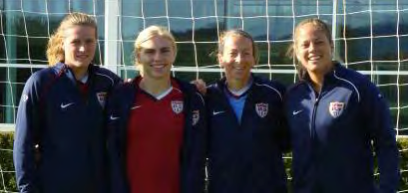 The goalkeepers on this trip (all of whom have made the final roster) were Alyssa Naeher (Penn State), Cat Parkhill (Minnesota), and Chantel Jones (left to right). All 3 are very talented and they have continued to get better and better with each event. That is a testament to their dedication to train on their own in between camps, so they always return back to National Team camps sharper than the last time I saw them.
I have been in with this team for 3 events this year (Cyprus in March, England in August, and this final camp). It has been great to see their progression as individuals, but more so as a team. In March Head Coach Tony DiCicco was still in the process of indentifying players and narrowing the pool. Players were on edge a bit as they were fighting for spots on the roster. Come August in England the team had been named, but it was following a LONG summer of preparations plus three weeks in Mexico in June for the CONCACAF qualification tournament. Therefore many of the players were feeling burnt out as well as being distracted with their college pre-seasons right around the corner and trying to sort out their fall class schedules. In England we were stretched as we played three tough professional teams. It was a good challenge for the team. We ended that trip on a hard fought win which was a good morale booster and great for team chemistry.
This week, I am pleased to say, we looked MUCH sharper than we did in England. It is obvious that the players have been working hard on their own and in their individual college environments to get themselves ready. Players are fitter and technically sharper. They are much more focused now, everyone is excited, and the mood is very positive. The team is confident and playing together a lot better. Tony has done an amazing job this year identifying new talented players, selecting his roster, and bringing them together as a team for this big event. It is an intricate and delicate process as a coach to get your team to peak at the right time for a big event. I have lived this experience as a player under Tony for the '99 World Cup, but now as a coach I am getting to see it from a new perspective. It is not an easy process to put together 20 personalities and mold them into a team in less than a year with limited training camps. I think Tony and the rest of the staff has done a great job thus far. There is a buzz about the team now and they are ready to go!. The event that they have been preparing for since January, which seemed so far off in the future is finally just right around the corner.
The U.S. opens play at the U20 Women's World Cup on November 19th versus France. They will play their second game on the 22nd versus Argentina, and their final game of group play will be against China on the 25th. You can follow the U20's World Cup games at www.ussoccer.com.
OLIVIA HEMME – October 28th, 2008 – Louisville, KY
Olivia just ended her high school season in a disappointing Region finals loss, in overtime, to last years state champion. However, she played great and was honored recently by being named 1st Team All State.
HANNAH (SASSCER) MEYER – October 16th, 2008 – Bethesda, MD
Here is a video clip of Hannah pulling down a cross in a crowd at a recent high school game between Chevy Chase and Walt Whitman. Hannah made several key saves to keep her team in the game, but unfortunately her team, Walt Whitman, lost the game 2-0. http://www.digitalsports.com/video/artid/43062/type/organization/typeid/29193/pos/20/id/1676831.aspx
COLLEGE UPDATES
CHANDLER FOLLETT – Wilmington, NC
Chandler has continued to see the majority of time in the nets for the Seahawks. The team is 12-6-1 heading into the CAA (Colonial Athletic Association)Tournament this week and Chandler has 5 shutouts on the season. Recently she recorded a career high 9 saves in a 2-1 conference win over Northeastern University in Boston.

ASHLYN HARRIS / ANNA RODENBOUGH – Chapel Hill, NC
Anna and Ash continue to split time in goal for the Tarheels and have 10 shared shutouts on the season. The Heels finished out their regular season 16-1-2 winning the ACC (Atlantic Coast Conference) Title and will start the ACC Tournament this week/weekend. They are currently ranked #2 in the country.
CODY MILES – Eugene, OR
The Oregon Ducks head into their last 2 games of the season 9-7-2. Cody continues to be a critical element to their team's defense and had 2 straight shutouts in conference play over Arizona State and Arizona this past weekend. The Oregon website had this to say about her most recent game:
"The Oregon defense would make Stoltenberg's goal stand-up as it closed out the game even with Arizona adding another offensive player in the final minutes. It was Cody Miles in net, however, that gave the Ducks a chance to score a game-winning goal rather than a game-tying score.
With 15 minutes left to play an Arizona forward found herself one-on-one against Miles and the freshman keeper from Salem, OR, attacked the play head-on and made a spectacular save to preserve the scoreless game and her second-straight clean sheet victory, sixth overall.
"Cody is gaining so much confidence in herself and the team is gaining confidence in her as well," said Erickson. "She is improving each and every game." Reprinted from www.goducks.com
McKINZIE OLSON – Provo, UT
"Mac" and the BYU Cougars are on a roll. They have 9 straight wins, 3 straight shutouts, won the Regular Season MVC (Mountain Valley Conference) Title, and as of October 28th they were ranked 18th in the country. "Mac" has had an exceptional freshman season thus far. She won out the starting role from an upperclassman and has 11 shutouts (some shared) of the team's 12 shutouts. Next up for BYU is the MVC Tournament.
ALLIE HORWITZ – Amherst, MA

Allie is a freshman at Amherst College (Division III). She has been competing for time with the other gk for most of the season. Recently she came up with a HUGE breakaway save to help preserve the shutout and win 1-0 over Wesleyan in the NESCAC (New England Small College Athletic Conference) quarterfinals. The win puts them through to next weekend's semifinals and hopefully finals! The Amherst website had this to say about her game preserving save:
"The Cardinals' best chance of the day came with just four minutes remaining in the first half, when first-year Emma Nitzberg (Summit, NJ) found herself on a breakaway with Amherst first-year Jill Kochanek (Pittsburgh, PA) nipping at her heels. Nitzberg managed to put a solid shot on net, but Horwitz dropped to her right and made a huge stop to preserve the tie." Reprinted from www.amherst.edu/athletics/teams/fall/soccer-w/
KELSEY WALTERS – Fort Worth, TX
"Wally" and the Horned Frogs are now 13-3-2 and have 7 shutouts! Next up for TCU is the MVC Tournament where they could potentially meet up with McKinzie Olson and BYU. BYU edged out TCU 1-0 in their first regular season game, so I am sure that "Wally" and the Frogs will be looking for redemption!