McKINZIE OLSON & CODY MILES – October 1, 2009 – Provo, UT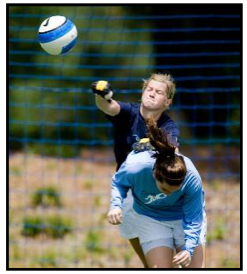 McKinize and Cody have been friends since meeting in high school at a Region 4 ODP event. Their first match up as collegiate goalkeepers proved to be a close one. Both gks showcased their skills, but it was Mac that left with bragging rights as BYU defeated Oregon 1-0.
The BYU website reported:
"This was a great win for us against a very good Oregon team," said BYU head coach Jennifer Rockwood after the game. "McKinzie had some huge saves for us and I feel like we were defensively solid tonight."
Next up for the BYU Cougars is the Mountain West Conference Tournament.
KELSEY WALTERS – Fort Worth, TX
October was a tough month for Wally and the TCU Horned Frogs. They went 2-5 this month finishing their regular season 9-10. They did however do well enough to advance to the Mountain West Conference (MWC) Championship to be held November 4th, 5th & 7th in Provo, UT.
ASHLYN HARRIS – October 1, 2009 – Carson, CA
Ashlyn had a successful 1st camp in with the senior U.S. Women's National Team. She said she played well, felt comfortable, and had fun. She hopes her performance was strong enough to get invited back into the next training camp. Be sure to check out this feature article on Harris on the US Soccer website:
www.ussoccer.com/News/Womens-National- Team/2009/10/A-Long-Road-Back.aspx
Ashlyn was also recently named to the 1st Team Atlantic Coast Conference (ACC)Team for her consistent play in the nets this season for the Tarheels. CONGRATS ASH!

Next up for Ashlyn and the Heels is the ACC tournament in Cary, NC. They will open up on Wednesday, November 4th against Maryland.
KIM KERN – October 2009 – Raleigh, NC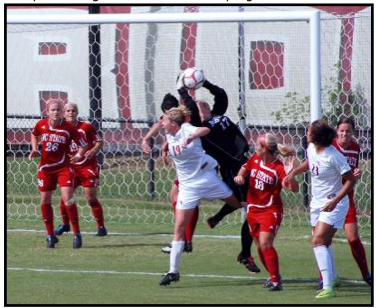 Kim and the NC State Wolfpack women's soccer team picked up their second ACC win over Clemson on October 1st, winning 2-1 over the Tigers. Since it has been 4 years since the Pack has won an ACC game, getting their 2nd ACC win this season is a step in the right direction for their program.
On October 18th the Wolfpack nearly got its third ACC win trying to upset nationally ranked Maryland, but they feel just short losing 2-3 in overtime. Kern had an outstanding game to keep her team in the match, making 10 saves.
One week later she had another solid performance pulling down several dangerous crosses (as shown in the photo) and making 9 saves in their 2-0 loss to No. 7 nationally ranked Florida State.
The Wolfpack finished their season 8-9-2 and just shy of qualifying for the ACC Tournament.
KATHERINE BOONE – October 31, 2009 – Dayton, OH
Boonie has continued her dream freshman season wrapping up the regular season play with 14 shutouts! That broke the previous school record (13) for shutouts in a season. They also claimed the Atlantic 10 Regular Season championship for the first time since 2004 with a 3-0 win over Xavier and finished their regular season unbeaten for the first time in school history.
Boone (and the University of Dayton defense) leads the nation in goals against average having only let in 5 goals all season!
The next goal for Boone and the Flyers (14-0-5) is to win the A-10 Conference Tournament which begins on November 5th in Charlotte, NC. Winning their conference tournament would assure them a bid into the NCAA Tournament.

ALYSSA "GILLY" GILLMORE – October 11, 2009 – Los Angeles, CA
Gilly got the first 2 starts of her career as a freshman at Arizona State University against 2 of the Sun Devils biggest conference foes! It certainly is intimidating as a freshman to start against USC and UCLA! While the Sun Devils did not get the desired results (losing to USC 1-0 and UCLA 3-2 in OT) Gillmore did have two very respectable games in goal against two formidable, nationally ranked opponents. In the game against UCLA she tied the ASU single-game record for saves with 14 on a day in which the Sun Devils were outshot 37-13. Below she is making a great diving catch against the University of Washington.
LAUREN MINKOFF – October 1, 2009 – Cherry Hill, NJ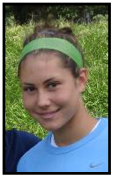 Junior goalkeeper Lauren Minkoff came up big to earn her 1st shutout of her high school season. The following is an excerpt from the Courier Post about the game.
"Cherry Hill East head coach Alex Falat changed his lineup a little bit for his game against Bishop Eustace, who is ranked No. 6 in the Top 20 rankings. The moves worked as the unranked Cougars scored their first girls' soccer win of the season, defeating Bishop Eustace 2-0 for the first of many upsets on the day. Cherry Hill East's Rachel Sineoni and Kaity Hartkopf scored the goals for the Cougars, and goalie Lauren Minkoff had seven key saves to get the shutout and the first Cougar win of the year."