TRACY DUCAR – September 12th – 20th, 2008 – Philadelphia / New York / Chicago
I recently joined The Republic of Ireland Senior Women's Squad as their goalkeeper coach for a three game tour of the United States. The U.S. Olympic squad was on a 'Victory Tour' having just returned from wining Olympic Gold in Beijing. On the other hand Ireland's focus for the tour was much different. They were using the event to prepare for their upcoming European Championship qualifying game versus Sweden. They wanted to play the best in the world to be put under pressure, be forced to play faster, get fitter and test their team defense.
Personally, it was a great experience to coach for Ireland, be exposed to new coaching philosophies, and see how another country trains and prepares to play the United States. The coaching staff for Ireland made me feel right at home, and of course it certainly helped that I have Irish heritage on both sides of my family. I learned plenty of new sayings and received my fair share of 'slagging'.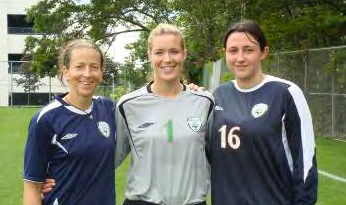 The goalkeepers I got to work with were Emma Byrnes and Lynn Bradley. Emma has been a mainstay on the Irish team. Her career on the senior team began at the early age of 17 and she has played for Ireland for 11 years. Emma also plays professionally for Arsenal, the top women's club in England. Lynn is at the other end of the spectrum from Emma. She is young (19) and inexperienced at the international level. She has played in the youth National Team system in Ireland, but just made the transition to the senior squad this year.
The 1st game was played on September 13th in Philadelphia in front of 13,000 + fans. The United States were clearly the dominant and more athletic team, beating Ireland 2-0. However, Ireland fought hard, showed good composure, and never quit. Emma was quite busy and proved up to the daunting task of facing a speedy experienced U.S. attack with Natasha Kai, Angela Hucles, Heather O'Reilly, Lindsay Tarpley, and Carli Lloyd. She made several critical point blank saves to keep the Irish team in the game.
Just to put it in perspective, Ireland is ranked 28th in the world compared to the U.S. #1 ranking, and does not have nearly the same resources or training opportunities as players here in the United States. They have a significantly smaller pool of players in their country, making it much more difficult for them to compete internationally and several of the Irish players were playing in their very first international game. On the other hand several of the U.S. players have over 100 appearances. Having played for the U.S. Women's National Team I now see how overwhelming and intimidating it can be to go into a match against them. Additionally, given that Ireland arrived on Thursday, had only one day of training/recovery on Friday, before playing on Saturday a 2-0 loss was a good result for them.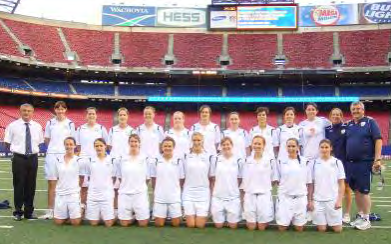 The 2nd game was played on the 17th at Giants Stadium in New Jersey in front of 4,000+ fans. They Irish played with a lot more confidence; they were more composed and possessed the ball for much longer stints, especially in the 1st half. It was also clear that they had recovered their legs and were able to run harder for the full 90 minutes. They were less intimidated and were able to manage their nerves better. It was a nice improvement for them from the 1st game. The result was a 1-0 U.S. win. Emma had another strong performance, but actually had less to do since the entire team improved their defense and succeeded in reducing the amount of dangerous scoring opportunities.
The 3rd and final game was played in Chicago on the 20th. The U.S. came out strong and high pressured right from the start. That pressure, along with a tired Irish squad, lead to 2 first half goals by the U.S. The first was a bad turnover in the Irish defensive end that lead to a quick passing series by the U.S. and a breakaway finish inside the 18 on Emma. The second goal came from a PK. Two Irish defenders sandwiched Natasha Kai leading to the penalty that Kate Markgraf converted. In the 2nd half the Irish responded well and played with more composure. They stayed true to character and fought hard for the remainder of the game. Emma had 2 excellent saves in the second half. One was an extension dive save that she tipped the ball around the post for a corner and the other was a box off a corner kick (as shown on the left).
Ireland returned home from their preparation matches in the States much more prepared to face Sweden in the European Championship qualifications. The played well and had a respectable result, a 1-0 loss to one of the tournament favorites. That result (along with their previous results) was good enough to push them through to the next round of playoffs versus Iceland. If they are able to win the 2 game home/away series they would qualify for the 2009 European Championship Finals to be held in Finland next August, which would be the furthest that Ireland has ever made it in a European Championship Tournament.
ANNA SIELOFF – September 17, 2008 – Troy, MI
Reprinted from Top Drawer Soccer: http://www.topdrawersoccer.com/component/option,com_topdrawer/Itemid,260/sid,22/nid,4640
Vardar SC U17 goalkeeper Anna Sieloff is easy enough to remember because you're more likely to see her smiling then not. She's a player who likes to keep it positive.
"Of course I have my moments when I'm frustrated, but the fact is I'm happy when I'm playing," the Detroit-area standout said. "I remember the reason I'm playing and even if I'm not playing to my best, I'm still lucky enough to be out here with my teammates, competing, working hard and at the end of the day you just want to have fun, so that's what I try to do."
Don't let the smile make you think Sieloff isn't intensely interested in winning and getting better. In fact, she uses her upbeat personality to try and help the team do just that.
"What I try to do is keep making a positive impact," she said. "When the team is struggling, if they are down a goal, instead of getting down I want them to win that ball, sprint that sprint and just be there. I let them know I believe in them and not to give up."
Anna plays on Demir Muftari's Vardar squad, with talented teammates such as Niki Read, Kayla Mannino and Megan Siebert. She's been in the U15 and U16 National Team squads with goalkeepers like Emily Oliver, Makenna Henry and Nichole Downing.
Anna's mom Kate recalls that one of Anna's first experiences as a goalie came when her older brothers were playing hockey. They were only willing to let the girl play if it was in goal, so that's what she did. Similarly, at in rec soccer when nobody else wanted to play in goal, Anna stepped up and began to find that she liked it.
"The coach had everybody take their turn," is how Anna recalls it. "Instead of ducking away I just went at the forward and tried to stop the shot. Our coach said 'I think we found our goalkeeper.' Since then I've been thrown in there. I guess I was just this crazy, courageous girl."
Anna still manages to find some time playing in the field, as a midfielder for her Detroit Country Day High School team and sometimes as a forward for her club team.
"She does that every chance she gets, but it's harder and harder to find the chances as she gets older," Kate said. "She just always feels she can be a better goalkeeper if she understands what players are going through. She's pretty crazy when she gets out on the field."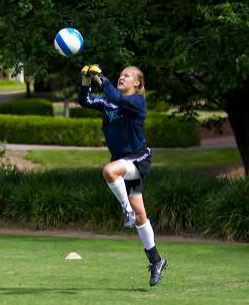 It's as a goalkeeper that Anna has been attracting a lot of attention from colleges. The 2010 graduate is looking far and wide, noting that the chance to keep developing as a player for future national team consideration, and the chance to win a national championship are two of her major considerations in deciding.
"I'd like to make the decision sometime this year," she said. "I'm just looking at a few more schools and making sure I'm not overlooking anything."
She credits former Women's National Team GK Tracy Ducar and her Dynasty Goalkeeping camp as having made a big difference in her play.
"Tracy Ducar has helped me get to the next level," Anna said. "She's had me focus on technique, polish things and get the details right. All the work on the small things has helped me with the big picture"
Club coaches Muftari and Ralph Torre work with Anna during the season.
"Demir is really great to incorporate drills in training to include me so I can work on crosses and shot-stopping," she said. "I can also call Ralph and he'll help me get some extra reps, plus I train with the high school and Vardar boys' teams.
Anna says her communication and being a part of the defense (including playing with her feet) are strong parts of her game. She listed command of the area on set pieces (particularly in traffic) as a main area on which she's working to improve.The improvement has been continual and it helps cement her status as one of the best of the 2010 graduating class – and she even does it with a smile.
KATHERINE SOMODI – September 6, 2008 – Bradenton, FL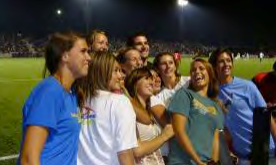 Goalkeeper Katherine Somodi (sporting her Dynasty Goalkeeping T-shirt on the right) and team get a group shot after a Silverbacks match with GK Ryan McIntosh.
COLLEGE UPDATES
TAYLOR COMISKEY – Kalamazoo, MI
Taylor has been the starting gk for Division 3 Kalamazoo College since the beginning of the season. She has 97 saves in 11 games, so she has been quite busy! The Hornets are now 4-7 and Taylor has 2 shutouts. Next up: Rochester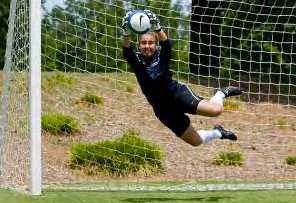 CHANDLER FOLLETT – Wilmington, NC
Since the August edition Chandler has since won the starting spot for the UNC Wilmington. The Seahawks are now 6-5-1. Next up: Towson
KIM KERN – Raleigh, NC
Kim has been splitting time with the other goalkeeper at NC State. The Wolfpack are now 8-5 as they head into conference play. Next up: Clemson
CODY MILES – Eugene, OR
Cody is continuing to have a strong freshman season with the Oregon women's soccer team. The Ducks are now 7-3-1 and Miles has 5 shutouts. Next up: Stanford Chandler Follett
McKINZIE OLSON – Provo, UT
After a shaky start in her 1st collegiate game "Mac" has recovered, grown confident, and has since won out the starting position. BYU is now 8-5 and Mac has posted 5 shutouts. She was also named Mountain West Conference (MVC) Player of the Week after her stellar play in their win over Michigan State. Next up: UNLV
ASHLYN HARRIS / ANNA RODENBOUGH – Chapel Hill, NC
Dynasty Goalkeeping staff coaches Anna and Ashlyn continue to split halves in goal for UNC. The Heels are now 11-1-1, they have 7 combined shutouts, and are ranked #2 in the country. Next up: Boston College
KELSEY WALTERS – Fort Worth, TX
"Wally" and the TCU Horned Frogs continue their winning ways and have moved to 9-1-1 on the season. Wally now has 6 shutouts and 0.61 goals against average. Check out this You Tube site for some of her saves on the team's mid season highlight video http://www.youtube.com/watch?v=0NkpXMdohFM Next up: Wyoming