KELSEY WALTERS – September 2009, Fort Worth, TX
Former student and current staff coach Kelsey Walters (who goes by "Wally") is seen here making a brilliant smother save. It is a good picture illustrating the proper technique of going hard through the save leading with your hands, not the shins/knees that I see all too often by my students. TCU has had an up and down season thus far. They opened their season with a HUGE 2-1 win over the Texas Longhorns in Austin, but since then they have been inconsistent losing 3 games by one goal margins resulting in a 7-5 record.
Next up for Wally and the Horned Frogs as they try to keep their 2 game winning streak alive is New Mexico on October 3rd.
KIM KERN – September, 24, 2009 – Raleigh, NC
Kim is a sophomore gk at NC State University and a Dynasty staff coach. Recently she had what she described as the "best day of my life". Okay, maybe it wasn't really her BEST day, but I am sure it ranks right up there. She and her Wolfpack teammates got the program's 1st ACC (Atlantic Coast Conference) win in the past 4 years by upsetting the #11 ranked University of Virginia Cavaliers 2-1. Kern made 10 saves in the game. Here is an excerpt from the Wolfpack website www.gopack.com.
"It was more of the same in the second stanza as the visitors held control of the ball for most of the first 20 minutes, but their long shots were coming from far enough out that Kern was able to grab a hold of them with little effort.
But finally one snuck past her as Kate Norbo's close range shot deflected off a defender and went just under the arm of Kern and trickled into the net at the 68:20 mark of the game to knot the score at 1-1.
Kern made perhaps the save of the night in the 79th minute when she came off her line to snuff out a scoring chance by Virginia's Lauren Alwine. For Kern it was a play that her and the coaches worked on this week.
"We've been practice a lot on judging the ball and when to come and when to stay. I think I made the right decision at that point in the game, said Kern."
Next up for Kern and the Wolfpack is Clemson on October 1st.
ASHLYN HARRIS – September 2009 – Chapel Hill, NC
Senior UNC gk and former Dynasty staff coach Ashlyn Harris is off to a fine start in goal for the Tarheels. Leading a very solid defense she has posted 7 shutouts and a 9-0-1 record. Her consistent play and return to full strength after a college career riddled with major injuries (broken thumb, right ACL, left ACL, torn hip labrum) has caught the attention of U.S. National Team head coach Pia Sundhage. After years as a mainstay on the U.S. youth National Team and a U19 World Championship she has finally been called into her first US WNT camp with the senior squad. It is a testament to her hard work to regain her form and persist through so many heart breaking injuries. CONGRATS ASH!
As reported on the ussoccer.com website:
"The camp marks a long awaited first call-up for Harris, who was the starter for the USA at both the 2002 and 2004 FIFA U-19 Women's World Cups, playing every minute of all 12 games during those tournaments. The 5 feet 7 inch Harris, who played a key role in helping the USA win the 2002 FIFA U-19 WWC when she was just 16 years old, was on the fast-track to the full national team before a series of major injuries – including two ACL surgeries – set her back. The 23-yearold will train alongside regulars Hope Solo and Nicole Barnhart.
She will return to action in net with the Tarheels on October 1st as they face Boston College.
HANNAH DALY – September 28, 2009 – Chapel Hill, NC
Since Ashlyn Harris is out off training with the U.S. National Team it has given freshman gk, Hannah Daly (3 year Dynasty student), an opportunity to see some action. She had seen some limited minutes in a few other games this season, but her first start came against cross town rival Duke University, the team's 1st game in Conference play. As a Tarheel, playing the Blue Devils is always a battle. And even though Duke's roster is depleted from injuries this season, they put up a valiant fight. Duke controlled play for most of the 1st half, but Carolina dominated in the 2nd. Late in the match UNC scored what looked to be the game winner only to have Duke equalize with less than a minute remaining on the clock. The game continued into overtime only to have UNC quickly end it with a goal from freshman Alyssa Rich. After the game Hannah was all smiles…hopefully the first of many victories over Duke to come in her career. She said she had been nervous, but from the stands she didn't look it. Every game she plays she gets more confident and she is quickly settling into the pace of the college game. Following the Duke victory she got her first shutout in the Heels 4-0 victory over Wake Forest.
Below is an excerpt from an article by Grant Fitzgerald that recently ran in the UNC student paper, The Daily Tarheel.
Underclassmen Play a Big Role – Freshmen Efforts Led by Brooks, Daly, Rich
On a squad laden with experienced upperclassmen, the North Carolina women's soccer team is getting a boost from some talented young guns.
Against rival Duke on Thursday, freshman Alyssa Rich scored the game winner in overtime, her second game-winner of the year. On Sunday, she struck again to cap off a 4-0 victory over Wake Forest. "Alyssa Rich is a goal scorer," coach Anson Dorrance said.
"Here's this freshman who already has two game-winning goals in nine games; I mean how many times can a freshman claim that in this sport?"
Freshman goalkeeper Hannah Daly, midfielder Amber Brooks and forward Rich all started against Duke on Thursday in the biggest game of their young careers.
For Daly, the Duke game was the first start of her career in goal, but she insists that the magnitude of that game didn't get to her head.
"I was just playing for fun," Daly said. "When I play for fun I am just able to relax more and play calm."
On Sunday against No. 7 Wake Forest, Daly looked composed as she recorded the first shutout of her career.
"In high school, I could just run in there and dominate the players," Daly said.
"Now I am getting pushed around and I have to go all out for every cross or else someone is going to come and take me out."
. . .
With senior midfielder Nikki Washington injured and goalie Ashlyn Harris and midfielder Tobin Heath traveling with the national team, the freshmen have been granted opportunities to play pivotal roles on this team and have delivered in major fashion.
Brooks has made her way into the starting lineup with her strong play in the midfield, Rich and Premji have excelled as offensive reserves and Daly has become the No. 2 goalie option.
But Daly credits her transition on the pitch to her teammates.
"The best training you could possibly get," Daly said of practicing with UNC's übertalented roster.
"I know that when I get into these big games today that I'm ready because I am facing the best talent in the world."
CODY MILES – September, 2009 – Eugene, OR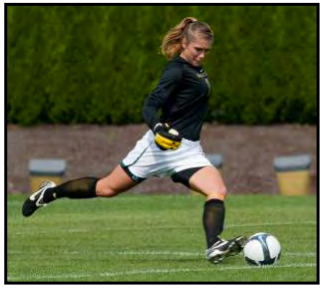 Sophomore gk Cody Miles is following a stand out freshman season with a solid start. She has lead the Ducks in the nets with 4 shutouts and to a 7-1-1 record. The have even jumped to 14th in the recent Soccer America poll. She continues to establish herself in the Ducks record books. She is climbing in the overall rankings to third with 16 career wins, third in shutouts (10), and fifth in saves (103). Recently she was interviewed on the goducks.com website. She talks about recent games, upcoming games, training, academics, and her transition last season as a freshman. It is a great interview about life as a studentathlete, check it out!
http://www.goducks.com/ViewArticle.dbml?SPSID=4317&SPID=237&DB_LANG=C&DB_OEM_ID=
500&ATCLID=204804187
Cody will be facing off against fellow Dynasty student McKinzie Olson at BYU on October 1st. They are good friends, so it will surely be a hotly contested battle!
McKINZIE OLSON – Fall 2008 – Provo, UT
Mac had an outstanding freshman season for the Cougars. She battled early on in the season with an upper classman and quickly won the starting spot. She finished the season ranked 10th in the nation for her Goals Against Average (GAA) of 0.503. In addition she was named to the Soccer Buzz All Freshman West Team and was a 2nd Team Soccer Buzz Freshman All-American for her stellar play. Not only did she have a great fall on the field, but she also took care of business in the classroom and was named to the Academic All Mountain West Conference Team. Way to go Mac!
I realize this news is old, however I was just recently made aware of these honors.
The 2009 season has started well for Mac. The sophomore is having another strong season in goal for the Cougars. BYU is currently ranked 23rd in the Soccer America poll with a 8-2-1 record and Mac has posted 5 shutouts.
KATHERINE BOONE – September 8, 2009 – Dayton, OH
In her first game of the season freshman goalkeeper Katherine Boone (or Boonie as we all know her from camp) found herself thrust into the match with less that 5 minutes on the clock and a 1-0 lead. Boone, who recently recovered from ACL reconstruction surgery last October, said that during pre-season she was just trying to get up to speed with the college game and get her game confidence back. Well, her hard work all spring in recovery and this summer paid off. Her opportunity came, she was ready, and she has made the most of it! Boone entered the game cold and immediately had to make a big time deflection save on a free kick that bounced through a crowded box. She preserved the shutout and has been in goal ever since. This past week she was recognized for her consistent play in goal for the Flyers thus far by being named Atlantic-10 Women's Soccer Rookie of the Week. Way to go Boonie! The following article detailing her first few games has been reprinted from the Dayton Flyers women's soccer website.
Freshman Goalkeeper Has Stepped Up Her Game for Flyers with Three Consecutive Shutouts
University of Dayton women's soccer player Katherine Boone was named the Atlantic 10 Rookie of the Week for her performances in the Hurricane Cup at the University of Miami Sept. 4 & 6.
The freshman goalkeeper from Kirkland, Wash. registered two double overtime shutouts in the tournament. She was credited with two saves.
"I have to give the credit to my defense," said Boone. "The defense controlled the ball so well and my touches were pretty limited. I feel like I played well, especially early on."
After stepping into action after junior Lisa Rogers was injured in the final minute of Dayton's season opener against Loyola, Boone has allowed only one goal in 421 minutes and is still unbeaten at 1-0-3. Her 0.21 GAA is tops in the Atlantic 10 and her .900 save percentage is second best in the conference. Her three shutouts also leads the league.
"It was unexpected to get into the mix this early on," said Boone. "I enjoy being able to play, our entire team has made our success possible and I really enjoy being a part of this team."
LAUREN SMEDLEY – September 28, 2009 – Easton, PA
After overcoming two ACL surgeries in her high school career Lauren has found her home back in goal starting for Lafayette. The freshman gk was recently honored as the Brine Patriot League Goalkeeper of the Week for her consistent play in goal thus far. She currently has a shutout streak of over 300 minutes. Below is the article from the Lafayette women's soccer website detailing her season thus far.
"Smedley began her week by shutting out Saint Peter's on Tuesday evening. She recorded nine saves as the Leopards earned a draw with the Peahens despite outshooting them 17-14. Three days later, she was an integral part to a 1-0 Leopard victory over NJIT. On Sunday, Smedley capped off her week and extended her shutout streak to three games and 323 minutes of scoreless soccer. She tallied nine saves on the afternoon as Lafayette battled Wagner to a scoreless tie.
The three shutouts brings Smedley's season total to four. She currently has 56 saves on the season and a 1.31 goals against average in 2009.
Head coach Mick Statham expressed his happiness for both Smedley and with the defensive effort.
"It's a great honor for Lauren to get Goalkeeper of the Week," Statham said.
"The team has played well defensively of late and keeping clean sheets keeps us in games. Lauren is a very talented but humble player that has massive potential to be one of the best. Her temperament is very good so she won't get carried away. She is very ambitious, listens to what she is been told and then applies it. She has a very bright future in front of her."
Lafayette is now 3-6-2 and will open their Patriot League play on Saturday, October 3rd against Holy Cross (where fellow Dynasty gk Ashlyn Angell is a freshman!).
KELSEY QUINN – August 21, 2009 – Villanova, PA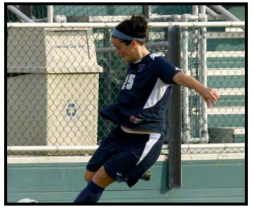 Kelsey is a freshman at Villanova University. She started in the 1st game of the season and picked up the win in the Wildcats 4-0 victory over Temple. She also saw some time on the field recently versus Georgetown. Any of you who have attended camp with Kelsey know how competent she is on the field. She is quick, feisty, and very skilled.
KENZIE TILLIT – September 23, 2009 – Carson, NV
Kenzie is off to a very fine start in her high school season. The following is an excerpt from an article in the Nevada Appeal written by Darrell Moody.
Carson Girls Nip Galena 1-0
Kenzie Tillitt and Arran Rumbaugh are the future of the Carson High girl's soccer program, and if Tuesday night is any indication, the future is in good hands.
Rumbaugh returned to action after suffering an injury during her club season and scored the game's only goal, and Tillitt made two sensational saves to spark the Senators to a 1-0 win over Galena in a Sierra League soccer match.
Tillitt came up with a great diving stop of a hard shot by Ally Whitlock that looked like it was headed to the left corner of the net. And with 8:40 left in the game, Tillitt deflected a shot by Sara Lancaster from point blank range to save the shutout.
"She made two great saves," Roser said. "She played well.
Tillitt presents a problem coaches love. She also is a strong field player, and keyed the offense earlier this year before being moved to goalie.
"Right now, we're better with her in goal," Roser said. "She can definitely play in goal. She works hard in the field. Tonight would have been tough for her."