GK Academy: Coaching Staff
Director: Tracy Noonan
A potent combination of talent and tenacity carried Tracy Noonan (formerly Ducar) to the top of the women's soccer world. Her list of accomplishments includes a 1999 FIFA Women's World Cup championship with the United States women's national team and three NCAA championships with the powerhouse North Carolina Tar Heels.
She also was a founding member of the Women's United Soccer Association, backstopping a Boston Breakers team that included USA and international stars Kristine Lilly, Kate Sobrero Markgraf, Maren Meinert (Germany) and Dagny Mellgren (Norway).
Featured Staff Coach: Megan Kinneman
Megan "Ping" Kinneman is a 5-time Dynasty student who has been on staff since 2011.  She has her NSCAA National Coaching Diploma plus NSCAA GK Certificates 1-3 and is an outstanding coach with high standards for herself and she expects the same commitment from her students.   She has a fierce competitive drive to be the best, is extremely quick and technically sharp, and her passion for the game is immediately evident when you watch her play and coach.
At the youth level Megan played for the Eclipse and Challenge soccer clubs in the Houston, Texas area.  A three year goalkeeper at Elkins High School she was named captain for her sophomore and junior seasons (did not play her senior season) as well as Team MVP her last 2 seasons.  She was a South Texas State ODP player,  four year veteran on the Region III ODP Team, and a member of the U15 U.S. National team Pool attending one training camp at the Home Depot Center in Carson, CA in 2007.
In 2010 she left Texas to continue her career in Baton Rouge for Louisiana State University from 2010 – 2013.  Despite her 5'4 stature Megan's technical and consistent play earned her the starting spot early during her freshman season over the veteran 6'0 junior goalkeeper Mo Isom.  During that 2010 rookie season for the Tigers she was named a member of SEC All-Freshman Team as well as the SEC All Tournament Team.  Kinneman and Isom battled for playing time during her sophomore season, and then became the lone starter her junior and senior seasons.   Kinneman ranks number one all time at LSU for career saves with 284 during her 4 year tenure.  And she is also the leading scorer for goalkeepers in LSU history scoring a perfect 3 for 3  on penalty kicks!
A Sports Administration major, Megan also makes volunteering a priority in her life.  Throughout her college career she volunteered in the community and in 2012 was named to the SEC Community Service Team for her contributions as an individual and with team community events.
In 2014 Megan began her professional career as a reserve goalkeeper for the NWSL Houston Dash.  She continued with the Dash through mid-season in 2015 before signing a contract with Arna-Bjornar in Norway's Premier Division.  In between seasons and training sessions she coached for Dynasty when available at our winter camps and in the Houston metropolitan area.
In 2016 Megan transitioned from her playing career into coaching full time.  She accepted her first collegiate coaching position as an assistant coach at the University of North Carolina – Greensboro for one year before being asked in July 2017 to return as an assistant coach to her alma mater, Louisianan Tech University.  She has been be a key coach for Dynasty expanding her role on the field and off.  I am thrilled to have an outstanding student who has come up through our program continue our tradition of excellence as a coach developing the goalkeepers of the future!
Additional Coaching Staff
It is of the utmost importance to Dynasty Goalkeeping to hire high level staff coaches who are experts in their field. While there are no guarantees for upcoming staff coaches, here is a list of some of the coaches who have appeared at Dynasty in the past.
Yewande Balogun

University of Maryland (2007-2011), all-time University of Maryland leader in GAA (0.93), Soccer Buzz Freshman All-American (2007), U.S. Youth National Team Pool (U14, U-17 & U20). Assistant Coach at American University (2015). Holds her USSF "D" license & NSCAA Goalkeeping Level 3 Diploma. Currently Assistant Coach at University of Maryland (2016-)
Neel Bhattacharjee
Former Associate Head Coach at George Washington University (3 seasons), former Assistant Coach at Boston College (3 seasons), former Assistant Coach at Syracuse University (4 seasons), Head Coach at Binghamton University (2016-current)
Jenni Branam
University of North Carolina (1999-2002), U.S. Women's National Team, WUSA San Diego Spirit, WPS Sky Blue FC, 2009 WPS Champion, Assistant Coach at University of the Incarnate Word (2013-2017)
Justin Bryant
Radford University (1984-1986), professionally Bryant played with Borenhamwood FC in England (1987 & 1990), the ASL Orlando Lions (1987), Dunfermline Athletic in Scotland (1989) & USISL Cocoa Expos (1995) in the United States. Former goalkeeper coach for Elon University, various youth clubs, and the North Carolina Olympic Development Program.  Staff coach at Triangle Football Club Alliance (2013-2016).  Goalkeeper coach at UNC-Wilmington Women's Soccer (2017). Currently Director of Goalkeeping at NC State (2013-2016, 2018-)
Shanna Caldwell
University of North Carolina (1998) and University of Connecticut (1999-2001), former Assistant Coach at the University of Oklahoma, the University of Alabama, Baylor University & Akron University, Head Coach at Texas A&M – Corpus Christi, currently assistant coach at College of Charleston (2017-)
Caroline Casey
College of William & Mary (2012-2015), NWSL SkyBlue FC (2016-2018)
Mary Casey
University of Maryland (2005-2008) & Assistant Coach at UNC-Asheville (2011-2012)
Kristin DePlatchett
University of North Carolina (1998-2001)
Taylor Francis
University of Pittsburg (2013 -2016)
Alexa Gaul
University of Texas (2009 -2011), Boston College (2012). Member of the U.S. Youth National Team player pool at the U15, U16, U17, U18, U20 & U23 levels.  Also a member of the U17 U.S. World Cup Team in 2008 that placed 2nd. Played professionally for UMF Selfoss (2014), in Iceland and SC Sand (2015-1016) in the Allianz-Frauen Bundesliga in Germany.  Graduate Assistant Coach at Columbus State University (2016 – 2017). Currently an Assistant Coach at the College of William & Mary (2018)
Greg Gatz
Director of Strength and Conditioning for Olympic Sports at the University of North Carolina
Ashlyn Harris
University of North Carolina (2006–2009), 2002 FIFA U19 World Champion, 2010 WPS St. Louis Athletica/Washington Freedom (after St. Louis folded mid-season), 2011 WPS Western NY Flash, 2011 WPS Champion & WPS Goalkeeper of the Year, FC Duisburg (2012), NWSL Washington Spirit (2012-2015), NWSL Orlando Pride (2016- ) & current U.S. Women's National Team goalkeeper.
Megan Jessee
University of Connecticut (2002-2005) & former Assistant Coach at Wake Forest University.  Current Head Coach at University of Rhode Island (2017 – current)
Jaimel Johnson
University of Tennessee (2005 – 2008), NSCAA/adidas All-American and First Team All-SEC pick (2007), member of the U.S. National Team pool in 2003 (U-17), 2006 (U-19) and 2008 (U-23), 2009 WPS Chicago Red Stars & former Assistant Coach at the University of Texas.
Kim Kern
NC State University (2008-2011), Assistant Coach & Director of Operations at NC State University (2012-2016) & Dynasty Goalkeeping Staff Coach (2009 – 2016). Director of Goalkeeping at NC State University (2017). Currently Director of Operations at NC State University & goalkeeping coach with NCFC & NC ODP.
Erika Lenns
Gardner Webb University (2010-2011), East Carolina University (2013-2014) & Volunteer Assistant Coach at East Carolina University (2015-2016)
Jen Mavis
University of Nevada-Reno (2003-2006), Nevada Elite Football Club Goalkeeper Director (2007-2011), Nevada Elite Assistant Director of Coaching(2010-2011), Director of Operations at University of Oklahoma (2014-2015), Assistant Director of Coaching at Oklahoma Soccer Association (2014-2015), Oklahoma Olympic Development Program (2014-2015), President & Founder Legacy Football Club in Sparks, NV(2011-current), Volunteer Assistant Coach at College of William & Mary (2015-2017), USSF "B" License, NSCAA Level III Goalkeeper Diploma, NSCAA Director of Coaching Diploma. Currently Assistant Coach at University of Maryland-Baltimore County (2018-).
Charlotte McCormack

Clayton State University (2012-2015), Republic of Ireland Youth Team player and Full National Team appearance as a reserve in 2015 versus the US WNT. Clayton State University Volunteer Assistant (2016), Georgia ODP Coach. Currently Clayton State University Graduate Assistant (2017-2018).
Declan McIntyre
National Goalkeeper Coordinator for The Republic of Ireland, UEFA "A" license
Rachel Middleman
Ohio State University (2010-2013)
Siri Mullinix
University of North Carolina (1995-1998), U.S. Women's National Team, 2000 Olympic Silver Medalist, WUSA Washington Freedom, 2003 WUSA Founder's Cup Champion & WUSA All Star, former Assistant Coach at the University of North Carolina-Greensboro & Virginia Commonwealth University, current Assistant Coach at Clemson University.
Emma Jane Proctor
Duke University (2014-2017), US Youth National Team experience at U15 & U19 levels.  2015 NCAA College Cup Defensive MVP. 2017 All-ACC Team, 2017 United Soccer Coaches Scholar Second Team All-American. NWSL Utah Royals Draft Selection & Reserve Goalkeeper (2018).
Anna Rodenbough
University of North Carolina (2005-2008)
Caroline Stanley
University of Missouri (2011), University of Southern California (2012-2014), U.S. Women's National Team pool member at U15, U17 and U20 levels, NWSL Seattle Reign (2015), NWSL SkyBlue FC (2016). Currently Assistant Coach at the University of Tulsa (2018).
Bill Steffen
Bill has contributed to Dynasty both on the field as a staff coach and as a guest lecturer since 2009. He has an exceptional playing and coaching background, but also offers a unique perspective and approach to the position due to his PhD in Sports Psychology. His discussions usually focus on maintaining and restoring confidence, one of the biggest mental issues goalkeepers face throughout their career at every level of play. Bill is always a huge hit with our students!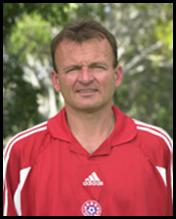 Tracy first met Bill when she was coached by him at Soccer Plus Goalkeeper School as a youth player. Their paths crossed again when he became her goalkeeper coach at the University of North Carolina from 1992-1995. His knowledge of the game, playing experience, and sports psychology background helped Tracy develop immensely throughout her college career. His upbeat personality, calm demeanor, and approachability are just a few of the characteristics that make him an excellent coach. He is passionate about the game and genuinely cares about all of the students he works with.
Steffen played professionally for five years with the Albany Capitals of the ASL and APSL before entering the coaching ranks. He has had coaching stints at Lyndon State College, the University of Albany, Greensboro College, Furman University, Duke University, the University of North Carolina-Chapel Hill, the University of Oregon, and at the University of North Carolina-Greensboro.
Bill has served as an assistant professor at Ohio University, and is currently Assistant Professor of Sport Science at Wingate University as well as serving as a national staff coach and Director of Sports Psychology for the NSCAA.
Kelsey Walters
Texas Christian University (2007-2010)
Dave Wiebenga
Truman State University (1998-2001), Kansas City Brass (1999-2001), Arizona Sahuaros (2002), Calgary Storm (2003), NSCAA National & Advanced National licenses, NSCAA Goalkeeping Associate Staff coach, current Head Coach at Lee's Summit High School (men's and women's program) & owner of EXCEL Goalkeeping.