The Value of Match Analysis
There are many components that comprise a balanced training structure for goalkeepers. This is true of all levels, youth through professional. As a youth goalkeeper, developing a solid technical foundation is paramount while the body grows, coordination evolves, and the physical dimensions of the athlete improve. As the goalkeeper advances in age and experience, the physical demands of the position increase and these areas need to be stressed more, as well as shifting the attention to developing more tactical awareness to complement the ongoing technical training. The final persistent theme must be a layering in of the mental aspects of the position. This starts with simple concepts as a youth player such as the ability to dismiss mistakes, and evolves as expectations rise for performance at top club, collegiate, and professional levels into more complex ongoing themes such as confidence and the ability to perform under pressure.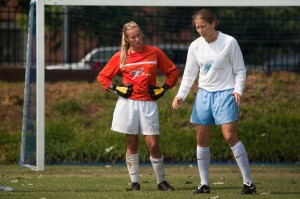 During the Dynasty Goalkeeping summer academies and clinics throughout the year we are able to create a unique and intimate training environment for elite goalkeepers. We focus a lot on goalkeeper specific physical development (both on and off the field with weight room sessions and nutritional advice), technical development, and mental training through on field exercises, lectures, personal video analysis, and individual meetings. In the evenings we create small sided game environments to work on the tactical aspects of the position such a positioning, decision making, and communication. In addition these games encourage the development of important mental characteristics such as competitive fire and aggression.
On top of those aspects game assessment needs to be a critical part of any top goalkeepers training regime. Ultimately match performance is what it all comes down to. Being the best goalkeeper in training doesn't amount to much if you cannot translate those performances to games. So since we are not able to replicate a true 11v11 game in the camp and clinic environment what we do offer is Dynasty Match Analysis throughout the year. The emotions, pressures, and situations of a game cannot be fully recreated in training therefore a game environment adds valuable information if it is watched critically.
At the youth and club level most teams have a head coach, perhaps an assistant coach, and if you are lucky a goalkeeper coach that runs weekly goalkeeper specific training sessions. Therefore in a good club environment you are getting some goalkeeper specific training usually once a week and if you have an experienced head coach he/she will incorporate the goalkeeper into the team training more than just as a shot stopper. However, no matter how detailed your head coach is with their practice plans you must realize that there are limitations to this design. As a former head coach at the collegiate level I understand first hand that you are responsible for the team's overall performance first and under that umbrella is individual player development. Therefore as a coach of 15-20 players a club coach simply cannot see everything and provide specific feedback to their goalkeeper all the time. In addition not all head coaches are well versed in the goalkeeping position. (By the way if you have a head coach with goalkeeper knowledge you are very lucky and are in the minority!) And even if your club has a goalkeeper coach they may or may not be able to attend games on the weekend, and since they typically have a large core of male and female goalkeepers within the club it is impossible for them to see everyone play every weekend.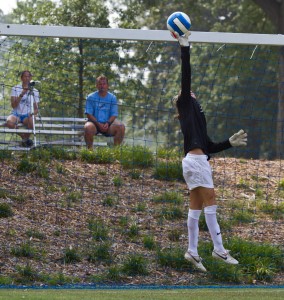 This is where Dynasty Match Analysis can help you. Receiving a goalkeeper specific match analysis will give you unbiased feedback on your game performance to help steer your training and continue your individual development to take your game to the next level. If you want to establish yourself as the starter, move up to a higher level team within your club, play collegiately and beyond than this is an element of your training that cannot be overlooked.
A match analysis by Dynasty Goalkeeping would allow Tracy to coach you on decision making, communication, positioning, and overall game management — more of the tactical side of the game alongside all the technical aspects. The structure is as a coaching session, which is different from a training session. Coaching sessions provide feedback and training sessions work on addressing areas of concern. So I will give you feedback on what you are doing well and recommendations on areas of your game that you need to address to successfully continue you development as a goalkeeper. It is an extremely valuable tool to help give me a more complete assessment of you as a goalkeeper and will help us structure future training sessions (individual mini camps, weekend clinics, or summer camps) to specifically address your needs. It would comprise of watching your game and be followed up with a post-game sit down discussion.
If you are interested in learning more about Dynasty Match Analysis please contact Tracy via email [email protected] or phone at 919-942-2903. She will discuss the specifics structure, options available, and associated fees.
This service is offered on a first come first serve basis so if you will be playing in the North Carolina area, for instance at the CASL Raleigh College Showcase event in November/December, please contact Tracy ASAP if you are interested.