Why Division 3?
I recently caught up with former Dynasty Goalkeeping student Amanda Kesler of Winchester, VA to get her viewpoint on playing at the Division III. As many of our students go through a similar process during recruiting I thought it would be especially valuable to share her experience and perspectives.
Amanda attended Dynasty in 2016 and 2017, and is currently a junior at William Smith College.  In her two seasons playing for the Herons (not counting this year's COVID disrupted season) she has racked up some impressive accolades while earning significant minutes as a freshman and becoming the starter as a sophomore.
Amanda's stats as reported on the William Smith website:
2019: Named to the NCAA All-Tournament Team and was a Liberty League All-Academic. Started all 24 games in goal compiling a  21-2-1 overall record with a 0.30 goals against average and a 0.883 save percentage. She tied for the NCAA lead with 15 shutouts and was third in the nation in GAA and 14th in save percentage. Made a career-high five saves five times, including the final four games against Messiah in the national finals and against Pomona-Pitzer in the national semifinals.
2018: Named Liberty League Defensive Performer of the Week once. Earned a spot on the Liberty League Weekly Honor Roll once. Played in 10 games, starting six, and recorded three shutouts. Stopped two penalty kicks in NCAA quarterfinals against Williams.
Why Division III?
by Amanda Kessler (William Smith ' 22)
I started playing soccer when I was 15. Well, more precisely I started playing around in random backyards when I was 15 having never picked up a soccer ball before in my life. It was October of my freshman year in high school when I met a senior on the high school varsity soccer team, Ellie.  Ellie had made her way into my life as a mentor my freshman year after running a season of cross country together in the fall. She was everything I wanted to be in high school; athletic, smart, lots of friends, and kind to everyone. She had a positive glow about her. Our personalities meshed well during the fall cross country season and she seemed to know that I would play soccer at a high level one day. After running several miles at cross country practice, we would train tirelessly in her backyard for the upcoming spring high school season. I had so much fun learning to dive and catch the ball, even after a tough running workout. She wanted to play soccer in college and was actively in the recruiting process looking at Navy and Davidson. I had no idea how vast and exciting the world of soccer was until I met Ellie.
That spring of my freshman year, I made JV, and eventually beat out the 2nd string varsity keeper. My growth in the position was exponential, and I fell in love with the sport. My parents thought it was just a brief phase because I was constantly shifting from one sport to the next. I borrowed cleats from a friend and bought my own gloves, eager to step in goal. Ellie went out with injuries that season and I had to fill in on many occasions. I realized I was extremely capable of development in the position and Ellie told me that I should pursue a club team to further my growth if I wanted to potentially play college soccer like her. When she graduated that spring, I was out of a goalkeeper coach.
I was so raw, I lacked technical abilities, I lacked the mental toughness of a goalkeeper, and most of all I lacked experience. I barely made the local club team having played less than 10 games in my life and had to do some serious convincing to my parents to pay for the extraordinary price of travel soccer only months after picking up the sport. My parents struggled to understand the game of soccer and why I was so obsessed. I had dropped basketball, a game my dad and I connected with for 11 years to play a completely new game. They didn't know exactly how to help me get better, but they were ALWAYS positive and supportive. They drove me back and forth to practices and games all over the Washington D.C. area and I am so grateful for all their support.
That summer between freshman and sophomore years I went to Dynasty Goalkeeping Camp. I had heard from Ellie before she graduated that it was an elite training camp and knew I would learn essential aspects of the position that I was lacking. I trained with former USWNT goalkeeper Tracy Noonan and was exposed to the college level in the evening games when guest players from UNC, Duke, NC State and other top colleges would come out for games. I felt like I struggled tremendously in camp because I did not have the technical foundation of other goalkeepers my age. I was terrified to come off as 'not good enough' because I lacked experience and I definitely didn't want anyone to know that I had only been playing soccer for a few months. I felt like I had to pretend to know a ton about goalkeeping so that I wouldn't stick out from the group of girls who had been playing club for many years. Looking back, I was wrong to be insecure. Pretending I knew more than I did was a limiting mindset that hindered my ability to absorb as much as I could from the coaching staff and other students.  I was afraid to ask key questions that would have helped me learn even more.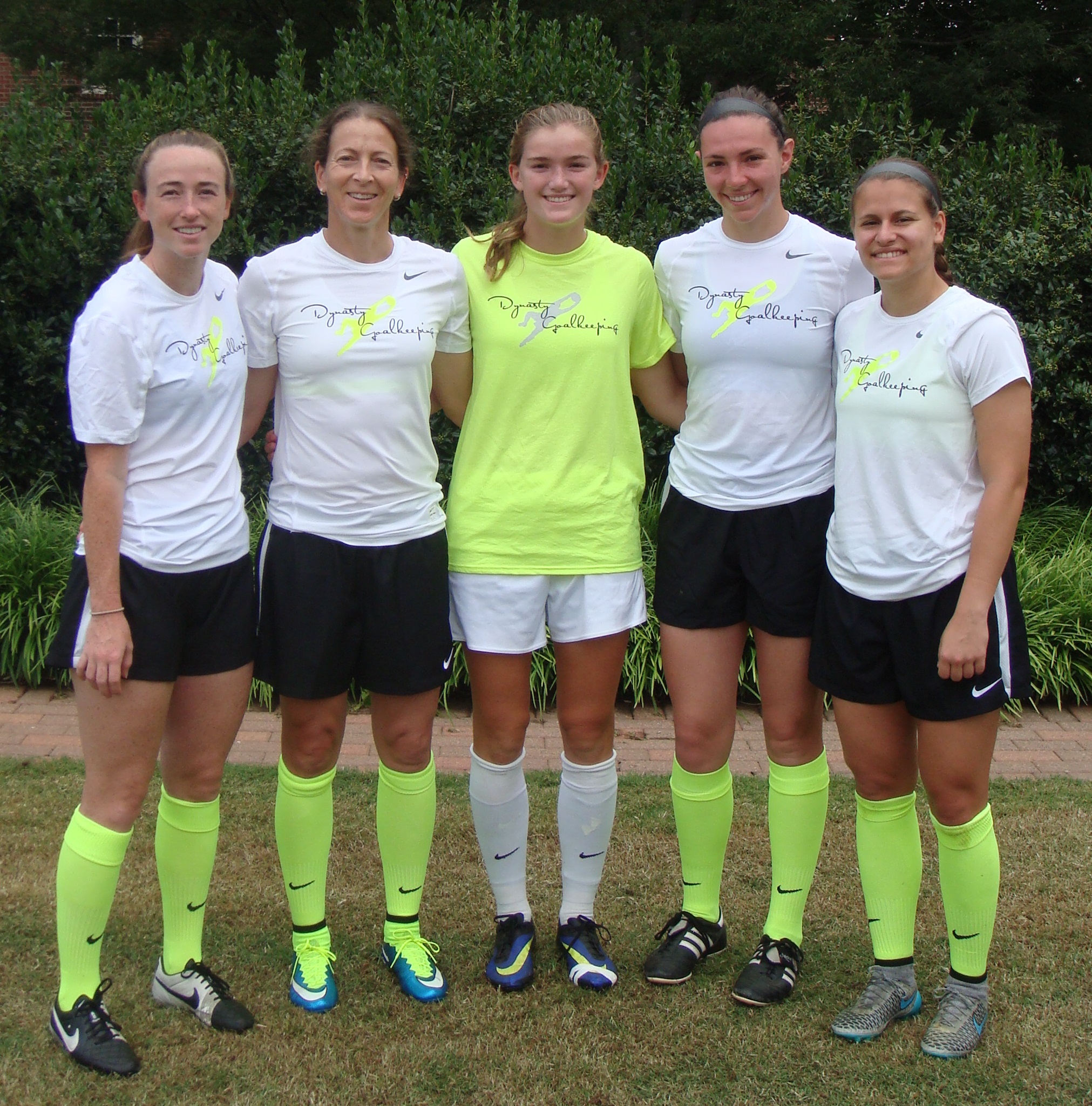 From the Dynasty Goalkeeping and Tracy, I learned technical skills that were critical for my development as well as the mental side of the game. After attending camp, I began to improve even MORE dramatically because I followed Tracy's advice from the camp evaluation she wrote to me about being more receptive to feedback and accepting failure as a part of the process of learning. It allowed me to become coachable and develop at a MUCH faster rate as an older player in a new sport. Tracy's feedback helped me shift my entire focus to becoming the best soccer player I could be and to take every failure as an opportunity to learn.
I strictly adhered to the Dynasty Student Manual we received at camp. I ate healthy, lifted weights, and trained techniques I had learned at Dynasty on my own and with local coaches. I played hours of wall-ball every day to improve my touch and watched YouTube videos on technique to practice at any open field I could find. By my junior year my club coach was in contact with William and Mary, Virginia Tech, and UVA coaches. They had growing interest in me after watching me play at goalkeeper showcases put on through my travel soccer league. That increase of interest and communication from DI school occurred during a year of focused dedicated work on my own game plus a consistent effort on my part to email coaches my profile and highlight video. Ultimately though, at these DI colleges, the coaches eventually shared with me that it wasn't likely for me to see significant playing time until my junior or senior year of college, if at all. I was so infatuated with the idea of going DI that the idea of potentially not playing seemed like a decent route for someone who picked up the game later than what is considered normal. I accepted the concept that I didn't expect or deserve game minutes at all — that I was just lucky to be there. I had spent so much of my high school experience telling friends, "I can't, I have soccer", that I couldn't settle for anything less than than DI. I believed whole-heartedly that I had invested too much time, money, and energy not to deserve the title of a DI soccer player. Anything less wasn't good enough. I cared too much about the D1 title and perceived status that comes with it. I worried about how others, including my parents, would view my choice, especially because of all the relationships and time I had sacrificed to focus on soccer. That I was a failure if I didn't go D1. Then I received an email from a nationally ranked DIII coach in New York that totally changed my entire perspective. Prior to her email I had brushed aside all DIII schools because I did not feel they carried the same amount of social respect or clout as DI schools did in my high school social circles.
Fortunately, I realized on time that it had been a major mistake not to consider different academic and athletic environments. By solely focusing on playing D1 I had accepted and resolved myself to being a reserve player. It coaxed me into a false reality that my experience did not matter, it was only the D1 title. I visited William Smith for the first time in the fall of my junior year and was blown away! They had prepared a full itinerary for my visit, meeting professors, deans, and current players.  I attended classes, saw the locker room, watched a game, and even meet the president of the college who was sitting in the bleachers. I did not expect a DIII school to have such high-quality soccer AND have such great support from faculty and students on campus at a random non-conference game in the fall. I was impressed that everyone on the team was extremely hard working and super technical. It was visually comparative to most mid-range DI level playing levels I had watched. The major difference though being that those mid-level DI schools do not play for a national championship each fall nor win their conference championship 13 years in a row. Those standards of excellence at William Smith caught my attention. I wanted to play, I wanted to win, and I wanted to be a part of their program.
Another major factor in my decision was head coach Aliceann Wilber. Her coaching resume is extraordinary. As listed in her bio on the William Smith women's soccer website, "She is the first woman in collegiate soccer history to earn 500 career wins, and her 593 wins put her in first place on the NCAA Division III Women's Soccer all-time list and second among coaches in all divisions of women's soccer."  She is second only to legendary women's soccer coach Anson Dorrance at the University of North Carolina. Phenomenal!  For roughly 40 years she has molded and shaped women into doctors, entrepreneurs, lawyers, professors, teachers, artists, and heroic mothers through the game of soccer (and with many funny tall tales sprinkled with life lessons). All of the alumnae I have met to this day share a bond because of Coach Aliceann's commitment and care to her players as people. I realized clearly on this initial visit that playing for an NCAA DIII school that fostered personal growth was far more important than being in a program that only provided a socially impressive status and focused heavily on athletic performance.
Additionally, William Smith fulfilled every academic desire of mine; small classroom size, athletic academic advisors, a tight-knit-spirited campus community, and an outstanding study abroad program. I could major in just about anything at a small liberal arts school and compete at a extremely high level. I had a high chance of starting right away and having an impact during the course of my four seasons. I should also mention that William Smith is a program with consistent top 10 D3Soccer.com rankings, a multitude of national championship tournament appearances, and international soccer experiences that span over 40 years of the program's history. All of these factors combined were what pushed me to set aside my ego and consider becoming a National Champion D3 goalkeeper over an unhappy, reserve DI athlete. At William Smith I knew I would be stretched to reach my full potential as a goalkeeper and person.
Thus far at William Smith, I have been fortunate to have some of the most incredible soccer experiences with a family-oriented team culture. We all strive for collective growth through assisting others instead of tearing each other down. Everything we do is for the "we" instead of the "me". My goalkeeper coach has been incredible; boosting my technical ability, confidence, and awareness of the game to new levels. In my two years of playing collegiately, I have been a two-time conference champion as well as competing in the NCAA tournament both seasons (Elite 8 and Finalist). In 2019, we were NCAA National Finalists, and I was selected along with a fellow teammate to the NCAA All-Tournament Team as one of the best 11 in the tournament.
I have also had the opportunity in the offseason to train alongside US GNT and US WNT goalkeepers, been invited to participate with the Chicago Red Stars Reserves, and to play with United Women's Soccer (UWS) teams. All of these experiences have continued my development.
There are few negatives in my own opinion to choosing DIII over DI, however, the most obvious is the lack of athletic scholarships. DIII schools pride themselves on prioritizing academics over athletics, consequently DIII sports are not prioritized and funded in the same fashion as D1 schools. Compared to D1 there is limited free gear such as cleats and clothing, there are no charter flights, and most of the travel is by bus. There are no fancy recovery beverages post workout, no fancy athletic nutrition centers.  It is on you to fuel your body properly at the dining hall. There is no special "athlete's only" dining hall, lifting facilities, or dorm. There are no televised games on ESPN2 or the ACC Network. Additionally, we get less experienced/lower quality referees which can make you want to pull your hair out. ? The majority of the fields are not plush golf course quality grass like DI and are rocky and muddy instead. And while we do have an academic athletic support center, we do not have someone holding your hand through your 300 level courses making sure you do homework on the bus home. The very definition of STUDENT-athlete has been my experience at a DIII school.
Ultimately what will matter most later in life is your experience. Was it fulfilling? Did it develop you as a player and person? If you love the sport, love the school you are attending, and love the people you play with, the material things and status fade away. The experience to play college soccer only lasts four seasons. I believe the key to a successful college career is to find a program where you can compete to make an impact regardless of division.