2015 Season Wrap Up by Megan Kinneman
Post Season
In my last update, I reflected on how I was experiencing some uncharacteristic mistakes. Well, the very next game ended up being my best game of season with a PK save to keep the game at 0-0 and some domination on crosses. Sometimes you really just need to give yourself a break and allow your training and muscle memory to take over to get yourself out of a rough patch. We finished the last five games with three wins, one loss, and one tie putting us in 7th place out of 12. We would have liked to have finished in the top half of the league, but with a scare of being relegated in the middle of the season, it was a solid finish for the club.
The Off Season
Great news!  Arna-Bjornar offered me a contract for the 2016 season, confirming that they do have confidence in me and value my contribution to the club.  (and I was not performing as poorly as I once thought!). Prior to playing in Norway, the past two seasons in Houston playing with the Dash, I felt like I was in a state of limbo. I was on the team and committed, but I was also prepared to leave at any point should a foreign team offer me a playing opportunity.  Even in the winter during what should have been offseason of the NWSL season, (and a much needed break for me mentally and physically) I kept training because European and Australian seasons were still viable options and I wanted to be ready should an opportunity present itself. Before I knew it, I had been going just about non stop for two years including the four months of playing for Arna-Bjornar this past fall.  Not only was my body tired, but I was mentally exhausted. I returned to Houston on November 11th and decided to take off completely from soccer until after Thanksgiving. This did not mean I wasn't doing anything active, but it was all focused on recharging mentally and physically. For two weeks, I mostly did long jogs and hot yoga while I caught up with family and friends. The next week, I eased myself back into lifting and running. I cannot stress enough how important it is to give yourself time off. In order to be successful, of course you need to work hard and maintain your abilities/fitness level, but you also need to have down time to recharge. The break was necessary and now I can give everything to preparing for next season with a fresh outlook.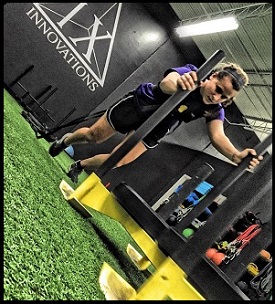 I am currently going to a sports performance gym three times a week where workouts consist of functional training, circuit lifts, sleds, and battle ropes. Depending how much cardio and conditioning I get out of those workouts, I add in running on the other days. I have recruited my brother, a former goalkeeper, to help with some on field training and I have made very good friends with the wall of my parent's garage to get touches in. I return to Norway on January 6th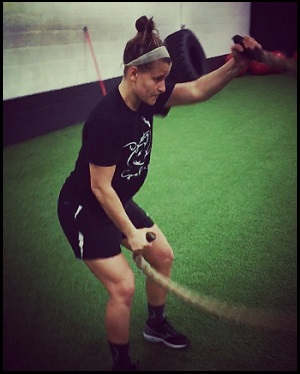 for a three-month preseason, consisting of 10 sessions a week and a few training camps across Europe! I am incredibly excited to have a predictable training schedule where I can improve my weaknesses and make my strengths even stronger. I am also really looking forward to seeing how the preparations with this team can lead into an entire season! Most importantly, I am eager to immerse myself even more into the Norwegian culture! A year away from home is scary at times, but I am finding that getting out my comfort zone more often is the best way for me to grow. Stay tuned for updates from a very cold Ping back in Norway pretty soon!