2022 DGK Community Outreach
2022 COMMUNITY OUTREACH CHALLENGE
In addition to the Camp Homework I assign students every year, I also challenge my camp students to become involved in their community to raise their awareness of the global community around them. It is far too easy to get swept up into our busy lives, the daily grind, and our own microscopic circle of influence. I am certainly a culprit of that. Hence the Dynasty Goalkeeping Community Outreach Challenge was developed to get ALL of us to broaden our circles of influence!
Initially the program began with students donating gear for children in need around the world and has grown from there. Thus far Dynasty has been involved with the following organizations Carolina For Kibera, Coaches Across Continents, They Often Cry Outreach (TOCO), Equipment Across Continents (a branch of Coaches Across Continents), and Sports United a sport diplomacy program organized through the U.S. State Department to encourage cultural exchange and female empowerment.
In 2010 the Dynasty Goalkeeping Community Outreach Challenge took our generosity one step further. I challenged students to ACT BEYOND THEMSELVES and get involved with a project that meant something to them and to 'donate' some of their TIME to help others. The feedback I received from the students and parents was tremendous, so giving back to your community has become a core value of the Dynasty family of goalkeepers.
It is in acting that we have our most profound effect, because there simply is nothing more valuable than your time. So, to set aside some of your precious time to help another human being (animal or the planet) speaks volumes. The recipient will certainly be tremendously grateful for any help you can give, but the effect it will have on your own life will be where the most value lies. The gratitude and love you receive back from the people you help is addicting and powerful. Try it and you will see what I mean.
Here is the list of the volunteer work that Dynasty staff and students (listed by the camp week they attended) reported in 2022! This is GREAT STUFF! I am proud of all of you — you guys inspire me to do more!!!
If you were a 2022 student/staff that did volunteer this year and your name isn't on this list, it is because you didn't email me! I can't report on something I don't know! Please email me so I can update!
STAFF
TRACY NOONAN – Spring 2022 – Chapel Hill, NC
I have continued my ongoing work as a volunteer goalkeeper coach for both the boy's (fall) and girl's (spring) squads (varsity and JV) at Chapel Hill High School. I have lost track of how many years I have been involved with their teams. I really respect the coaching staff and the family atmosphere they create. It is a very positive and supportive environment for the athletes which I sadly don't always see in the club soccer world. Unfortunately, an injury kept me off the field all fall with the boys this year though, but I was busy with the girls in the spring. I am thankful to have the opportunity to work with so many bright young students and committed high school coaches that are tremendous mentors for their players. It is always a bright spot in my day!
BRENNA MURRAY – 2022 – Charlotte, NC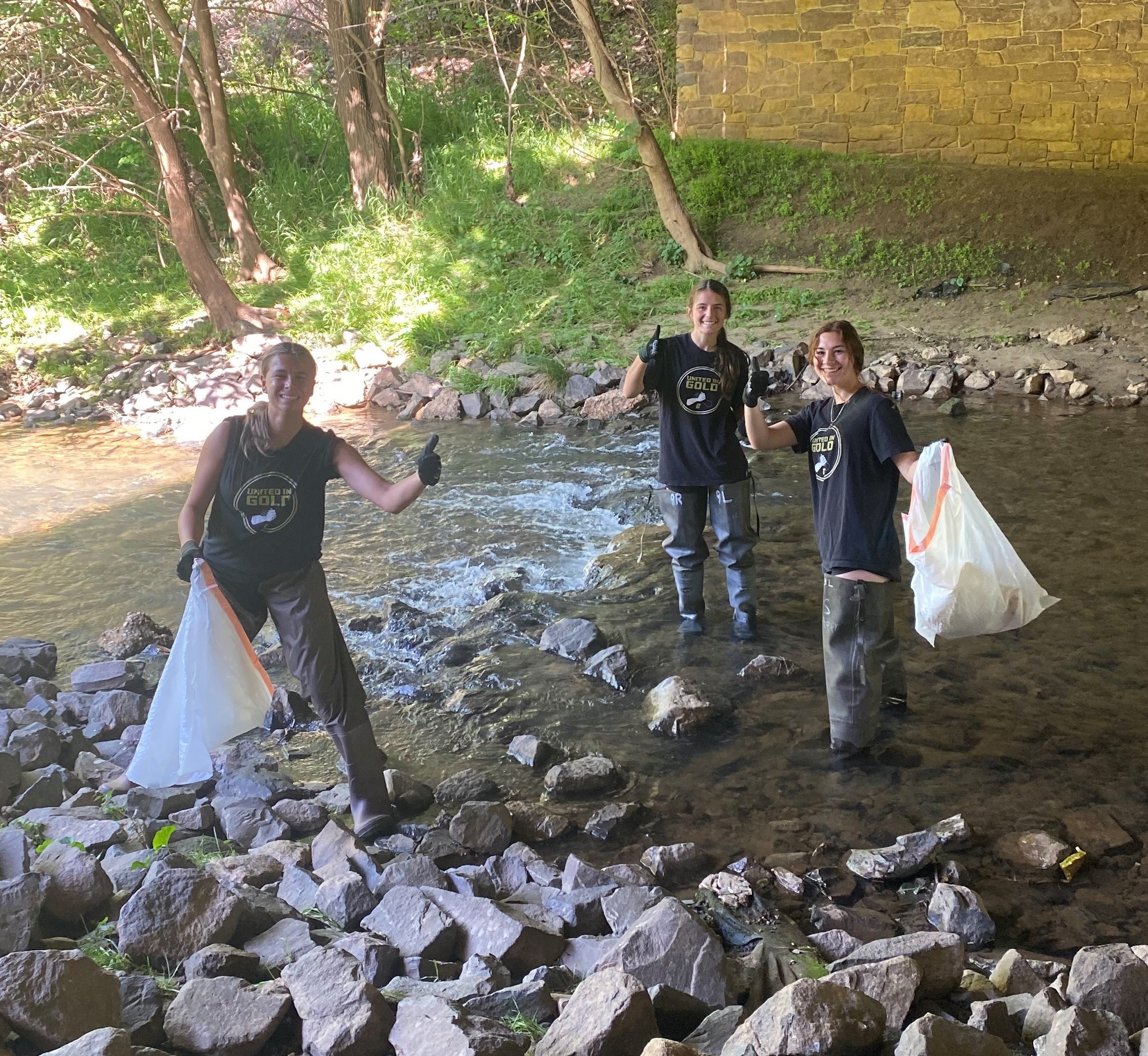 Brenna is both a long-time Dynasty student and current staff coach.  She consistently goes above and beyond, setting an extremely high standard when it comes to community service and leadership. She is a model for all of us to aspire to.  I am inspired by her commitment to give back to others and I LOVE her current focus on student-athlete mental health initiatives at the collegiate level! KEEP UP THE GREAT WORK BRENNA!
"I spent most of my time this year pushing Student-Athlete Mental Health Initiatives locally, conference wide and nationally. Having intentional conversations and encouraging others to get involved in what they are passionate about is really what it's all about!"
Community Service Events/Organizations served: (roughly 30 hours) 
Tim Tebow's Night to Shine
Keep Metropolitain Beautiful (Community Clean Ups)
Niners in the Community Virtual Reading Program (Elementary Schools)
Charlotte Student Government Association
National Breast Cancer Foundation
"Hoops and Academics" — Event with underprivileged Kids on college campuses
Brenna's leadership on campus at UNC-Charlotte and community impact included the following:
Ran Student-Athlete Small Group Mental Health Initiative in its 2nd year with 65+ student athletes involved.
Second year as Student-Athlete Advisory Committee (SAAC) President,

Launched Mental Health Awareness "Greater than the Game" Platform with Student Government, the Athletic Department and the "Gold Mine" Student Section to promote student-athlete mental health and promote resources, psychological services and awareness.

Named Conference USA SAAC Chair in August.

3rd year as a Conference USA SAAC Representative.
Promoting community service with National Breast Cancer Foundation
Mental Health Initiatives and Diversity, Equity and Inclusion.

Second Year as NCAA Secondary D1 National SAAC Representative for Conference USA
STUDENTS
WEEK 1
ELLA KAHRL – 2022 – New London, CT
Ella volunteered for Connecticut College's Best Buddies chapter this past Spring and Fall semesters. Ella shared that she roughly commits about two hours per week to the program and had this to say about her experience:
"Having experienced a Best Buddies club at my high school and participated in the Best Buddies Challenge bike ride multiple times, I wanted to help establish a chapter at my college. Initially, my role consisted of spreading the word around campus and helping to recruit buddies. After the chapter was created, I was paired with a buddy at the Groton Transition Academy, located in the town neighboring my school. Students ages 18-22 with varying levels of abilities attend the Transition Academy where they strengthen their academic, social, vocational, and living skills before graduating out of the public school system. Each Friday I helped my buddy complete any tasks he had that day and talked with him about how he was doing and what he had going on that week. My buddy was very involved with the local Special Olympics program, so we enjoyed talking about the sports, and I attended one of his soccer games to watch him play. Being involved in this club was really important to me as on my campus it is very easy to feel removed and isolated from the surrounding communities, and Best Buddies offers a very easy way to learn more about the local school system and engage with individuals beyond the CT College campus. I look forward to growing the club next year and plan to volunteer for the remainder of college." 
What a great way to get involved in the community and engage more students from campus!  Way to go Ella!
GRACE SPRIGGS – 2022 – Raleigh, NC
As a top student herself Grace has chosen to tutor high school students in math.  When she submitted this information to me, she had already completed 20 hours of volunteer work by the end of May, so I am sure she added a lot to that total over the fall semester!  Here is what Grace shared about her work:
"Louisiana has the Taylor Opportunity Program for Students (TOPS). This program provides students with academic scholarships for any in-state institution based on their ACT scores. The higher the score, the more money you receive. Many students in my community struggle to make the minimum overall score of 20 to receive the lowest academic scholarship. In order for an overall score to increase, the individual scores in English, Math, Science, and Reading must improve. My mother tutors students on the English portion of the ACT. I tutor students on the Math portion. I provide my students with word problems that focus on the areas of mathematics that they are most struggling with. Prior to a session, I make sure to have completed all of the word problems on a separate sheet of paper. During a session, I have my student complete a problem at a time and if they miss one, I explain how to solve it."
I love that Grace is guiding students in her hometown on how to earn a better education with less debt and hopefully greater opportunities later in life.
WEEK 2
NEVE CAWLEY – April 23, 2022 – Geneva, NY
It is easy to get wrapped up in our world as college students with daily classes and training as an athlete, I love that Neve, a student from Portland, ME has found a way to become involved in her new college community off campus of Hobart and William Smith College.
"For the Community Outreach Challenge, I participated in the Hobart and William Smith Spring Day of Service on April 23, 2022. I served at the Zion Lutheran Church in Geneva, New York for four hours.  While at the Church, I had two primary jobs: yard work and organizing scriptures and hymns. The yard work was simple, picking up sticks and raking leaves to make the Church, which is also a daycare, tidier and safer for the children to play outside. I spent the majority of my time inside, arranging scriptures and hymns into multiple large boxes alphabetically by author. Additionally, I counted the number of copies of specific hymns and scriptures, placed them all together in folders, and marked how many duplicates there were. While the work at points seemed tedious, it was very rewarding to see how appreciative the staff were that myself and my service group were there to help."
ELIZABETH NAVOLA – May 8, 2022 – Davidson, NC
I love that Elizabeth created a simple outreach project for herself directly assisting a counselor of hers.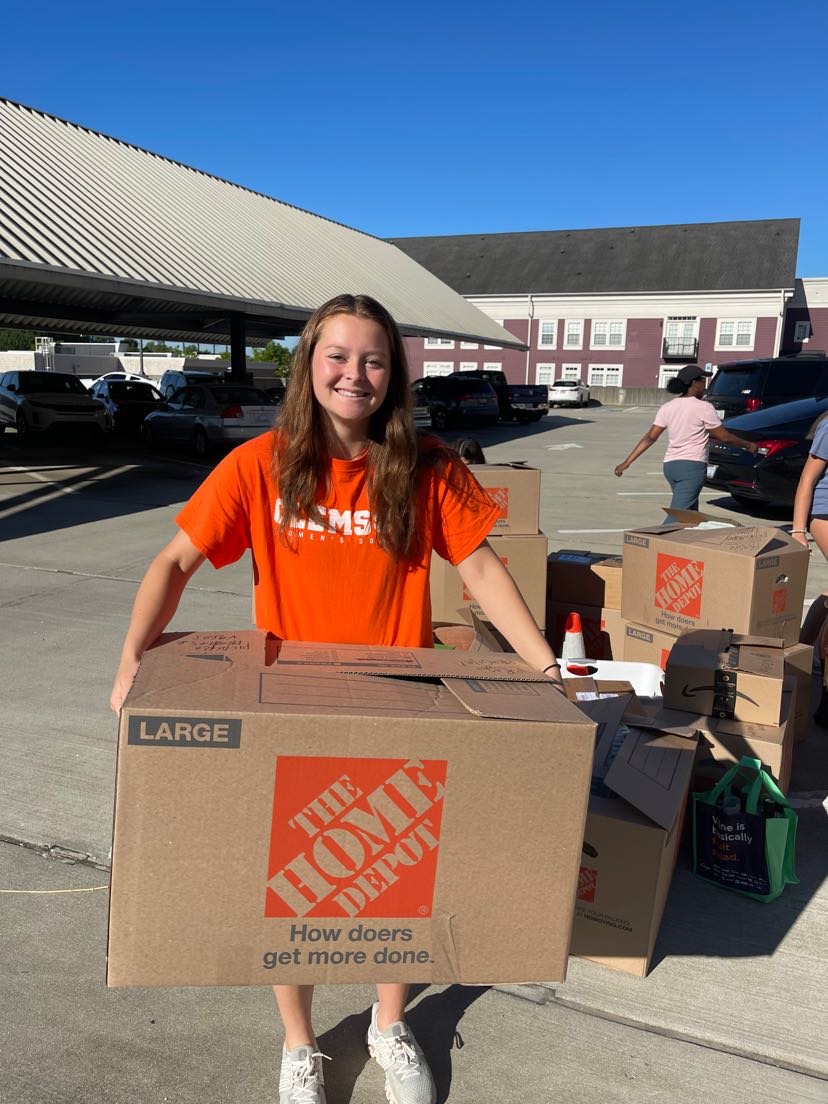 Volunteer work doesn't have to be grand or complicated to make an impact and her choice illustrates just that. Building community starts with small acts like this repeated over and over again!  Here is what Elizabeth shared on her experience:
"For my community outreach challenge, I helped my counselor move out of her apartment. A large group of students from my school came to help make moving out as easy as possible for her. I spent four hours on the morning of 5/8/22. We moved boxes down to a van, wrapped glasses so that they didn't break, walked her puppy, and so much more. It was a great opportunity to help and show my appreciation to my amazing counselor."
WEEK 3
PEYTON MacRAE – Summer 2022 – Cincinnati, OH
Peyton found a great organization in her community to help at! Bagging groceries and stocking shelves may not be complicated, but every bit of help makes a difference in that organization's ability to provide for those in need. I also love the appreciation she gained from working at the food pantry. Way to go Peyton!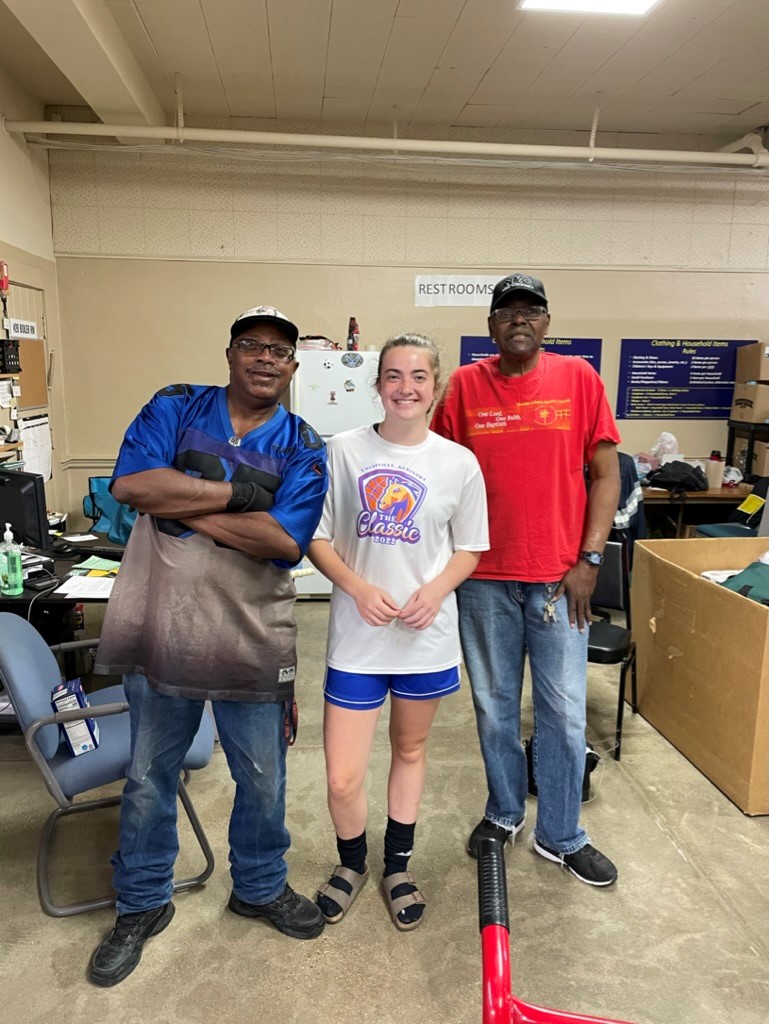 "For the past few weeks, I have volunteered at an organization called MEAC (Madisonville Education and Assistance Center). Before COVID, I volunteered there and would help shoppers make their way through the pantry, so I have done service work with them before. Everything got shut down during COVID for a little while and then they were able to offer patrons a monthly box of groceries and supplies to help them out.  The organization provides various resources for the less fortunate people near my community. The area that I helped out with which stood out to me the most was their food pantry. What makes MEAC unique is that the shopper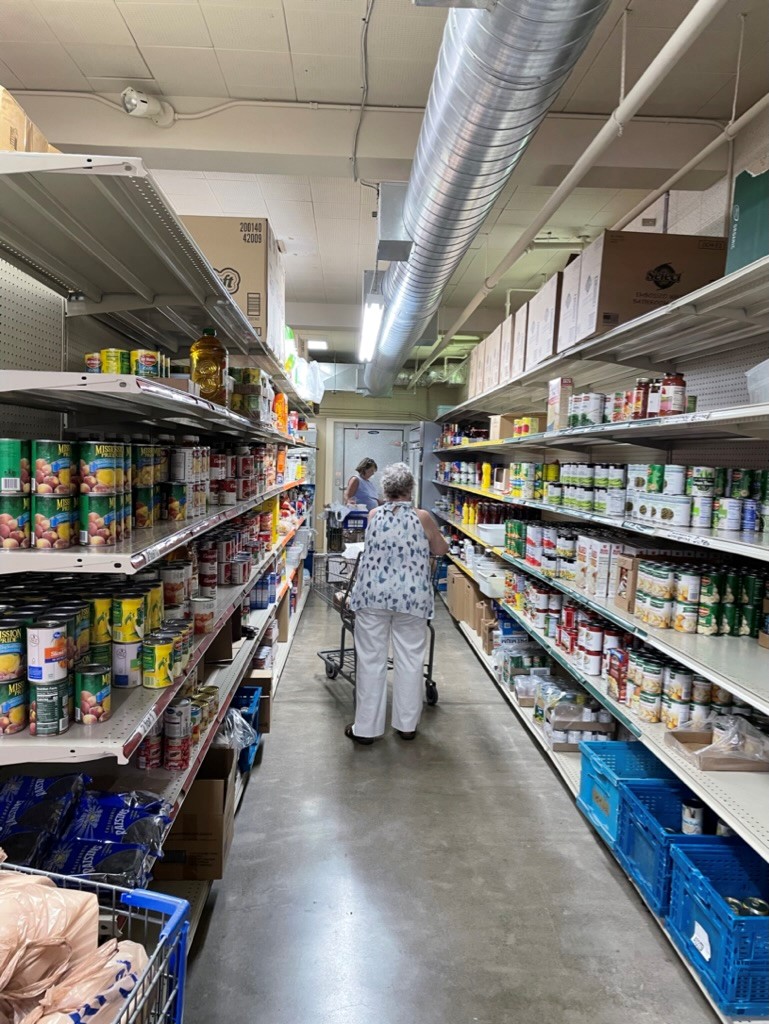 has complete choice over what they choose to get from the pantry. Due to COVID, they have changed their ways a bit, the shopper fills out a paper with what they want, with limits on how many they are shopping for, and the volunteers bag their items for them in the pantry downstairs. Along with bagging items, I also helped to unpack and stock shelves to prepare for shopping day. This a super cool organization because it's different from most food pantries. Shoppers actually have a say in what they receive versus getting a few bags of preselected items. I've ended up working 6 hours with them so far this summer and they are looking for me to come back and help them a lot in the future. Here are some photos of me at the pantry!"
ELLIE WHITE – Summer 2022 – Saint Louis, MO
Ellie found completed 4 hours of service at a local organization helping to spread holiday joy for those less fortunate.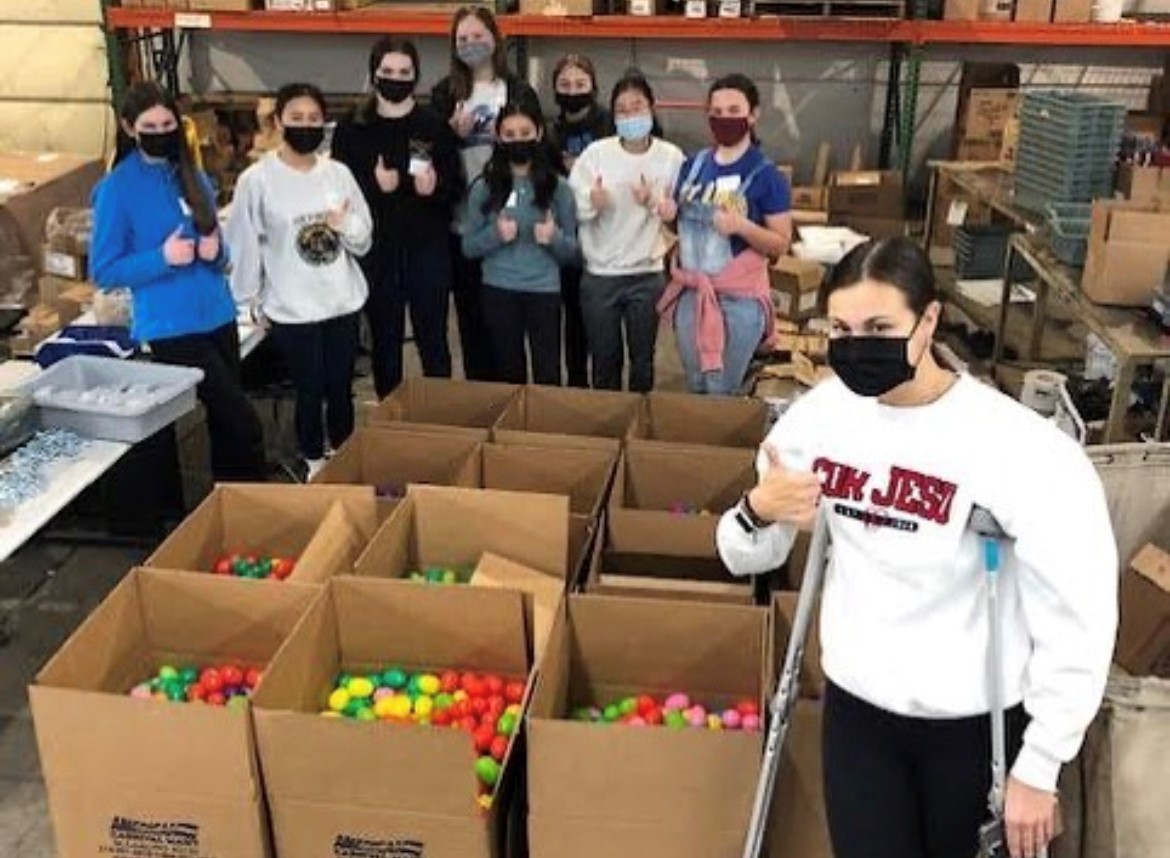 "My high school, Cor Jesu Academy, instills a spirit of service within the students, and creates many service opportunities for all. For the spring semester I chose to fill easter eggs at Canterbury Enterprises. Canterbury offers jobs to adults living with Down's Syndrome. As a volunteer, we filled easter eggs with candy, small toys, etc, for easter baskets and easter egg hunts. This was the second time I had volunteered for them in the past year as I also helped make Christmas stockings last fall.
This experience gave me the opportunity to see the need in my community. Though it was a long day, I felt pleased/proud of myself at the end when I realized that I was making a child's Easter special. Easter is one of my favorite holidays and I was glad to have helped bring some Easter joy to less fortunate families across St. Louis."
ISABEL WILLEMS – 2021-2022 – Seattle, WA
Isabel is doing some great work as a young role model teaching life skills such as teamwork, confidence and self-esteem through soccer and helping at-risk children find a little joy in their day! WELL DONE Izzy!
"The organization that I volunteer for is Soccer for Success, a program run through the Washington State Youth Soccer Foundation. Since September of 2021, I have spent an hour almost every week volunteering at a lower income elementary school outside Seattle. This is one of the locations where Soccer for Success is working to share soccer with young kids who would otherwise not have the opportunity to play. During the time I spend at the school, I help the coaches in a variety of ways. Some examples are acting as assistant coach and getting to know the kids, explaining parts of the game to the kids when they don't understand it, and providing some knowledge about goalkeeping. I love the time I spend at the school, and I hope to continue helping there for many more years. I really enjoy teaching the kids soccer and watching them have fun discovering themselves as players."
WEEK 4
KENDALL HACKWORTH – 2022 – Hubert, NC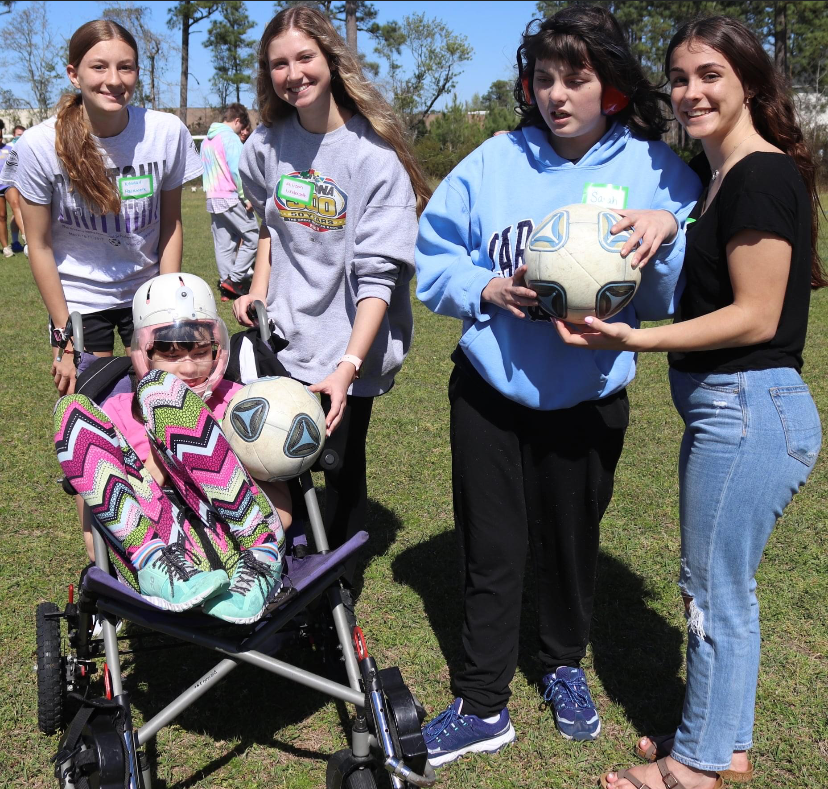 Kendall was consistently involved this year in a program at her high school called Unified Sports. She committed a solid 25 hours to the club helping special education students participate in different activities, some athletic and others being holiday related such as an easter egg hunt. Kendall shared that the goal for each event is to promote students' fine motor skills and socialization. EXCELLENT WORK Kendall!
FARAH BURKHOLDER – July 18-22, 2022 – The Woodlands, TX
Farah spent 15 hours volunteering with her club, Challenge SC, assisting in youth soccer clinics.  Farah shared this about her experience; "I taught and demonstrated the soccer fundamentals to campers (boys & girls) ages 7-9 years old. The focus was on basic skills, such as dribbling, shooting, passing, attacking & defending 1v1. I also helped officiate small-sided games and played at times to improve the quality and flow of the game."
What a great way to mentor younger players and share your passion for the game!
BLYTHE CLARK – Summer 2022 – Denver, NC
Blythe was involved in several service projects this year. The first was a planned event where she volunteered at a 5k race for her school. The 5k was organized as a community giveback for a past student who was from Ukraine. The proceeds benefit orphaned children in Ukraine and throughout Eastern Europe. Blythe's job was to help navigate people at different race spots and direct them where to go before and during the race.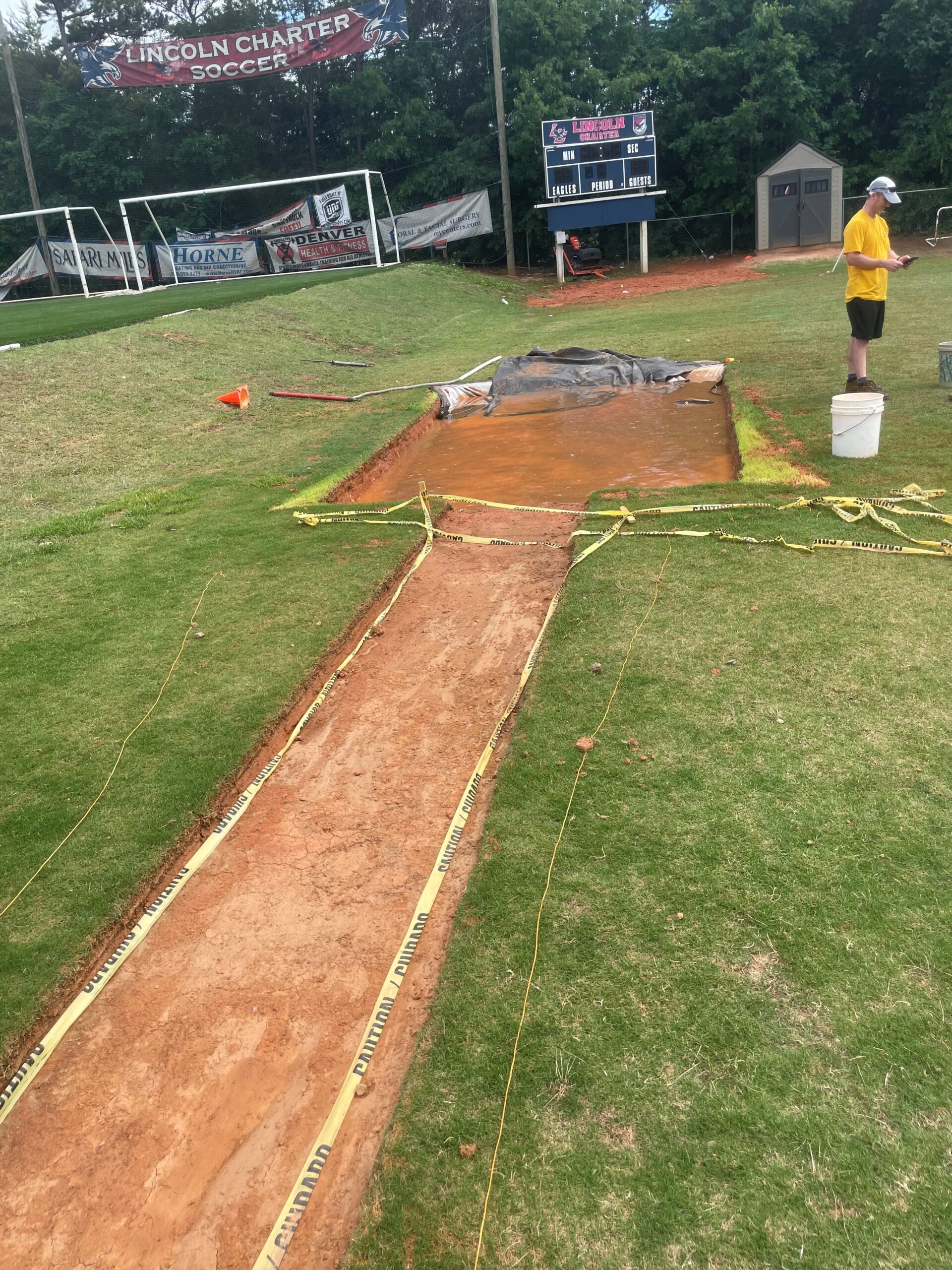 Her other project was not planned, Blythe and her mother just happened to see someone in need, so they stopped to help! As they were leaving school one day, they noticed a field maintenance man in need of a helping hand. He was
designing a long jump pit for the track team at Blythe's school and the pit was filled to the top with water. It had rained a lot the night before and the pit was under construction. He looked stressed out because he wasn't sure how he was going to empty the pit of water before the timeline of it needing to be cemented. So, they stopped to help him and dumped out lots and lots and LOTS of buckets of muddy water.  Blythe said it took roughly two hours to help empty the whole pit, but it felt good to help him and he was very happy we stopped to help him. 🙂
Lastly, Blythe volunteered as a coach for a soccer clinic hosted by Beyond Sports in Greensboro. They have different sports clinics for kids to be able to experience different sports in a safe and free environment that they might otherwise not be able to do because of financial or other reasons.
VIRGINIA GRACE HEIDE – Summer 2022 – Mountain Brook, AL
Virginia Grace "GG" completed 8 hours of service at Camp Smile-A-Mile. Camp Smile-A-Mile is an organization that helps children with cancer and their families have the opportunity to experience summer camp. They also provide camps and activities throughout the school year. Not only do they provide camps for children with cancer, but they also provide camps for their siblings and support and counseling to parents. During my volunteering hours she helped them get ready for camp by putting together bags that included name tags, bag tags, covid test, etc… as well as helping to prepare activities and setting up tables and bag drop for opening day.
GG shared that, "I hope to get more involved as the year goes on. I learned how important it is to help others and how only the small amount of service that I did could make a big difference. I also learned how grateful I am for my health and opportunities."
CLAIRE ZWARYCZUK – 2022 – Chapel Hill, NC
Claire participated in two different volunteer opportunities this year, one through her middle school and the other through her club team. She committed an hour of her time assisting rising 6th graders with school orientation, tour and talks at McDougle Middle School.  And she volunteered as a demonstrator, practicing skills in sessions run by local coaches that were working towards getting certification.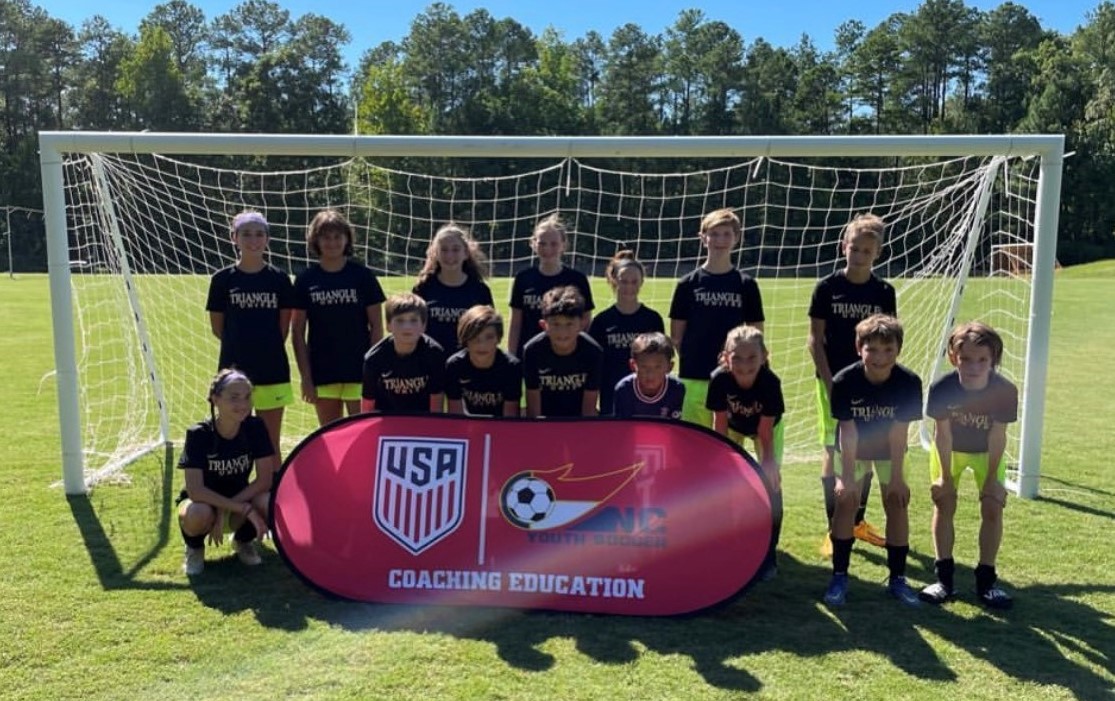 What a fun and smart way to help out your club coaches while getting some free training! A WIN-WIN situation!
WEEK 5
REBECCA KESSLER – Spring 2022 – Scotch Plains, NJ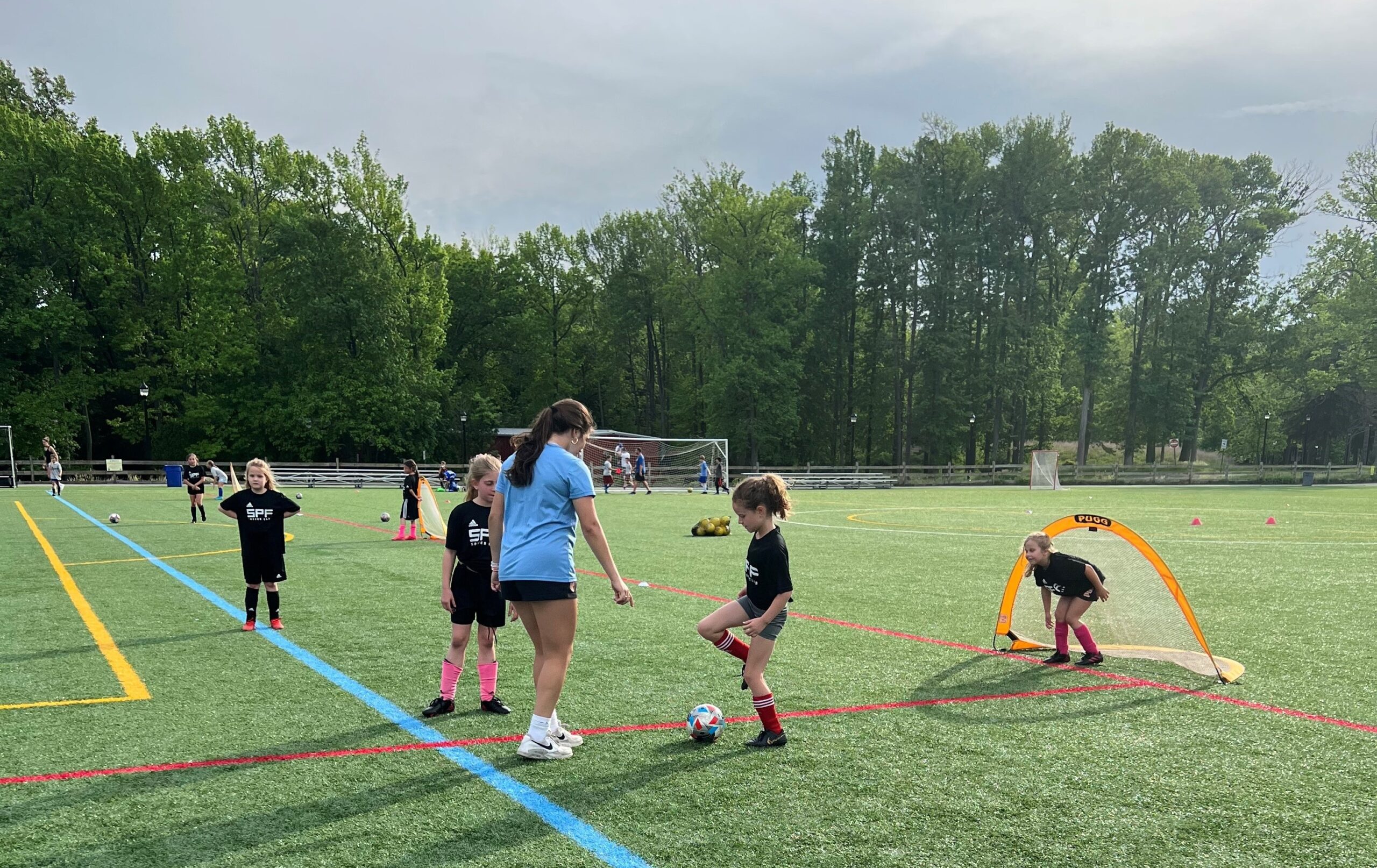 Becca volunteered a total of 25 hours over 8 weeks at a local soccer training program called Diamond Academy. This volunteer work involved working with kids ages 6-8 to help them improve their technical and tactical abilities as well as taking them on the occasional bathroom trip ;). Becca shared this about her experience; "Because they were young, I had to find ways to keep them engaged and having fun through games and competitions while also learning and getting better. I loved jumping in at training and playing in their scrimmages…trying to dribble five 7-year-olds is actually harder than it sounds :). I really enjoyed being a part of this challenge and plan on volunteering again for Diamond Academy and possibly others in the future."
CAMRYN McEWEN – 2022 – Coral Springs, FL
Camryn volunteered for 30 hours with an incoming freshman soccer camp at her school, St Thomas Aquinas High School. Camryn explained that during this camp, upperclassman welcome incoming freshman to school's soccer team. This included scrimmages, fitness drills, footwork, etc. to give incoming freshman a look at what the STA soccer team is about. "This is my first year being a volunteer as I'm going to be a sophomore now. I had a lot of fun meeting new players and seeing the mutual passion everyone had for soccer." 
CAROLINA SIMPKINS – 2021-2022 – Sanford, NC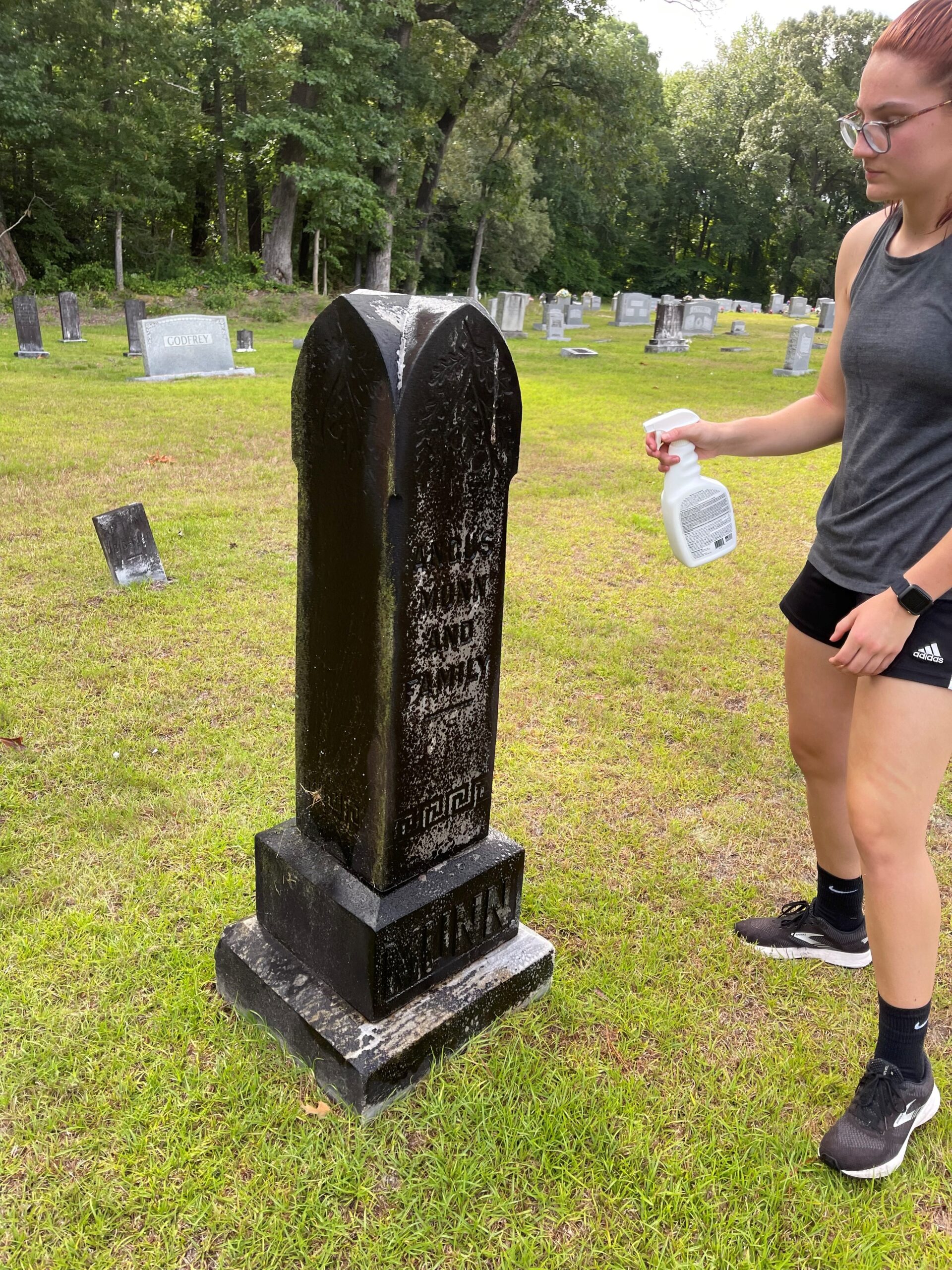 Carolina was involved with two projects during the 2021-2022 school year.  The first project was one that Carolina and her mother just took upon themselves. The spent several hours (4+) cleaning headstones and a local cemetery. Carolina explained; "Many of the churches in our area have graves from the 1700-1800s that have never been cleaned. So, the idea was brought up that we could clean them up and make them more visible. We discovered a good number of graves will need multiple sessions, and that it will be a process to tackle over time. We hope to continue this grave cleaning at other churches as well! This grave was one of the most extreme ones—you can see a little bit of the marble of the actual headstone at the bottom."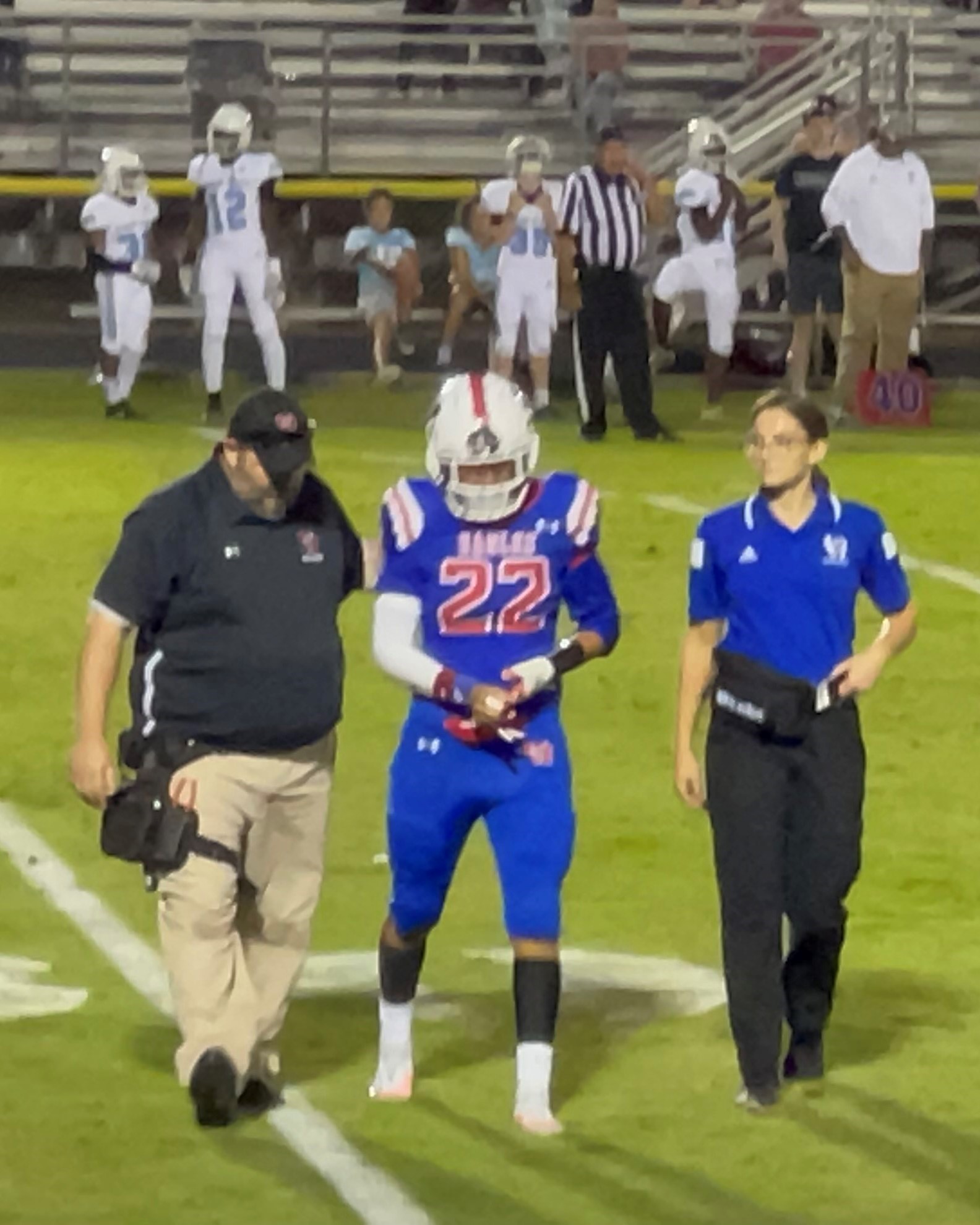 Carolina also committed over 200 hours of service, along with five other girls, assisting the athletic trainer with the Student Athletic Training Association at her school. Carolina shared; "We would observe diagnosis, treatment, and rehabilitation of athletes. We also were able to assist in some of the treatment and rehabilitation; learning how to tape ankles, wrists, spot certain injuries, and learning the parts of the body and why an injury might appear in one spot, but be affecting another. Halfway through the year our athletic trainer left so we were left to deal with athletic paperwork, making sure each sport was hydrated, and just making sure we could have someone available to treat injuries. We all came in after school, over the summer, on weekends, and sometimes on holidays throughout the year."