U16 U.S. Girls National Team – January Training Camp
In January I had the opportunity to join the U16 U.S. Girls National Team coaching staff at the Home Depot Center in Carson, CA. It was my first trip to the U.S. National Teams' training center and I thoroughly enjoyed the week. The training grounds were immaculate and we even had our own locker room for the week! It brought back some great memories of my days as a player on the National Team. Eat, sleep, and play soccer! That is the life of a National Team player and it is wonderful.
It was my first time working with head coach Kazbek Tambi. His approach for the week was to create lots of playing environments (3v3, 5v5, 6v6, 11v11) so that players could improve their technical side of the game in a realistic environment. He stressed technical proficiency as well as speed of play. He also incorporated individual ball work, flank service, finishing, and some possession-oriented games throughout the week.
Coming into the week I anticipated working with the goalkeepers on crosses and kicking, as well as reading the game. Handling crosses and kicking are typically two of the biggest weaknesses in the women's game. Far too often I see goalkeepers boxing, swatting, and punching balls away that are catchable. There is a time and a place to punch, but with it always comes a high risk for second chances on the ensuing rebound if it is not cleared sufficiently. Confident goalkeepers win crosses, keep possession, and start counterattacks.
In general I have found that kicking has improved in the women's game as higher demands have been placed on the goalkeepers to take their own goal kicks, but still most goalkeepers avoid their weak foot and struggle to handle backpass situation on their non-dominant side. Finally, many goalkeepers (especially young, inexperienced goalkeepers) depend upon their athleticism to keep the ball out of the net. To reach the higher levels of the game, goalkeepers must develop their tactical awareness so they can read the game and anticipate play instead of reacting to it. And in order to effectively communicate and organize the defense, a goalkeeper must understand the game and the tactics of their team's system of play.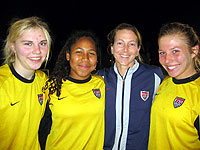 The goalkeepers in camp for the week were Jessica Dulski from New York, Victoria Lopez from Texas, and Catherine Parkhill from Minnesota. They were intense and focused right from the start, so I knew it was going to be a good week. While the team played small sided games, I put the goalkeepers through a strenuous 90 minute session. We covered the basic techniques of handling, diving and crosses, and then ended with some fun competitions that included breakaways and kicking.
My first impressions of the goalkeepers were that they were athletic and competitive and possessed decent hands, good footwork, and solid diving technique. I was most pleased, though, with what I saw on crosses. They were all were committed to catching, not punching! They didn't always read the flight of the ball correctly and weren't always perfect with their path to the ball, but they all had a mentality and a commitment to catch crosses under pressure. My philosophy on crosses is that the goalkeeper should dominate their area and rip down crosses even under pressure. It was refreshing to see some young goalkeepers rising through the ranks that already possessed this skill and mentality. Fantastic! All it would take was a little repetition during the week to improve their timing and extend their range.
During the week the team had several inter-squad scrimmages and also a game versus the U15 U.S Girls National Team. It was the perfect environment for me to observe their decision making, communication, and presence.
In the first inter-squad all of the goalkeepers gave up several goals. None of the players on the team had played together before, the defenses were disorganized, and there was a lot of space for the forwards to exploit. In addition players were nervous and tentative as they tried to make a strong impression on the coaching staff. Overall seven goals were allowed in an 80 minute scrimmage! One was due to poor positioning, one was a late decision on a breakaway, one was a penalty kick, and all the rest came from situations that could have been prevented with better communication. All of the goalkeepers were vocal, but none of them were as effective at organizing their defense as they could be. There needed to be a greater focus on WHO to organize, WHEN to organize them, and WHAT to say. A lot of the communication was wasted on orchestrating the offense when 99% of communication really needed to be aimed at the defensive side of the game. The communication also tended to be late, always in response to a breakdown instead of anticipating the play.
Proper communication is like a chess match. You have to see the game several plays in advance and move your players into position to thwart the opponents attack. It should be proactive, not re-active. If the goalkeeper waits until a breakdown has occurred then they are constantly scrambling to organize the chaos that is going on in their penalty box instead of focusing on the ball. So I stressed to the goalkeepers the importance of organizing early (when the ball is being developed in the other half of the field and when it is out of play) to prevent breakdowns from occurring. I wanted to get them thinking in a 'worst -case scenario' mentality. The dialogue in their head should be something like, "If we lose the ball now, is everyone where they need to be?" The brain should be constantly analyzing, especially when your team HAS the ball; making sure that all your 'chess pieces' are in the right spots should your team lose the ball.
We also discussed organizing more than the back three players since several of the goals came from flank service to an open weak side midfielder. Good defenders are responsible about getting back and have a decent sense of where to position themselves. Midfielders, on the other hand, love to go forward into the attack, so there is usually more of a need to organize them. It is especially critical to organize the weak side midfielders since flank services often result in high percentage finishing chances to the back post or a late runner out of center midfield. Goalkeepers must get comfortable taking their eye off the ball, as it develops down the flank, to take a quick peak at their weak side. In that glance they take a 'mental 'snapshot', so they can return their focus to the ball, while they communicate and encourage the weak side midfielder and central midfielders to balance back, pinch in, and get goal side. And the earlier the midfielders can recover the better. Ideally, they should be below the ball and facing up the field, so they can see the ball and their man. Then when a service is made they are prepared to intercept it, attack it, or clear it up the field, away from their own goal.
On the third day of camp we were fortunate to be able watch the U.S. Men's National Team reserves scrimmage a Swedish club team. We were able to sit right next to the field and we were able to hear how their goalkeepers (Brad Guzan & Zach Wells) communicated. They were concise, precise, and never panicked. Their communication gave them presence and exuded confidence. They provided a strong example of how effective and important communication can be. This experience, along with the feedback I provided, translated into noticeable improvement by the end of the week. The goalkeepers were commanding, and their defenders were responding.
Towards the end of the week I had the opportunity to do some testing with the goalkeepers. Physical and technical testing are important tools that provide players with concrete evidence of where they rank amongst their teammates. It helps them identify their strengths and weaknesses, and it gives them motivation and direction in their training. I measured their vertical jump to get an idea of their overall power and I also measured their distance and accuracy on goal kicks, backpasses, punts, drop kicks, and throws. As expected the goalkeepers all had the ability to hit a good ball with their dominant foot, but they lacked consistency and their weak foot was just that, WEAK! Hopefully they take this information to heart and start striking more balls with their left foot. Goalkeepers who succeed at the highest level must be able to deal with backpasses on their non-dominant foot. Hope Solo and Jenni Branam, current goalkeepers on the U.S. Women's National Team, are two excellent examples.
It is exciting to see the progress that is being made by female goalkeepers. Jessica, Vicky, and Cat are all more athletic and technical than I was at that age. We now have goalkeepers with vertical jumps over 20 inches and who can kick goal kicks to midfield at age 15! I did not accomplish these feats until I was in college. Each generation of goalkeepers just gets better and better. The increased visibility of the women's game through the U.S. Women's National Team, the former WUSA, and top collegiate programs has exposed so many more young girls to the game at an earlier age. Girls are watching more games and seeing what top players are capable of. They now have role models where few existed just over a decade ago. Player development has become more scientific; top clubs and academies around the country are incorporating strength and conditioning, speed and agility, and position specific training to get the most out of their players. Thus players are now being exposed to high level coaching at earlier ages. These environments are tremendous for the growth of players and have resulted in strong, athletic players. The days of sticking the fat kid in goal are long gone!
Coaching the U16 goalkeepers was a great experience and I hope to be able to share more stories and insights with you in the future.
Tracy