DGK in Action: Spring/Summer 2017
COLLEGE
Congratulations to the following Dynasty Goalkeeping students who will be continuing their academic and playing careers at the following colleges this fall:
2017 Class
CAMILLE ATKINS – Columbus State University (D2)
KAYSHA BAILEY – Grand Canyon University
JESSICA BERLIN – North Carolina State University
ZACOREY BOWER – University of Nevada – Reno (plans to focus on his academics)
CAILEY CROSON – University of Incarnate Word
ALLIE DMYTRUK – Florida Institute of Technology (D2)
SUNNY FRANKEN – Mississippi State University (plans to focus on her academics) 
KAYLEE HAMMER – University of Alabama
SYDNEY HARRIS – Concord University (D2)
EMMA HILL – Salisbury University (D3)
EMILY HULL – Wake Forest University
BLAKELY JONES – Birmingham Southern College (D3)
KAYLA KERN – North Carolina State University (plans to focus on her academics)
BETHANY KOPEL – University of Indiana
DANIELLE KATZ – Air Force Academy
SYDNEY MALHAM – Ohio University
MARA MURPHY – Georgia Tech (plans to focus on her academics)
ASHLEY ORKUS – University of Tennessee
HEITHO SHIPP – Carnegie Mellon University (D3)
ABIGAIL STAPLETON – University of North Carolina – Charlotte
MEGAN SWANSON – University of Arkansas – Little Rock
MOLLY SWIGER – The Naval Academy
EMILY WIGG – University of Richmond
(I apologize to the Dynasty students who are absent from this list. If you are not listed it is because I did not know your college choice! The 2018 class won't be featured until May of 2018 even though I know several students have already made verbal commitments.)
MIKAYLA KRZECZOWSKI – April 27, 2017 – Columbia, SC
A HUGE shout out to University of South Carolina freshman Mikayla Krzeczowski on being honored with the New Student Athlete of the Year Award at the Gamecock Gala!
YOUTH
CAILEY CROSON – June 28, 2017 – Houston, TX
Just after wrapping up Week 2 with Dynasty on June 14th Cailey completed her first USSF Coaching Course and
then it was on to Regionals!  She stepped back in with her former club Albion East 99G and helped them secure the Region 3 Championship!  After making it to the Texas State High School Finals this spring, being named 1st Team
All-State GK, and Tompkins High School Defensive MVP and now a Region 3 Championship, it has been a busy and successful 2017 for Cailey!  Rewarding and FUN when everything comes together after years of hard work!  Good luck at the upcoming National Finals in Indianapolis!!!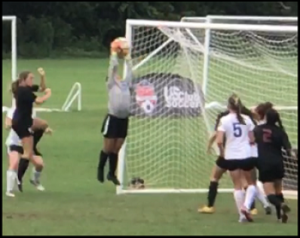 MARLAYNA FRUTIGER & STEPHANIE STULL – May 29, 2017 – Raleigh, NC
An impressive TWO Dynasty goalkeepers won North Carolina High School State Championships in May!  It was Stephanie Stull's second straight championship with Weddington High (3A) & the first title for Marlayna Frutiger at Franklin Academy (1A).  Well done girls!  Way to represent!!!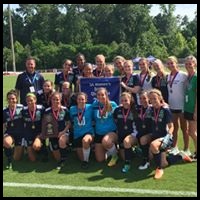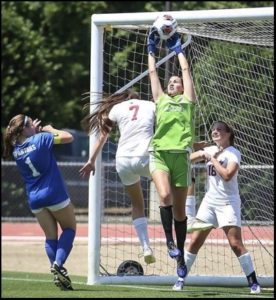 LEAH BETH RADOW – April 30, 2017 – Los Angeles, CA
Kudos to Leah Beth Radow earning All League for the second straight year with Brentwood High School as they finished runner up in the All City and All State Championships… losing to Sierra Canyon in both championships.  In addition she was the only sophomore goalkeeper selected to the So Cal All State Team this year!