Q&A with Sky Blue's Caroline Casey
1. What was your path to your current team?
The summer before my senior year of college I decided I wanted to try to play professionally. As Tracy can tell you, I was very conflicted about how to tell my parents and start the process. Firstly, I decided to join the Washington Spirit reserve team for part of the summer and moved up to Maryland, where I lived with one of the Dynasty girls while I trained. That experience helped me confirm my desire to play at the next level and changed how I approached my senior year. I committed myself to finding the best training environments possible and pushing myself outside of our regular trainings. I started going out early and staying to train with the boys team. I was really enjoying myself and I think that translated into how I was playing. I was fortunate enough to be drafted and have been in New Jersey training with the team ever since.    
2. What are the biggest differences from college to pro? 
The biggest difference between college and pro was the pace of the game but particularly the pace of the shots. At this level, you have to think faster and make decisions quicker so you can execute the correct technique. If you hesitate or doubt yourself you will be punished. Many times I have come home from training exhausted from mental exertion, not the physical work load.  
3. What changes have you specifically made to adjust to pro? 
To adjust to pro I reevaluated my workouts to make sure that they were goalkeeper specific. I realized that many of my workouts were designed around fitness or other arbitrary tests, not my position. I created a new workout plan that focused more on sprints, agility, and explosive movements. In addition, I think I had a mental shift in the way I view the game and my performance. I refocused my energy on learning instead of outcomes and learned how to accept being frustrated as part of the process. There have been some physical changes but most changes have come on the mental side of the game. 
4. What does a typical day look like in season?
I wake up, get ready for training, and cook breakfast (usually have eggs, fruit, and yogurt). Then I go foam roll and get treatment before training. I typically start training with our goalkeeper coach and then move into drills with the field players. Afterwards I go home and make lunch. Some days I have lift in the afternoons or coaching at night. 
5. Favorite Dynasty memory?
My favorite Dynasty memory is from my second year when we had a rain delay during our night session. Tracy and Ashlyn divided up our group into teams and gave each group three props. We were given a time limit and told to create a skit as a challenge to get points for our teams to replace synchronized dancing points. My group made a skit about Dynasty Bust Building camp in which Hannah Daly pretended to be Tracy. As she stood there, with half a foam roller in her shirt, shouting, "Let's go ladies! Up, down, up, down" I cried and almost peed my pants from laughing so hard. That was the last thing I was expecting to happen while I was at camp. No matter what week or who I went to camp with I always had a good time and I have plenty more memories just like that one.    
6. How did Dynasty help you prepare for playing professionally?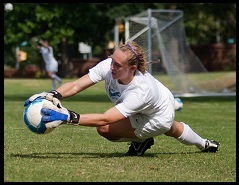 Dynasty prepared me well for all the aspect of life as a pro athlete. Coming to camp has taught me to focus on all areas of life to prepare me for game day such as nutrition, fitness, and mental toughness. I learned how to constructively take criticism, compete against the best, and push my limits, all of which were things I have had to implement thus far during my time in the league. 
7. What emotions did you feel on Draft Day?
I was very overwhelmed on draft day and experienced so many different emotions. I went into the convention center hopeful but not very optimistic. I was honestly very shocked when my name was called. I was rushed around from area to area to talk to people and take pictures so I didn't have much time to take in the moment. Once I was able to sit down and stop for a second, reality hit me and I realized what had just happened. I was elated and filled with joy because I felt like the sacrifices my family and I had made over the years finally paid off. When I got back to the hotel I got a surge of energy and I ran on the treadmill for a little while because I didn't know what to do with myself. Overall it was a crazy day filled with nerves, joy, shock, disbelief, and excitement. 
8. Talk about your first start with Sky Blue…
I had my first start with Sky Blue when we played Seattle at Memorial Field. I was beyond nervous when I got to the field that day, seeing as it was my first professional game and I was playing against one of the best teams in the league. Honestly, my warm-up really sucked and I was getting more nervous by the second. When we went into the locker room to change into our game jerseys, Kelly and Christie spoke to us about proving ourselves on the field, not caring about what other people thought about our team, and to show our pride in our team through our play. This was the turning point for me because I mentally let go of my warm up and just focused on the game ahead. Christie looked at me as we stood there in the tunnel and said, " You can do this." At that point all the nerves felt like they melted away and I felt complete confidence in my teammates. For the next 90 minutes I was super focused and connected with my team. No matter what mistakes we made or danger we were in, my belief in the team never waived. It was the kind of feeling you only experience every once in awhile, when you know that every person you are playing with is on the same page and everything just clicks. When the referee blew the whistle I sprinted straight for the back line. We stood at half field for awhile celebrating the win. Then all the rookies got together and as we stood there talking we realized we had lived out our dream. It was a moment I will cherish forever and never forget.    
9. What is the training environment like with Caroline Stanley and how have you made it work?
I met Caroline Stanley a few years back at a Dynasty camp when we were both in Pro Week. To be honest when we first arrived in New Jersey for pre-season things were a little awkward. We knew of each other, but didn't really know each other.  We were competing for the same spot and we were living together, so we were with each other all the time. There was noticeable tension during the beginning of the season, so one day I sat down with her and asked what things were bothering her and how I could help. We had a genuine conversation and I felt like the environment changed at training after we had a chance to talk it out. The two of us started to understand each other better, encourage one another, and enjoy training much more. Things were good until we went to Seattle then it got weird again. So on the way home from training one afternoon I asked her if, "We could NEVER do that again!" She laughed and we crack up about it now, but it was a hard conversation to have. I feel so lucky to have a great relationship with Caroline because she is a good friend and one of the most competitive people I've ever met. We understand each other and are constantly pushing each other to get better everyday. I believe there is no place for petty things like mind games, and even more so I believe that being a good person and teammate should come before anything else. In my experience, when that is the case, it is easy to create a positive environment where everyone benefits and the starter earns their minutes because they truly deserve them.
WOW!  What a mature approach!!! Please re-read this last answer as I think her approach to training with another goalkeeper whom she is competing with is unique and what will allow her to excel at this level! – Tracy