Q&A with Western New York Flash's Britt Eckerstrom
1. What was your path to your current team?
Where to start? Growing up,  I played club and ODP (Olympic Development Program) and attended as many summer soccer camps as my mom would let me. ODP probably had the greatest impact on where I am today. At a time before ECNL really existed, ODP allowed me to compete at a higher level, gain experience playing internationally, and most importantly, provided exposure to different coaches, including, my college coach, Erica Walsh. When it came time to choose what school I wanted to go to, Erica Walsh's focus on culture and character and process made choosing State a no brainer.
Over the next 5 years, I worked with Tim Wassell, the Penn State gk coach, who helped push me to become the overall goalkeeper I am today. Goalkeeping is an emotional and mental position. Tiny mistakes can lead to season ending goals, but you get the inches right, make a big time save, and the whole momentum of a game can shift! There were lots of ups and downs and so many lessons to be learned, lessons that I am grateful for now going into my pro career. Freshmen year, I redshirted and had to learn how to be a good training partner working with the starting keeper. Sophomore year, I had to learn to manage my confidence while feeling like I was constantly making mistakes and letting the team down. As an upperclassmen, I faced situations that have taught me to be a better teammate and leader making sure that practices weren't about how only I could get better, but how I could play a larger role in making the players around me better. Every year I was faced with new challenges that I could grow from and by my senior year, I was the captain of an incredible team that went on to win the NCAA National Championship. A few weeks after, I graduated and was drafted by the Western New York Flash 🙂
2. What are the biggest differences from college to pro? 
The biggest difference on the field going from college to pro is the overall speed of play. The players are the best of the best, and will capitalize on any small mistake the opponent makes. As a goalkeeper, this means they are reading you as much as you're reading them, any off balance set and the forwards will put it away. The urgency to read the play, organize, and make decisions is much quicker.
Off the field, there are also some big differences. The most obvious being that as a professional you are now being paid. It is your career. The stakes are a little higher. If you aren't working hard enough to get the results the club is looking for, you can be waived at any moment. This makes for an incredibly competitive environment and slightly different team dynamic. Second, is that you have to hold yourself more accountable. I was lucky enough that in college, our coach taught us to hold each other to a professional standard, to do all of the little things it means to be a professional: making the right decisions on and off the field, taking care of our bodies, getting the right nutrition and sleep, choosing what is best for the team over something that might seem more fun. As a pro, it is all up to you, no one is checking up to see if you're getting in for extra workouts, buying and preparing the right meals, watching video, and taking care of the details it takes off the field to be as prepared as possible. They expect you to be your best, consistently, and it is up to you to be ready to give that everyday. You have to hold yourself to those details because at this level everyone is talented and it's those details that make all the difference.
3. What changes have you specifically made to adjust to pro? 
I think one of the biggest adjustments to becoming a pro was trusting a new team. Everyone has to buy-in for a program to be successful and I was hesitant to just jump into a new system after coming from such a close program. Before I could commit, I had to develop a trust with new coaches, a new style, new teammates, and find a balance between what I had been taught with all the new things I was learning if I wanted to get better and be successful.
4. What does a typical day look like in season?
In season, similar to college, each days' schedule changes depending on what day of the week it is. The beginning of the week is harder. For example, on Tuesdays, we run, train, and lift in the morning, and train again in the afternoon. On pre game days, the sessions are usually short and sharp with video after the practice. The day after a game, the players that played more minutes  have a light practice and get massages, while the players that didn't play have an intense session to maintain game ready fitness over the course of the season.
5. Favorite Dynasty memory?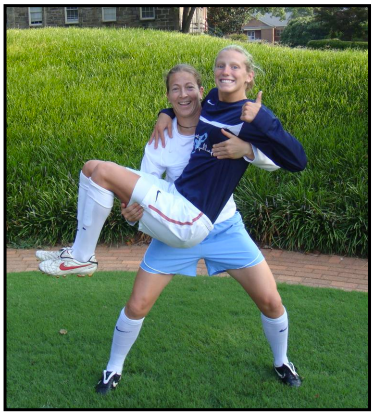 🙂 My favorite Dynasty memories mostly revolve around the teams I've been a part of every summer and the games we compete in throughout the week. My favorite summer was the year we were team Flock. We were super enthusiastic that year. We were birds and had a team bird call, it was ridiculous and hilarious. Thanks to Dynasty, I've met some awesome friends who I still keep up with today!
6. How did Dynasty help you prepare for playing professionally?
Dynasty has played a huge role in my goalkeeping career. Technically it helped build my skills going into college, but I think more importantly, it's Tracy's philosophies that I have carried with me. Being a great goalkeeper is more than making saves. Dynasty was the first time I ever watched video, talked tactics and decision making. She showed us it was a lifestyle, our trip to Whole Foods every camp to educate us on how to fuel our bodies properly, and our fitness records to show us the progress we could achieve. She made sure we did not waste any opportunity to get better. Tracy has an intensity, passion, and standard of excellence that is contagious.  She spreads a specific mentality to crave the challenge of such a high pressure position and embrace the mistakes and continue with confidence! Even throughout college, when I struggled, I could count on Tracy to help me through whatever goalkeeping issues I was dealing with, anything, she was there to help!
7. What emotions did you feel on Draft Day?
Draft day was fun! A little nerve-racking, but fun! I knew that if I wasn't drafted I would see what opportunities were available overseas. I didn't go into draft day thinking either I'd get drafted or my career would be over, so that helped ease any worries. But hearing your name called is special. I felt an overwhelming sense of gratitude towards everyone that had ever helped me get to that moment. So many people had invested their time and energy into making me the best I could be, and in doing so, made my dream feel like a shared dream. My family, friends, trainers, coaches, teammates, everyone I had ever met played a role in my journey. I felt relieved finally reaching that next level, I felt like we had all achieved something awesome and their time invested in me had paid off.
8. How did the incident with the house fire a few days prior to pre-season impact your pre-season and you overall?
The fire could have been worse. My family got out safely and the things we lost are just things and can be replaced, and we will always carry the good memories of the things we cannot replace. At first I was devastated, but my mom especially, wanted me not to worry and get to Buffalo as soon as I could to join the team for preseason. She took me to Dick's to buy a duffel bag and some shorts and shirts to get me through preseason. We bought a pair of cleats and gloves and headed to the airport. Not an ideal way to start preseason but over the course of a couple days after the fire, I was overwhelmed by the amount of people who reached out to support our family in any way they could. The generosity and love from friends, neighbors, teachers, coaches, teammates, and complete strangers, still leaves me speechless.
9. What is it like to be back in a reserve role again since your freshman year in college?  Specifically how did you manage it?  What was your mental approach?
I redshirted my freshman year in college, which looking back at now, I can say I am really thankful for because it taught me how to embrace a role that I didn't necessarily want. I wanted to be playing and believed I could get in, but being a part of the team meant I had to play for the people around me, and that was the role that I had at the moment. Whatever role you may have, you have to play that to the best of your abilities. As a reserve that means you have a responsibility to your team to go to practice everyday pushing yourself as hard as you can so that 1) you'll be prepared for an opportunity in a game when the team needs you and 2) maintain the highest standard at practice to continue to make those around you better.
Of course, it is easier said than done, but you have to focus on controlling the things you can control and celebrate the small steps of progress. It can be consuming thinking about where you want to be and comparing yourself to the people around you, but the focus needs to stay small and positive. As reserve goalies, we may not get the same opportunities as field player reserves who can get subbed in. You have to trust that an opportunity will come and you will be mentally and physically prepared for when it does from the work you put in everyday.
10. Talk about your first start…
My first start was two weeks ago at home against Boston. I had good nerves and felt a calm confidence from the previous months of training with the team. It was awesome getting to be out there with the team, on our home field with some of my friends in the stands. Felt good to get a feel for everything in a game environment. It provided a good opportunity for me to see areas of my game that need work that might not have been exposed in training that I can now bring back into the training to work on for the next game.